Key points:
The Helium (HNT) token has fallen 76.3% in 2022 and could have bottomed.
The Helium network is a decentralised network that connects IoT devices.
The network could benefit from the rising adoption of IoT devices globally.
The Helium (HNT) crypto price has fallen 76.3% in 2022, leaving many wondering when the token shall reverse course and head higher. Investors holding the token in November 2021, when it hit a high of $57.6, have watched in horror as the coin fell to its current price of $8.94, erasing over 84.48% of its all-time high value.

The Helium Blockchain is unique in that it connects IoT infrastructure by allowing users to develop their hotspots, contributing to the network's expansion. In addition, users can run a mixture of a wireless gateway and a miner to generate HNT tokens, which act as their reward.
The blockchain uses a consensus process known as proof-of-coverage (PoC) to compensate users for validating transactions by helping mine HNT and maintain the network's stability. The PoC consensus process is based on the HoneyBadger BFT protocol, which was created to allow communication between nodes in uncertain settings.
The Helium Blockchain is unique in that it consists of a physical network of decentralised IoT machines known as gateways, which act as miners and help build the network. There are currently 100 million HNT tokens in circulation, with a total supply of 223 million tokens.
Individual hotspots are compensated for validating network transactions when new devices connect to the internet via a hotspot and the validators confirm a stable wireless connection.
The Helium network was founded in 2013, but its mainnet was launched in July 2019, debuting with its HNT token. The network is set to benefit from the anticipated growth in the global IoT industry as more and more devices are connected to the internet.
Therefore, HNT's prospects are pretty promising, so it is likely to rally higher in the future. The HNT daily chart below shows that HNT might be forming a bottoming pattern since it is currently trading sideways between support at $6.67 and resistance at $9.92. I would be looking to buy once HNT break above $10, a break below $6.67 would invalidate the bullish thesis.
*This is not investment advice. Always do your due diligence before making investment decisions.
Helium (HNT) crypto price.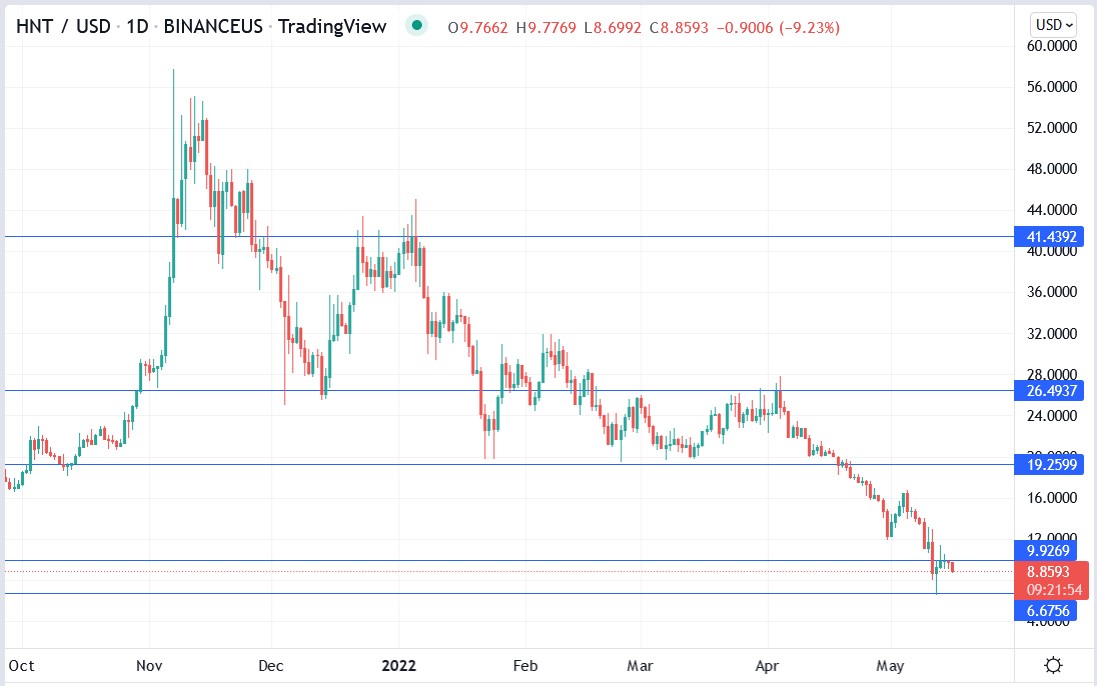 The Helium (HNT) crypto price has fallen 76.3% in 2022 but might have recently bottomed. Is it a buy?