Key points:
Carnival's share price plunged 8.73% today, erasing most of its recent gains.
The company's shares fell on calls to ban cruise ships from Key West Florida.
The cruise ship operator's business could recover during the summer months.
The Carnival Corp (NYSE: CCL) share price plunged 8.73% today, erasing most of the gains made in the last four days amid calls to ban cruise ships from docking in Key West Florida.

The largest cruise ship operator in the United States and globally finds itself in a tricky position amid amounting calls to ban the docking of cruise ships in Key West Florida due to the damage they cause on the coral reefs found on the island.
The move comes are residents protest the impact of mega cruise ships docking on the small island located off the coast of Florida, given that there are other ports at which cruise ships can dock in the state.
Investors reacted negatively to the calls, evidenced by the plunging Carnival share price as people wait for an official response from the cruise ship operator.
The company's shares have recently rallied, boosted by positive investor sentiment. Many expect the cruise ship industry to start thriving as the summer months approach and travellers flock back to cruises.
Carnival is expected to benefit immensely from the pent-up demand for cruises and vacations following two years of restrictions due to the impact of the coronavirus pandemic.
Now that most people in developed countries have been vaccinated and the threat posed by the pandemic has reduced significantly, many people are looking forward to cruising and vacationing in the summer.
The last announcement from Carnival was regarding its Princess Cruises first-ever sailing in the summer season to Hawaii, Mexico, and the California Coast in a round trip sailing from Los Angeles.
As seen by the rally on the daily chart below, investors cheered the announcement for most last week. However, the latest calls regarding Key West could prove troublesome for the company, and its response will be keenly watched.
The only possible way for Carnival to placate both investors and Key West residents is to divert its cruise ships from Key West to save itself from being branded as a company that does not care about the impact of its activities on the environment.
Today's selloff was compounded by traders taking profits on their winning positions following the one weak rally. Still, Carnival has a long way to go before returning to profitability, given its massive debt load.
However, the expected recovery of the global travel industry during the summer months should leave the company in a better financial position if new COVID-19 restrictions are not imposed during these crucial months.
*This is not investment advice. Always do your due diligence before making investment decisions.
Carnival share price.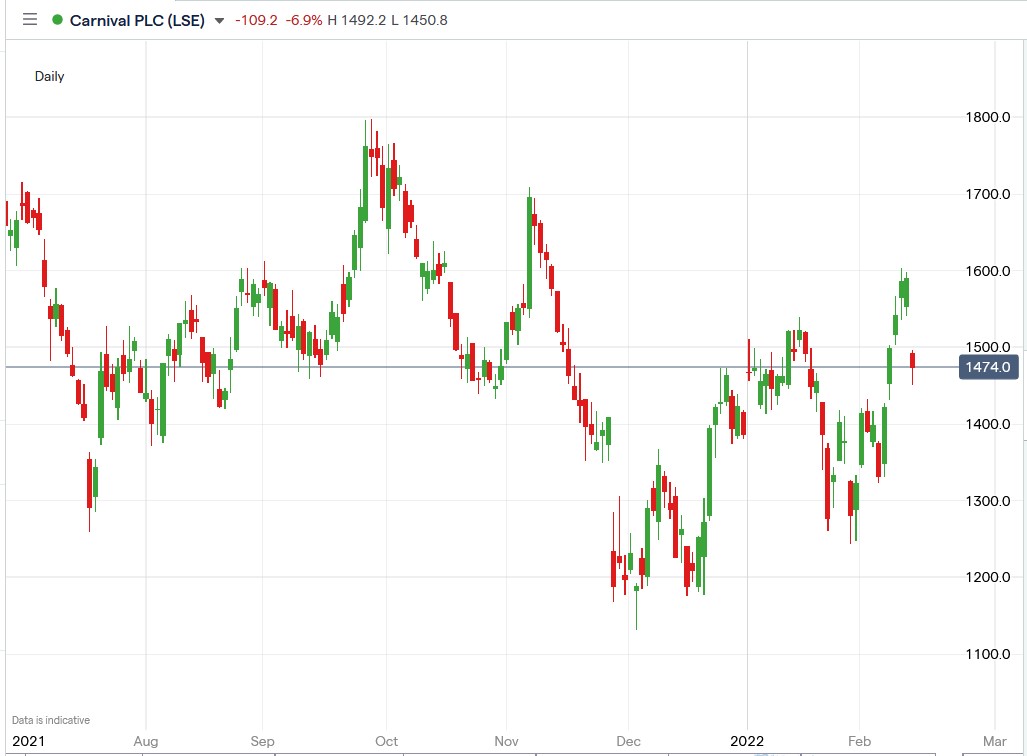 Carnival share price plunged 8.73% to trade at 1451.0p, falling from Friday's closing price of 1589.8p.