Key points:
Cineworld shares are stuck despite multiple blockbuster movies.
Investors are worried about the company's financial position.
Many are waiting for any positive releases from the company.
The Cineworld Group plc (LON: CINE) share price appears stuck below a crucial resistance level despite the impressive box office performance of movies such as Topgun Maverick, which stars Tom Cruise.

Cineworld shares rallied 18% on Monday last week after TopGun Maverick's impressive opening weekend as the movie grossed $124 million. Since then, Cineworld shares have barely moved and are stuck below a crucial resistance level.
The movie theatre chain's shares fell on Tuesday and Wednesday before the UK markets closed Thursday and Friday as the country celebrated Queen Elizabeth II's Platinum Jubilee commemorating her 70 years on the throne.
Cineworld shares inched higher today despite TopGun Maverick grossing $86 million on its second weekend to reach an impressive total of $291.6 million in the US and Canada. TopGun's global revenues hit $548.6 million this weekend, making it one of the highest-grossing films of 2022.
Still, TopGun's impressive performance, along with other high-grossing films of 2022 such as Doctor Strange, Spiderman No Way Home and Fantastic Beasts, did nothing for Cineworld's share price, which continues to languish, having fallen over 70% in the past twelve months.
Investors are concerned about Cineworld's massive debt pile and the looming judgement in favour of Cineplex after the Canadian Superior Court awarded Cineplex C$1.3 billion ($957 million) damages.
A judgement in its favour will go a long way in reassuring investors that the movie theatre operator will not be forced to declare bankruptcy or into administration if it fails to meet some of its short-term financial obligations.
Cineworld has a massive $8.9 billion debt pile but is lucky since the debt is from commercial lenders, many of whom have long investment horizons and are always open to restructuring such debts until the firm is in a stable financial condition.
Investors looking to buy Cineworld shares may find the current prices quite attractive, but there is a real risk that the share price could fall further if the company's financial situation worsens.
*This is not investment advice. Always do your due diligence before making investment decisions.
Cineworld share price.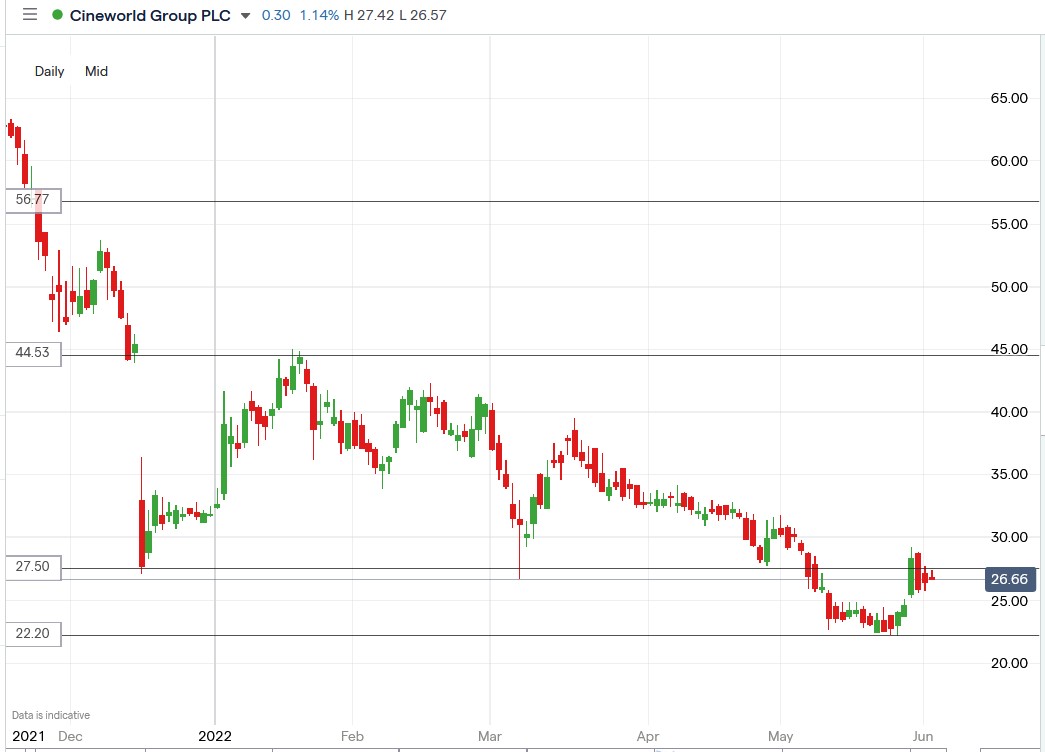 Cineworld share price trades sideways despite upbeat box office sales over the weekend.