Key points:
Amazon.com stock has fallen 94.95 today after a 20-for-1 stock split.
The e-commerce company is trading at $125 from over $2440.
The lower prices are now more attractive to retail investors.
Suppose you are one of the investors shocked to find Amazon.com, Inc. (NASDAQ: AMZN) stock trading down 94.9% at $124.73 from its Friday closing price of $2,447. Don't panic; the world's largest retailer has not gone bust. Instead, there's a simple reason for the massive drop in its share price.

Amazon shares are cheap today because the e-commerce giant has implemented a 20-for-1 stock split. The company did the stock split to make its share more attractive to individual traders with small investment accounts.
Amazon.com is not the first company to do this. Earlier this year, tech giant Alphabet Inc. (Google's parent company) announced a 20-for-1 stock split, while Tesla and Apple Inc. announced 5-for-1 and 4-for-1 stock splits in August 2020.
Therefore, you can see that stock splits are nothing new in the markets. However, what is unique about Amazon's stock split is the scales. For example, a 20-for-1 stock split means that each current shareholder will get 19 more shares for each share they currently hold.
While stock splits may not appeal to large institutions that invest millions and billions into stocks, the everyday investor can benefit immensely from stock splits. For example, an investor with a $5,000 account balance could barely buy two Amazon.com shares at $2,447, but they can now afford to buy almost 40 Amazon shares at $5,000.
Companies with high stock prices are choosing to do stock splits to make their shares attractive to retail investors who have become a significant force in the markets since last year's meme craze.
Retail investors now have a more significant influence on the markets and have shaken up the status quo that has been in place for decades, where institutions were the dominant force in the markets.
However, there is a dark side to stock splits since, in some cases, a stock might fall after a split instead of rising, making it much cheaper than initially intended. In addition, the mass exodus of investors from growth stocks has seen the prices of most tech stocks tank this year.
Therefore, some companies that have done stock splits are trading at much lower prices than they intended.
*This is not investment advice. Always do your due diligence before making investment decisions.
Amazon.com stock price.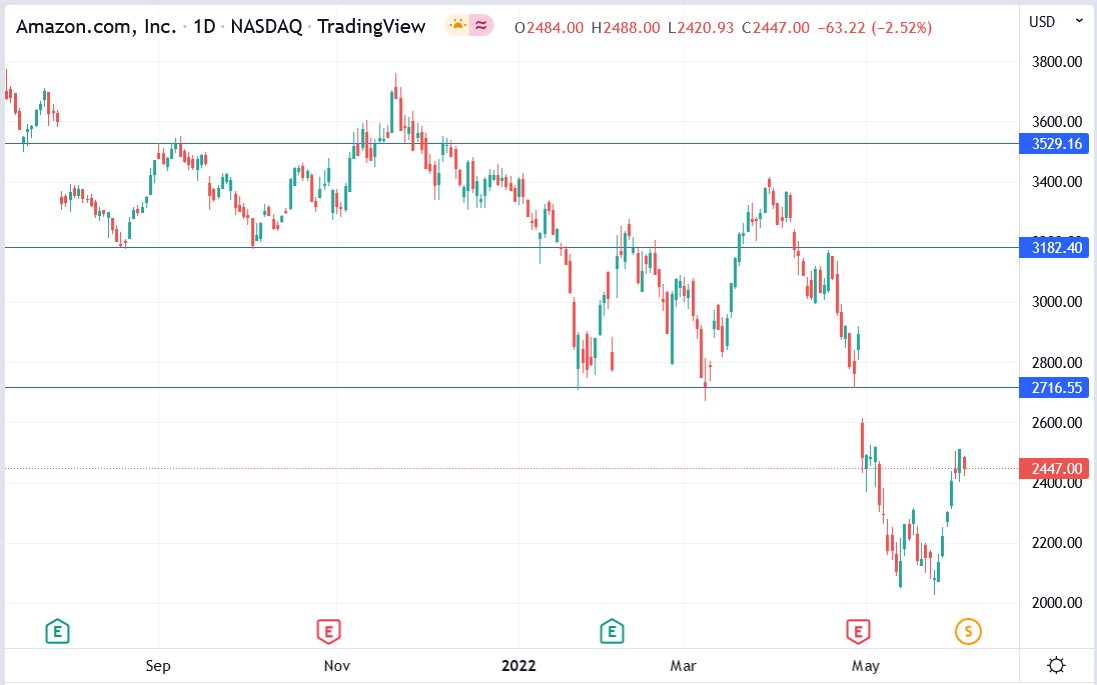 The Amazon.com stock price fell 94.9% to trade at $124.73, falling from Friday's closing price of $2,447.