Experian plc (LON: EXPN) share price fell 2.33% despite reporting a profit surge during the first six months of its current fiscal year ended on 30 September 2021.

The consumer credit rating company revealed that its pre-tax profits rose 43% to $654 million compared to the $458 million recorded in a similar period last year. In comparison, its revenues surged 23% to $3.06 billion from the $2.48 billion generated in 2020.
The company revealed that most of its growth was generated by its consumer services business, with revenues surging 27% despite having 122 million free members.
Experian's business to business services also grew, with organic revenues from the division rising 12%, driven by its strategic revenues.
The firm reported solid cash performance leading it to raise its guidance after converting 100% of its operating cash flow.
Experian revealed that it was in a solid financial position with minimal leverage. The firm also completed two acquisitions within the six months, worth a total of $353 million.
The firm raised its first interim dividend 10% to $0.16 per share.
Brian Cassin, Experian's CEO, commented: "We had a very good first-half performance with total revenue growth of 23% at actual exchange rates, 21% at constant exchange rates and organic revenue growth of 16%. Benchmark earnings per share also progressed strongly, up 30% for the half (at constant exchange rates). Consumer Services has seen standout growth, and our B2B businesses continue to perform very well. We expect progress to continue, and for the full year, we now expect organic revenue growth in the range of 11-13%, total revenue growth of 15-17% and strong EBIT margin accretion, all at constant exchange rates."
Experian shares fell today given that they were trading near their all-time and faced some resistance. Investors should monitor the shares to see if they can break above the resistance level.
However, given the significant rally in Experian shares since October, we may get a pullback before the next move.
*This is not investment advice. Always do your due diligence before making investment decisions.
Experian share price.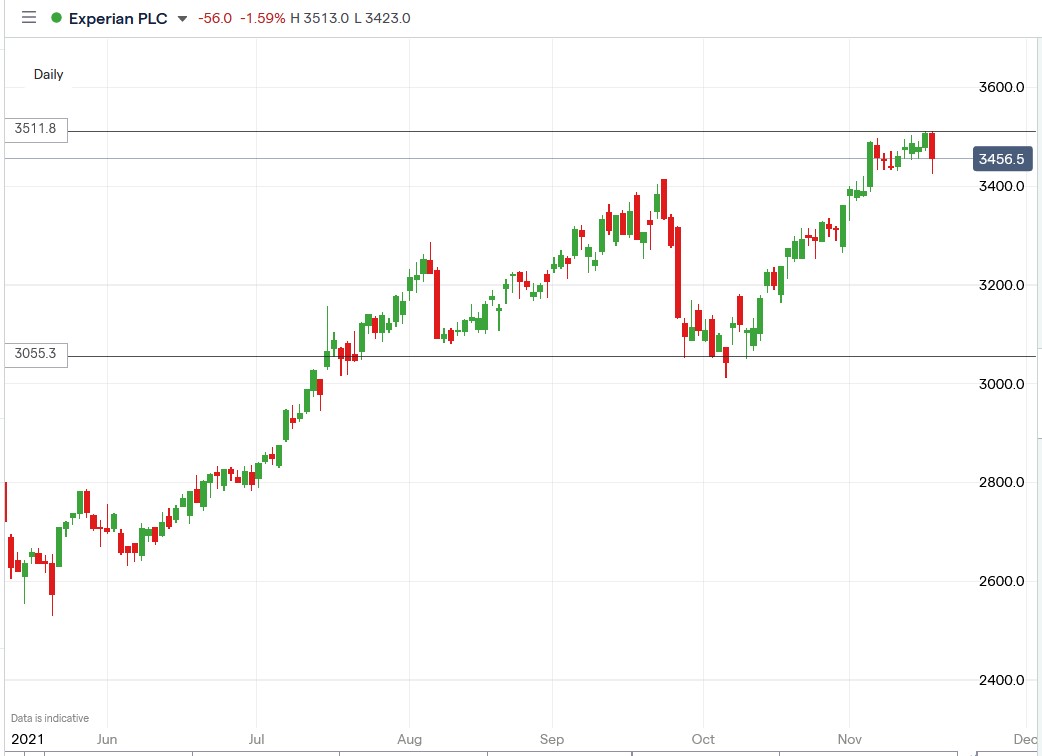 Experian share price fell 2.33% to trade at 3426.0p, falling from Tuesday's closing price of 3508.0p.
Should you invest in Experian shares?
If you're a smart investor, you will know that having large-cap stocks in your portfolio is vital. They are more mature companies, considered safer investments, trade with less volatility, have greater analyst coverage, and in most cases, have a steady dividend stream. Due to the current market environment, we think now is the perfect time to add large-cap stocks to your portfolio. But which large-cap shares should you buy? Our stock analysts regularly review the market and share their picks for some of the best large-caps to invest in.