Key points:
The Dave stock price soared 62.9% despite the lack of news from the firm.
The move in Dave's stock price was driven by positive investor sentiment.
So, is Dave stock a buy? Read on to find out.
The Dave Inc (NASDAQ: DAVE) stock price soared 62.9% despite the company not making any announcements as buyers descended on the stock pushing it higher. The banking app's stock price soared higher as over 11.29 million shares had changed hands at writing.

The company's last announcement was on July 21, 2022, when the firm revealed that it would release its Q2 results on August 11, 2022. However, retail investors are not waiting for the earnings release and have decided to buy DAVE stock.
Also read: 12 Best Shares To Buy As A Beginner.
The banking app's Credit Builder short-term debt facility has gotten positive reviews from users, given the ease with which the company advances its ExtraCash™ instant loans to all borrowers regardless of their credit history and status.
Dave allows all borrowers to rebuild their credit by reporting their timely payments to credit scoring companies. The positive reports issued by Dave can help its clients rebuild their credit histories by repaying their loans on time.
Therefore, retail investor interest in the company is not misplaced. Moreover, the lender's products, including its side hustle services, are top-rated among clients, which bodes well for the firm growing its client base.
While today's rally can be attributed to significant buying interest from retail traders, the move higher could have been initially fueled by an institutional investor or professional trader, given that DAVE shares are trading below $1.
So, should you buy DAVE stock? Well, it is never a good idea to chase a stock higher. Instead, the best course of action is to let the stock fall back in the coming days before buying the stock.
*This is not investment advice. Always do your due diligence before making investment decisions.
DAVE stock price.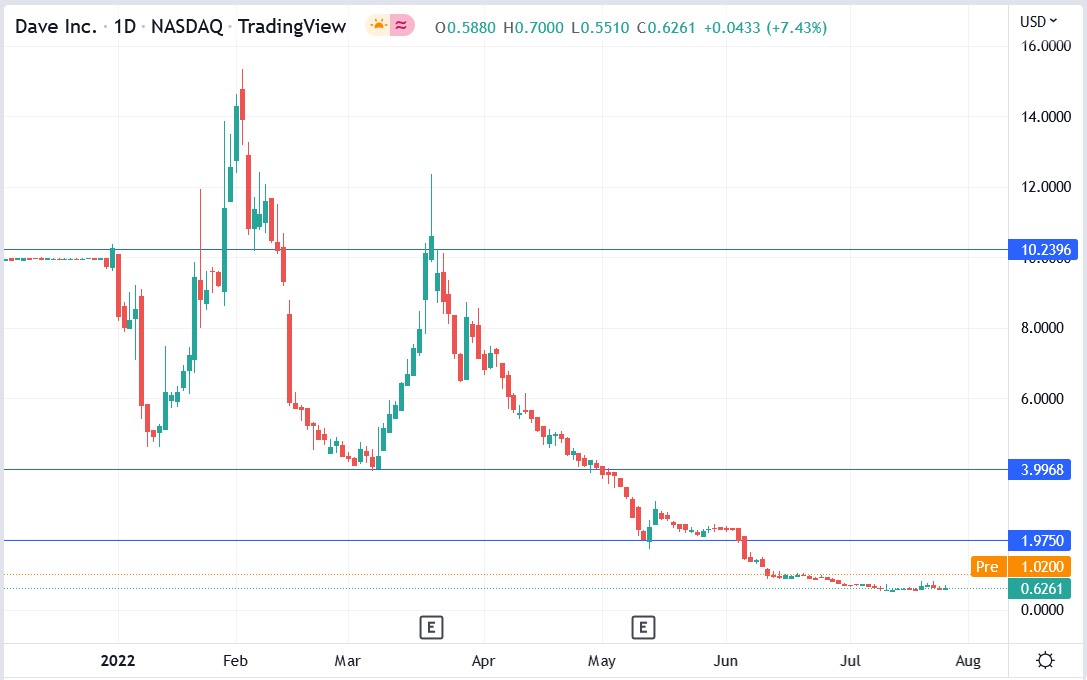 The DAVE stock price soared 62.91% to trade at $1.0200, rising from Wednesday's closing price of $0.6261.