Key points:
HSBC's operating profits are down on the quarter
Post-tax profits are a $1 billion beat of expectations
Quarterly dividends to resume in 2023
HSBC (LON: HSBA) has reported a substantial rise – well above estimates – in Q2 2022 profits. HSBC has also suggested that it will start paying a quarterly dividend again starting next year. The results clearly aid HSBC Bank in heading off the call to demerge its China based business and the dividend announcement is being seen as a step in that direction as well. On the other hand we can also say HSBC profits were down by 15% to $9 billion and change. Depends whether we want to take the before tax, or after tax, profit as being the one we're interested in.
As the bank itself says in the release "Reported profit after tax increased by $0.8bn to $9.2bn. This included a $1.8bn gain on the recognition of a deferred tax asset from historical losses, as a result of improved profit forecasts for the UK tax group, which has accelerated the expected utilisation of
these losses. Reported profit before tax decreased by $1.7bn to $9.2bn, reflecting a net charge for expected credit losses and other credit impairment charges ('ECL'), compared with a net release in 1H21. Adjusted profit before tax fell by $0.9bn to $10.7bn." Which does rather remind of that old joke, the guy asking the accountant what the profits were – "What do you want them to be?"
But for banks the distinctions matter. Precisely because a bank like HSBC can determine what earnings are through those loan loss provisions. Last time around – along with near all the other banks – they wrote back some previous such provisions into profit. This time that hasn't happened so profits are down. But there are tax implications of that happening and so the post-tax number is up – plus there was a change in the way that UK corporation tax rate is charged, meaning that allowances for previous losses are now worth a different amount. What actually is the profit for a bank isn't a clear and obvious matter.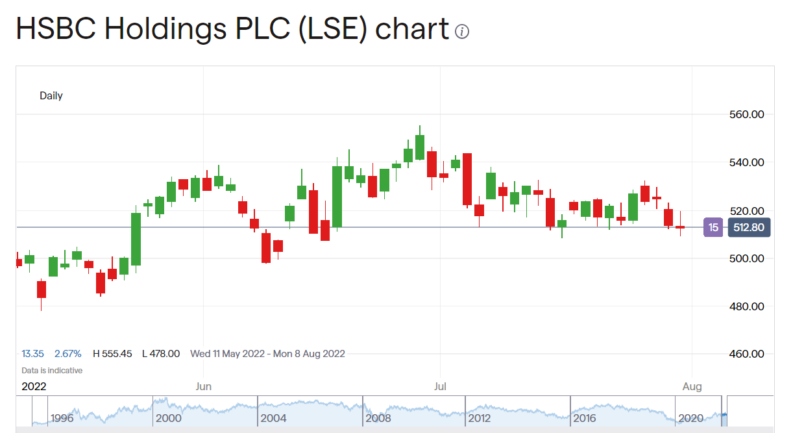 Also Read: The Best Financial Stocks To Buy Right Now
The intention is to return to quarterly dividends in 2023 – no, sadly not this financial year. The big fight going on is the pressure from Ping An to separate out the China based business and float that separately. This makes sense from a certain point of view, not least concerning political matters. From others it makes less sense so we can expect the argument to continue.
The heart of the results though are the same as they have been for the other London listed banks like Lloyds. Rising interest rates expand the bank's lending margins. The compression of interest rates for the past decade – and the failure of people to want to deposit at negative interest rates – has meant bank earnings have been depressed. Now that rates are rising they decompress – as HSBC points out, net interest should rise from $31 billion to $37b this year. The other issue with banks is loan losses and if there's a recession coming then we might expect those to rise. So the future of banking profits is that rather delicate balancing act between rising interest rates increasing net income, only for any recession to wipe the profits out again on loan losses.
The future for HSBC profits, absent that demerger argument, therefore depends upon those macroeconomic factors, interest rates and recession.