Key points:
Polymetal shares are highly volatile this morning
POLY has been up 7%, down 4% and up 3% and all by 9 am
This sort of volatility is probably what we should expect as well
Polymetal (LON: POLY) shares have been up 7% this morning and then down again to 4% below Friday close already and it's only, at pixel time, just gone 08.15. This is perhaps the sort of volatility we should come to expect in POLY for several reasons. We might also note that the spread has widened out to 60 pence (or 20%) again at pixel time which would make trading that volatility difficult right now. Of course that widening of the spread is a result of the volatility – the market makers don't want to get caught out.

Polymetal's problems are, in part, obvious. It's a gold miner operating in Russia and Kazakhstan. POLY is not directly sanctioned, nor are any directors, or units of the business. And yet that didn't save Petropavlovsk going bust. So there are obvious worries about what might happen even if there are no direct actions against the company. We've also seen from recent results that the more general sanctions on Russia are having an effect. POLY has had to move to using less efficient – for which read more expensive – local contractors for example. The combination of a strong rouble and rouble inflation doesn't help matters either.
Two weeks back we did see a substantial pop in the Polymetal share price as they reiterated their plans to, maybe, split the company. The Russian assets would be over there, the listing would be the Kazakh ones plus, perhaps, the cash from the Russian ones. But this was indeed a plan to have a plan, not an announcement of it actually happening. We just have to accept that matters are rather up in the air. Underneath it all Polymetal looks a decent enough gold miner. It's navigating those "events dear boy, events", which is the risk.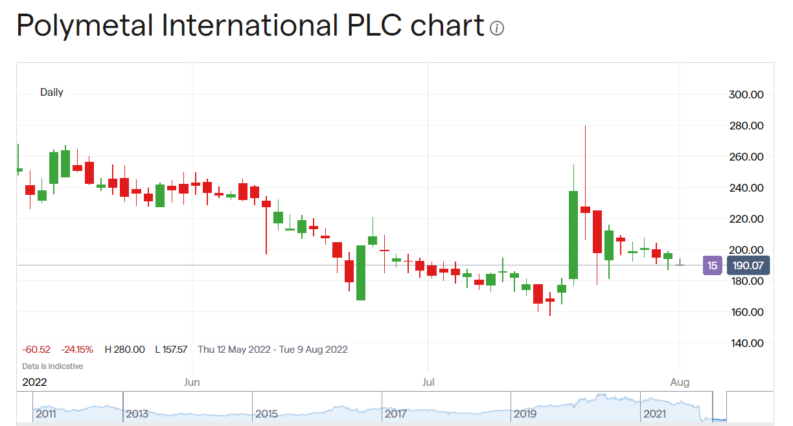 Also Read: The Five Best Gold And Gold Miner Stocks To Buy Now
Just to prove the volatility at Polymetal it's now up 3% in a change from when this piece started to be written. Which tells us the other problem with POLY. The two ADR programs (POYYF and AUCOY) are currently suspended. They shouldn't be, under a strict reading of the rules, but they are because folk are just nervous about the trades. It's not possible to arbitrage across to the Moscow (MEX) listing because Euroclear no longer speaks to NDS, so settlement of trades cannot be done. We've thus got fractionated markets in the Polymetal shares. That just does lead to more volatility.
Sadly this is really just how we need to expect POLY to trade. Given the uncertainty of events in Russia and the varied attempts to solve them there's going to be volatility in the Polymetal share price. Given that the markets are going to be thin – the Russian holders can't trade London and most American brokers won't let US citizens trade it either – then again we'd expect trade flows to bounce the price around. That, in turn will mean that the spread is wide. That's just how these things work out.