Key points:
Humanigen's covid drug appears no better than a placebo
This reverse the stock's climb in anticipation of better results
The drug might still find other uses which will determine the future stock price
Humanigen (NASDAQ: HGEN) stock is down 57% premarket this morning as news comes out that the covid drug they've been working on appears not to work. Well, that might be a bit harsh – doesn't work better than alternatives. And that's important given FDA regulations on drug approvals. Humanigen's stock price has thus reversed all of the gains it made over the past couple of weeks which were, presumably, in hope that the trial results would be better.
Of course, everyone's fascinated by there being new or better covid drugs out there. NIH is just starting a large ($1.4 billion) series of trials on how to deal with long covid for example. Humanigen is in discussions there to see whether their drug can be used in these trials.
But the biggie for Humanigen was the idea that lenzilumab would become an effective part of covid treatment. The news we've just had overnight is that this isn't so – it didn't outperform the placebo, which is not good news at all: "ACTIV-5/BET-B trial, which evaluated lenzilumab plus remdesivir versus placebo plus remdesivir in hospitalized COVID-19 patients, did not achieve statistical significance on the primary endpoint." To put that into simple terms, Humanigen's drug made no difference to the outcome over the placebo.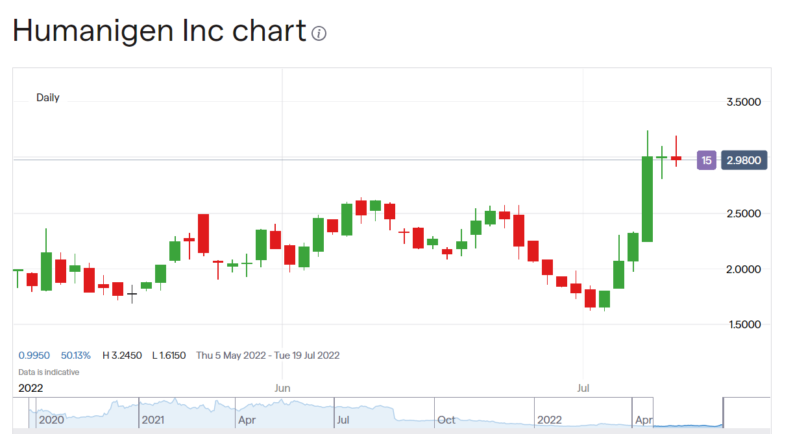 Also read: Pandemic Stocks, Sell, Buy Or Hold?.
There is also that other little test we should do on American stocks which seem to move massively overnight. Check to see that we're talking about real trading activity, not just some price moving but irrelevant trade in thin markets.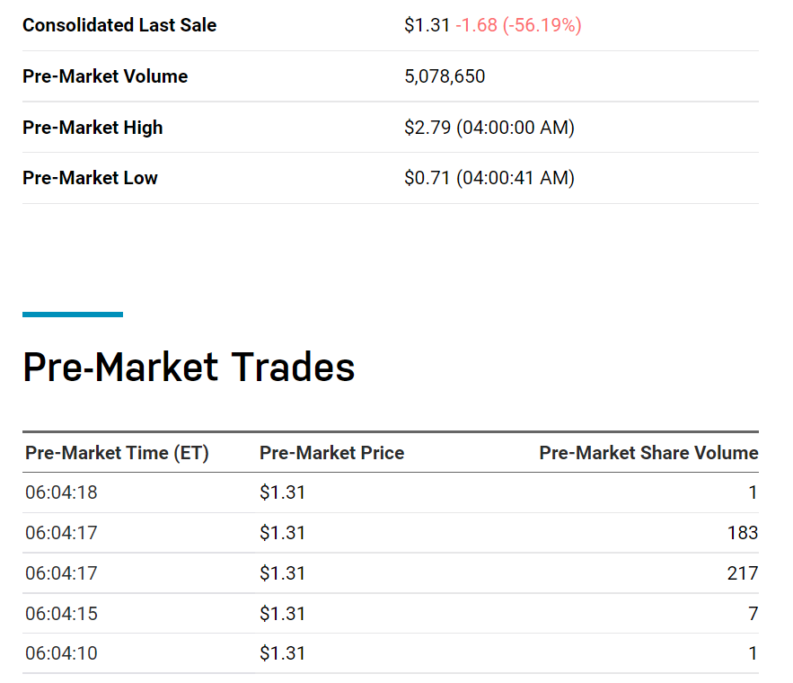 Yes, there's real volume here, this is a real price.
So, what's going to happen next to the Humanigen stock price? If the main drug, this lenzilumab, doesn't in fact work on the specific target, these covid infections? Well, what now happens is that the prospects for lenzilumab, and Humanigen itself, have to fall back on the original prospects for the drug, which was for cytokine storms.
This is when the immune system goes into massive overdrive and starts killing the host, not just any diseases that may be around. It's a known method by which influenza can kill for example, so too covid. But it can also happen in transplant patients (graft versus host disease) and so on. That lenzilumab works no better than the placebo when combined with remdesivir on covid is not, that is, the end of the road. It may well have been what was driving the recent excitement in the stock, but the failure is not that end of the road.
Effectively, Humanigen is now just another clinical stage pharma company with a treatment that may or may not gain licensing at some point in the future. It stops being a go go and fashionable stock given covid.
As to how we would value Humanigen stock at that point well, opinions will differ. Clearly lower than we did last night but what level it will settle at is currently unknown. Trading positions will have to be determined by opinions on what that will be.