Key points:
Hut 8 Mining shares have fallen 29.3% in 2022. Should you buy them?
The bitcoin miner holds all the bitcoin it mines, which is tricky.
Read on to find out how I would trade the Hut 8 stock if I were to buy now.
The Hut 8 Mining Corp (NASDAQ: HUT) stock price has fallen by 29.3% in 2022, and many investors wonder whether now is the right time to buy HUT stock.

As a bitcoin miner and hodler, Hut 8 Mining's stock price is inextricably linked to Bitcoin's price, but there is a worrying deviation this year. Bitcoin has launched an impressive recovery in recent weeks and is trading up 1.31% for the year.
On the other hand, Hut 8 Mining's stock price is down 29.3% in 2022. In my last article on Hut 8 Mining, I asked whether its hodling strategy was working and when the company would have to sell the Bitcoin it mines to book a profit?
The miner has not set a date for when it intends to sell some of the Bitcoin it currently holds. However, the company's latest operational update revealed that it mined 345 bitcoin in March 2022 and installed 560 new MicroBT M30S and M31S+ miners.
Hut 8 is currently constructing its third mining facility in North Bay, Ontario, which is almost complete and is expected to start operating in May. However, given that the company does not sell any of the Bitcoin and Ethereum mined, it constantly needs cash.
The company launched an at-the-market equity program that allows it to sell ordinary shares worth up to $65 million on the Nasdaq exchange to raise funds that it has used to expand its crypto mining operations.
Jason Zaluski, the Head of Technology at Hut 8 Mining, said: "Our teams working in Medicine Hat and Drumheller, Alberta, have continued to ensure our upgraded machines are delivering strong results for us. Our orders from MicroBT are arriving as scheduled, we are experiencing consistent growth in our MicroBT Authorized Repair Centre, and we continue to actively recruit team members as we continue to grow."
Hut 8 Mining held 6.460 bitcoin in its treasury at the end of March 2022. The bitcoin is worth $300.39 million at today's median price of $46,500 per coin.
The value of Hut 8's bitcoin holdings will keep rising as Bitcoin prices rally higher, but it has to sell before investors can book any returns. The value could depreciate if Bitcoin prices start falling.
I would buy Hut 8 stock at current prices with my target at the $8 level, and my stop-loss order would be at the $4.55 support level.
*This is not investment advice. Always do your due diligence before making investment decisions.
Hut 8 Mining stock price.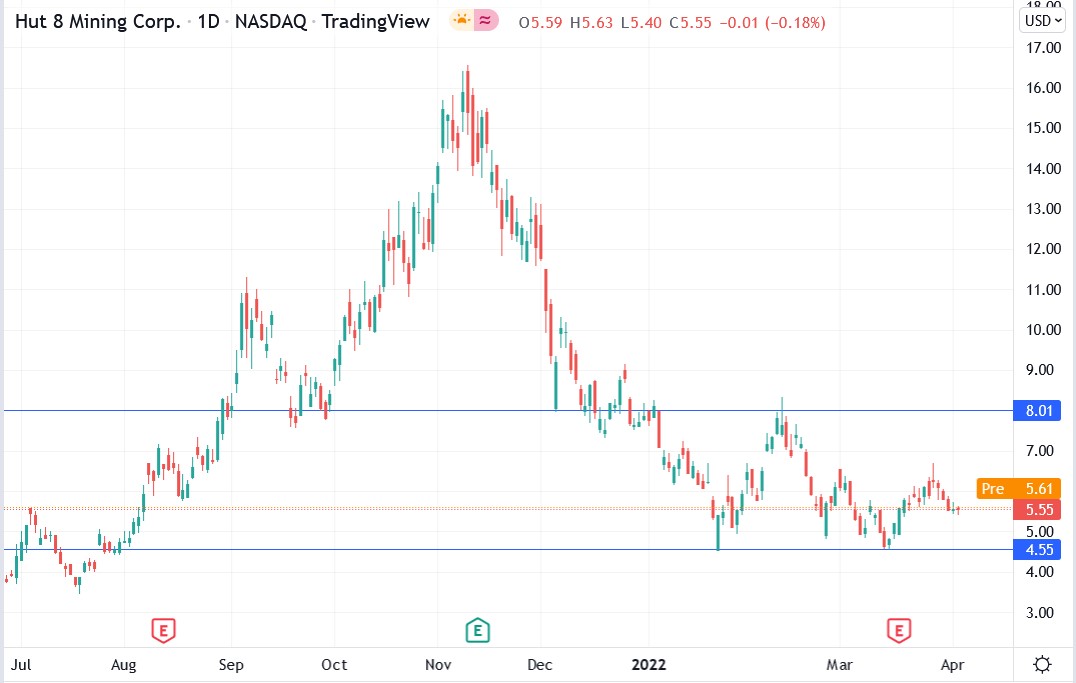 Hut 8 Mining stock price has fallen 29.3% in 2022 but seems to have recently bottomed. Can it rally higher?