Shares of Iconic Labs PLC (LON: ICON) edged 56.8% higher today after the company appointed Sarah Dees as its new CEO with immediate effect replacing former CEO John Quinlan.
The appointment comes after the firm's top executives led by CEO John Quinlan, Chief Business Officer Liam Harrington and Chief operating Officer Samuel Regan-Asante resigned from their immediate effect on January 31, 2021.
Iconic Lab's share price plunged over 50% following the resignations, which also triggered the cancellation of the lucrative deals signed with Greencastle Media were terminated following the resignation of the previous executives.
The firm's shares have since mounted a recovery and are trading close to last week's closing price of 0.66p. The company still faces a significant challenge replacing the revenues lost after Greencastle Media cancelled its lucrative service agreements with Iconic Labs.
The three directors resigned after the European High Growth Opportunities Securitization Fund ("EHGO") revised the payment terms for a £1m financing facility issued to Iconic Labs, which then lent the money to Greencastle Media to acquire JOE Media.
EHGO raised concerns that Iconic Labs amended the terms of the loan issued to Greencastle Media, a convertible loan that could give Iconic Labs a stake in the other company as part of the repayment terms.
Interestingly, Greencastle Media is owned by David Sefton, the former Executive Chairman of Iconic Labs. Now that the three former Iconic Labs executives have joined the firm, it seems they collaborated to Iconic Labs' detriment.
The recent revelations by EHGO of the reasons behind the departure of the former executives could be one of the main drivers of Iconic Labs recent rally given that they blamed the fund for their departure.
However, it is quite clear that EHGO could be the wronged party contrary to what Iconic's previous executives had claimed.
Iconic Labs share price.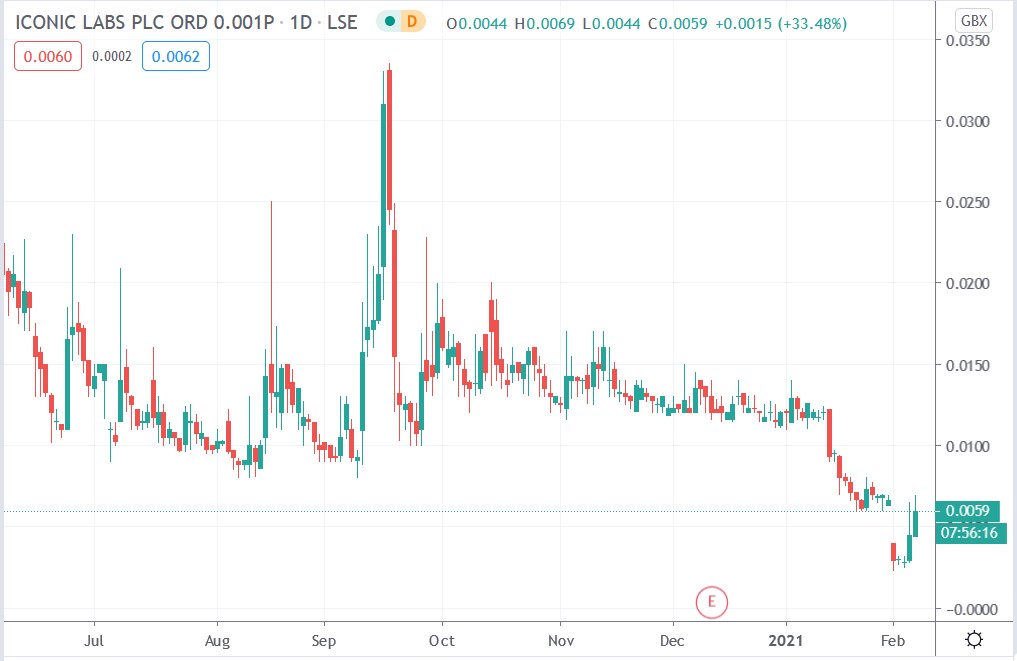 Iconic Labs shares rallied 56.8% higher to trade at 0.0069p having risen from Thursday's closing price of 0.0044p.