Shares of IQ-AI Ltd are rallying on Tuesday after the company confirmed it has agreed to finance a Phase 1 clinical trial planned to commence in the summer to evaluate the safety and efficacy of Gallium Maltolate (GaM) in the treatment of Glioblastoma Multiforme (GBP).
In return for financing the clinical trial, if it is successful, the company said it will apply for orphan drug status under the US FDA Orphan Drug Designation Program.
The program grants IP protection to therapy to treat a rare disease or condition and, if given, it will provide market exclusivity to IQ-AI for seven years post-approval.

Recent pre-clinical animal studies have shown that GaM can significantly reduce the size of tumours within 10 days of treatment, and so the IQ-AI believes that it is now appropriate to commence human trials as soon as possible.
An Investigational New Drug (IND) application has been submitted to the FDA, pending approval of a Phase 1 trial.
The two-year study is being conducted at the Medical College of Wisconsin (MCW) Cancer Center and is designed primarily to determine the optimal dose administered safely to patients.
Efficacy is not the primary aim of a Phase 1 trial, but investigators will monitor the tumour's size using magnetic resonance imaging. IQ-AI said that given the aggressive growth of GBM, investigators could obtain an early indication of the treatment's efficacy during the trial.
Trevor Brown, CEO of IQAI, said: "Current treatment protocols for GBM have done little to reduce mortality. The pre-clinical trial produced promising results, but we cannot know whether these results are replicable in humans until clinical trials are completed."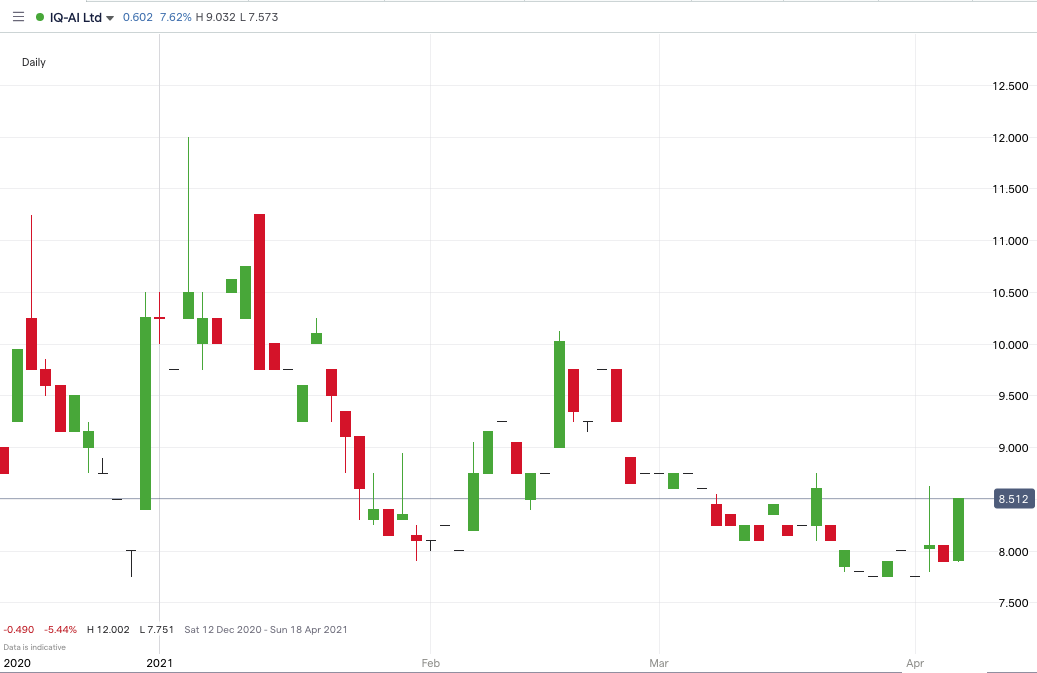 IQ-AI's share price jumped to a high of 9p per share following the news. It has dropped off somewhat since those gains earlier in the session, now priced at 8.5p, up over 7%.
Should You Invest in IQ-AI Shares?
One of the most frequently asked questions we receive is, "what stocks are best to buy right now?" It's a wide-ranging question, but one that we have answered… Our AskTraders stock analysts regularly review the market and compile a list of which companies you should be adding to your portfolio, including short and longer-term positions. Here are the best stocks to buy right now