IQE plc (LON: IQE) share price crashed 27.8% after warning investors that it expects to register lower revenues in the current financial year due to softer demand from the smartphone market.
The company also blamed the slow rollout of 5G technology in many countries for its troubles, as it warned that its profit margins would fall 2% to 15% from last year's 17% profit margins.
The markets reacted harshly to IQE's announcements, as evidenced by today's crash, given that the semiconductor manufacturer's margins have always been lower than those of its global peers.

Investors could not believe that IQE has not benefited from the current high demand for chips. Leading chip manufacturers such as Taiwan Semiconductors report higher profit figures and margins.
IQE recently appointed Americo Lemos as its incoming CEO, who is expected to lead its next growth phase and hopefully turn around its operations, competitiveness and profitability.
Lemos' is the immediate former Vice President of business development for the Asia Pacific region at Global Foundries and was also the President of the company's operations in China. Some of his previous positions include executive positions at Qualcomm and Intel.
Today's announcement just made Lemos' job that much more challenging as the incoming CEO. His job will be to take the company in a new direction that is much more profitable and restore investor confidence in the chip manufacturer.
I have previously covered IQE, including its recent hiring of Critical Manufacturing Systems to deliver a new manufacturing system for the company starting in Q4 2021. The program is expected to run up to 2024 and will now be steered by the new CEO.
Meanwhile, IQE shareholders will have to wait patiently until the new CEO start work in 2022 to see if the company will start making tangible progress in catching up to its global peers.
*This is not investment advice. Always do your due diligence before making investment decisions.
IQE share price.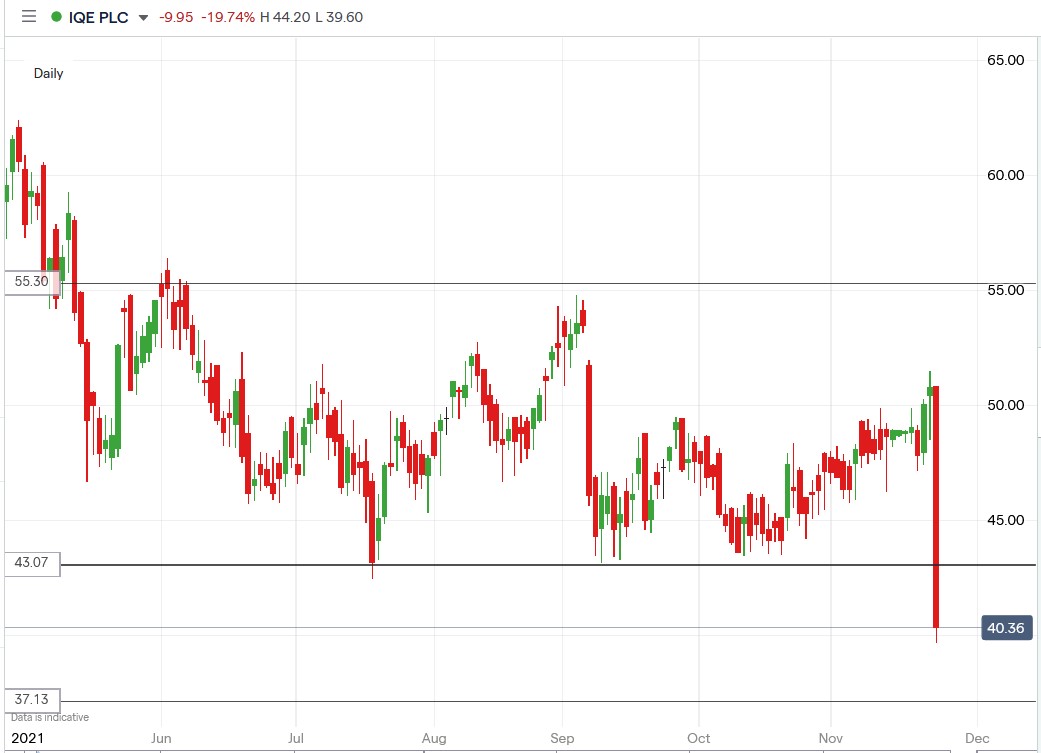 IQE share price crashed 27.78% to trade at 39.69p, falling from Tuesday's closing price of 50.80p.
Should you invest in IQE shares?
If you're a smart investor, you will know that having large-cap stocks in your portfolio is vital. They are more mature companies, considered safer investments, trade with less volatility, have greater analyst coverage, and in most cases, have a steady dividend stream. Due to the current market environment, we think now is the perfect time to add large-cap stocks to your portfolio. But which large-cap shares should you buy? Our stock analysts regularly review the market and share their picks for some of the best large-caps to invest in.