Key points:
ITM Power shares have fallen 48% in 2022 despite the energy crisis.
The company's green hydrogen is an excellent fit for the push to net zero.
Will ITM shares recover? Read on to find out.
The ITM Power plc (LON: ITM) share price has fallen 48% in 2022 despite the looming energy crisis in the UK and the broader European Union. Investors are not as excited about renewable energy companies as they were in the past. Will investor attitudes change?

The current global energy crisis can be partly blamed on the push by most Western governments toward green and renewable energy sources at the cost of traditional fossil fuels. Yet, most of the world's energy needs are still being met by fossil fuels. Speaking at a conference in Norway yesterday, Elon Musk said that the world needs more significant investments in oil and gas and nuclear power plants to alleviate the current global energy crisis.
Also read: Five Best Green Energy Stocks In 2022.
Some energy experts opine that it will take up to 2050 for the world to derive most of its energy from renewable and clean energy sources. Until then, most of the world will have to rely heavily on crude oil, natural gas and, to some extent, coal to power industries, trucks and most economic activities.
So, where does ITM Power fit amid the current energy crisis? First, the company has a partnership with ScottishPower to develop a hydrogen facility at its UK onshore wind farm near Glasgow. The 20 MW electrolyser could produce up to 8 tonnes of hydrogen daily.
The clean energy and storage company also has other partnerships with leading companies such as Bosch and Dooosan targeting multiple industries, including developing hydrogen electrolysers for the transport industry.
ITM's key European projects include Refhyne, which aims to supply clean refinery hydrogen across Europe; HyDeploy, which aims to blend 20% green hydrogen into the regular gas supply and H2 mobility, pioneering hydrogen-fueled transportation.
So, will ITM Power shares recover? The short answer is yes. One could even argue that they are trading at a discount. However, as outlined in earlier sections, the path ahead for clean hydrogen is still a long one.
*This is not investment advice.
The ITM Power share price chart.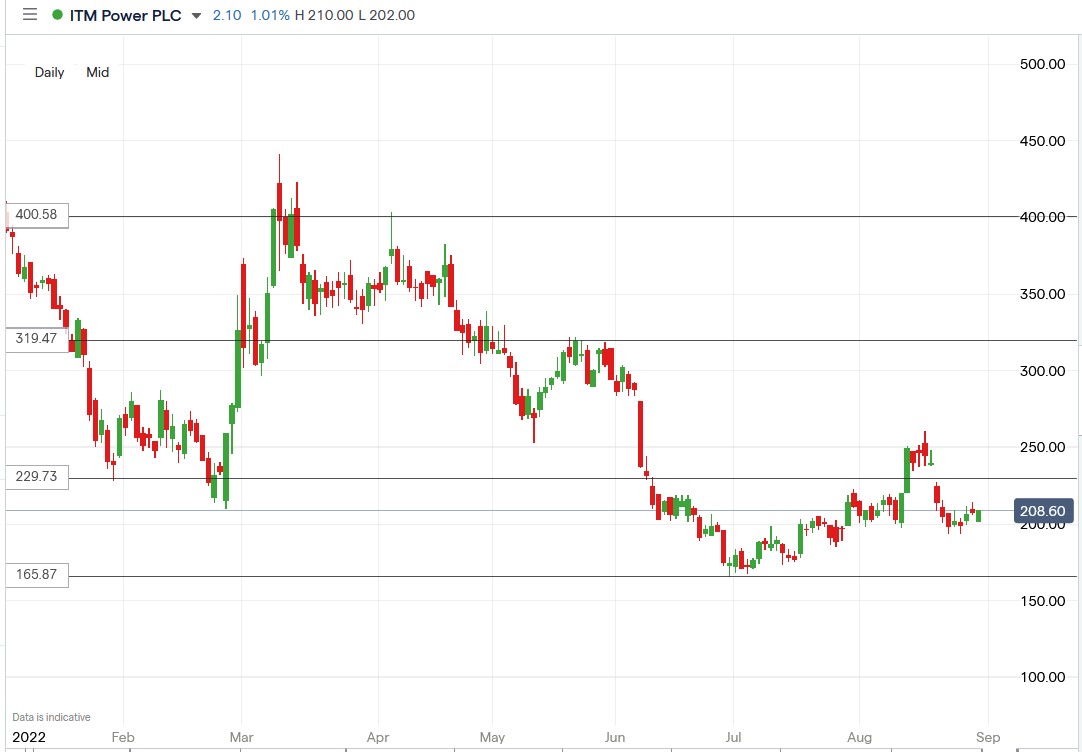 The ITM Power share price has fallen 48% this year despite the looming energy crisis in the UK and EU.