Key points:
Best Buy reports second-quarter earnings before the open Tuesday, August 30
The company topped earnings and revenue estimates
Best Buy shares rose over 3% premarket.
Best Buy (NYSE: BBY) shares are up more than 3% premarket after the company posted earnings for its latest quarter topping earnings and revenue estimates.

Best Buy posted adjusted earnings of $1.54 per share on revenue of $10.33 billion, beating expectations of earnings per share of $1.27 on revenue of $10.24 billion.
However, sales have fallen from a year ago as inflation impacted consumers' reign in spending.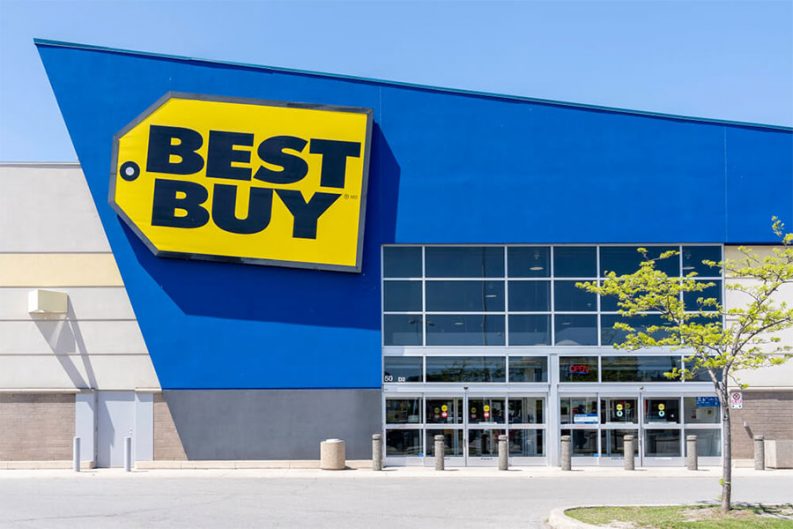 "Our comparable sales were down 12.1% as we lapped strong comparable sales growth last year of 19.6%. Our online sales penetration, at 31% of our total Domestic sales, is almost twice as high as pre-pandemic Q2 FY20 while our diluted EPS grew over 40% versus Q2 FY20," said Corie Barry, Best Buy CEO.
"We are clearly operating in an uneven sales environment," continued Barry "As we entered the year, we expected the consumer electronics industry to be softer than last year following two years of elevated growth driven by unusually strong demand for technology products and services and fueled partly by stimulus dollars. The macro environment has been more challenged due to several factors and that has put additional pressure on our industry."
Looking ahead, Best Buy's CFO, Matt Bilunas, stated: "Our current FY23 planning assumptions for a comparable sales1 decline in a range around 11% and a non-GAAP operating income rate2 of approximately 4% are consistent with the update we provided in late July."
"As it relates specifically to Q3 FY23, we anticipate that our comparable sales will decline slightly more than the 12.1% decline we reported for the second quarter. We anticipate the year-over-year decline in our non-GAAP operating income rate in Q3 FY23 will be very similar to, or slightly more than, our Q2 FY23 year-over-year results," he added.