Key points:
ITM Power shares plunged 22.6% after the CEO announced his departure.
Investors reacted negatively to the news, which could derail ITM's progress.
However, the move was strategic, according to ITM's board.
The ITM Power plc (LON: ITM) share price plunged 22.6% after announcing that its long-time Chief Executive, Dr Graham Cooley, was stepping down from his role as CEO after 13 years of leading the company. Investors did not take the news well, as evidenced by the drop in ITM's share price.

The hydrogen electrolyser company also released its final results for the year ended 30 April 2022, where its revenues rose to £5.6 million from £4.3 million. Still, its losses ballooned to £23.5 million, versus last year's £6.5 million. The two negative releases drove ITM shares lower.
Also read: Five Best Green Energy Stocks 2022.
ITM Power said that it had initiated the process of finding a successor to Dr Cooley while reassuring investors that Cooley would remain a senior advisor to the company after leaving.
Dr Graham Cooley said: "It has been a privilege to lead ITM Power through its transition from an R&D business to a world-leading electrolyser manufacturing company. As we seek to become a global manufacturing powerhouse, now is a good time for me to step aside and hand over to someone with more experience in this area. The whole team at ITM Power has been a pleasure to work with, and I look forward to working with a new CEO and continuing my involvement with the Group."
The company also unveiled changes to its strategy choosing to drop the planned opening of a second UK factory at Aviation Park. Instead, the company plans to extend the total production capacity at its Bessemer Park up to 1.5 GW. The first phase will see it expand the factory's capacity up to 700 MW over the next six months.
Sir Roger Bone, ITM Power's Chairman, said: "Graham's contribution to this company's growth, over many years, is immeasurable. We are pleased that he has agreed to remain with the company in a strategic role so that we may continue to benefit from his knowledge, wisdom, experience and relationships."
So, should you buy ITM shares? Unfortunately, the short answer is no. The shares are currently trading in uncharted territory, and until we see vital signs of a reversal, I wouldn't buy them.
*This is not investment advice.
ITM Power share price.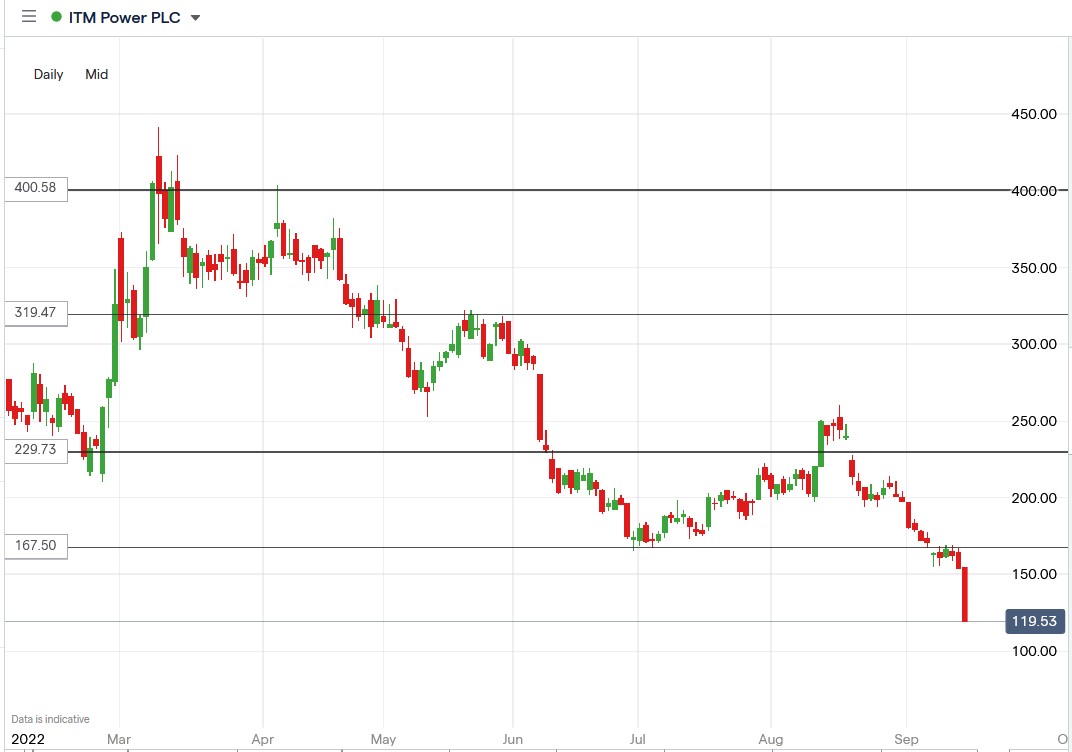 The ITM Power share price plunged 22.63% to trade at 119.17p, falling from Tuesday's closing price of 154.03p.