Key points:
Helium One (HE1) shares fell 23.3% after the August operations update.
The company expects to start phase II drilling in January/February 2023.
However, there are no guarantees that it will discover commercial hydrogen.
The Helium One Global Ltd (LON: HE1) share price fell 23.3% after issuing its August operations update. Investors reacted negatively to the news that the ADC audit of the proposed drilling rig in Kenya was not yet complete.

The helium exploration company said that it had discovered irregularities in the operation of the Rig's CAT C-27 diesel engine, which led to the stripping of the engine. The team discovered that the engine's twelve fuel injectors had advanced wear and ordered spare parts for the same.
Also read: How To Invest In Metal Stocks.
Investors ignored the news that the company had signed a Letter of intent (LOI) with Baker Hughes to provide integrated services to the Rukwa Phase II drilling campaign, which is expected to commence in January/February 2022.
Helium One further told investors that it had relinquished a non-prospective licence area totalling 1,548 km2 resulting in an annual cost saving of $309,600 after an audit of all its license areas. The company initially held a license over approximately 3,448 km2 in the Rukwa Rift basin.
While the company clarified that the license areas relinquished had minimal issues that made them non-prospective, one cannot help but feel that it might have lost potential helium reserves that another firm could discover and exploit.
Overall, investors were disappointed that phase II drilling would commence in 2023 after the disappointing results witnessed during the phase I drilling. Furthermore, Helium One could miss out on the high demand for helium accompanied by high prices due to the short supply of the same.
Who knows if helium prices and demand will still be high in 2023 or 2024 when the company begins extracting and exporting helium from Rukwa? Additionally, there are no guarantees that the company will discover commercial helium deposits after the disappointing phase I drilling results.
So, should you buy Helium One shares? The answer depends on your investment timeframe and belief in the company's future success.
*This is not investment advice.
The Helion One share price.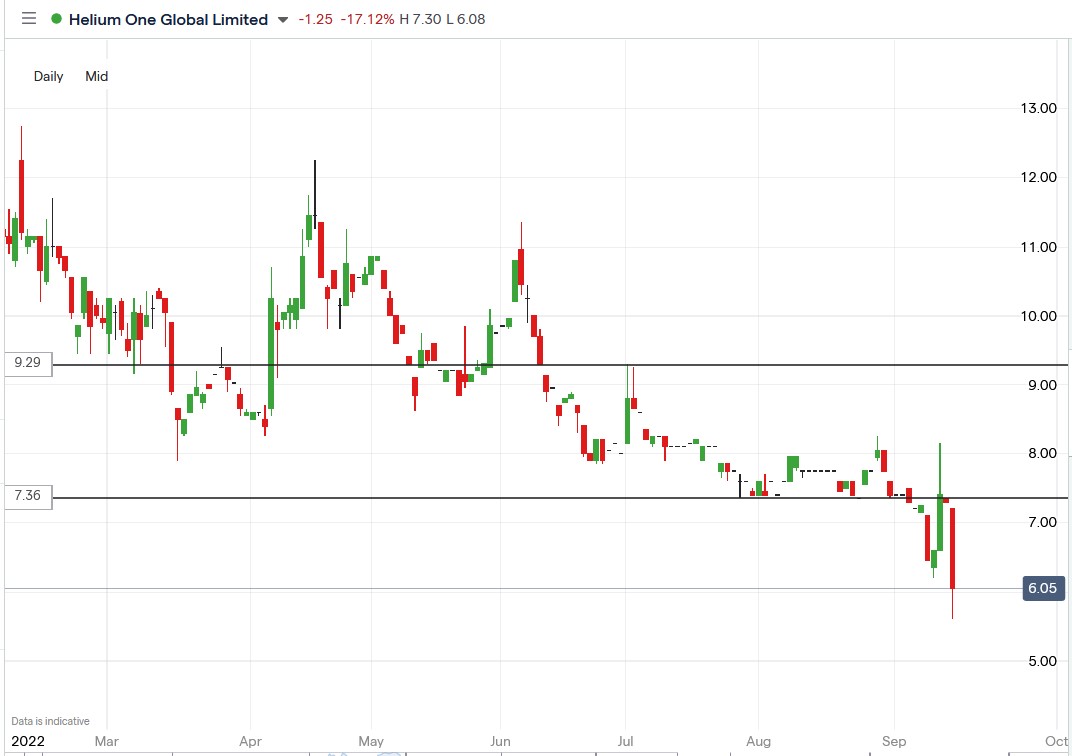 The Helium One share price fell 23.28% to trade at 5.60p, falling from Tuesday's closing price of 7.30p.