Key points:
The JNJ stock price rose slightly on Q2 earnings results.
The consumer health company beat several analysts' estimates.
The stock remains a value play in today's market.
The Johnson & Johnson (NYSE: JNJ) stock price was up premarket after its Q2 earnings results beat analysts' estimates on multiple fronts. However, the company lowered its full-year guidance citing a strong dollar that had reduced its overseas earnings.

The consumer healthcare company generated $24 billion in sales across all its operating divisions, with net profit falling 23.3% to $4.814 billion compared to 2021's $6.278 billion. In addition, the company's diluted earnings per share fell 23.4% to $1.80 versus last year's $2.35.
Also read: What Do Quarterly Earnings Mean For Investors?
Many analysts have lauded the company for maintaining its stock price despite the ongoing carnage in US stock markets that have pushed most leading stock indices into bear market territory.
JNJ stock was up 0.99% today, as many predict its share price is currently consolidating. Investors who rotated out of growth stocks earlier this year and into value stocks such as JNJ have preserved their investment funds as opposed to those who stuck with last year's high-flying stocks such as Tesla, which is down 39.85% year-to-date.
Despite lowering its full-year revenue guidance to $93.3 billion – $94.3 billion from $94.8 billion – $95.8 billion, investors and analysts remain bullish on the stock. The company reported that its consumer health division recorded a 2.9% increase in sales, while its pharmaceutical business recorded a 12.4% revenue growth.
JNJ's Med Tech division recorded a 3.4% surge in sales. It is evident from the quarterly data that the company's pharmaceutical group is its start division contributing the lion's share of its revenue growth.
Investors wondering whether they should buy JNJ stock should consider that it was trading at $155 in February 2022 before rallying higher. Luckily, the stock is currently trading above the $172.8 support level.
Hence, I would buy the stock at current prices with a stop-loss order at $167 and a profit target of $192.50 (the average analyst price target). I would secure some profits at $185.
*This is not investment advice. Always do your due diligence before making investment decisions.
JNJ stock price.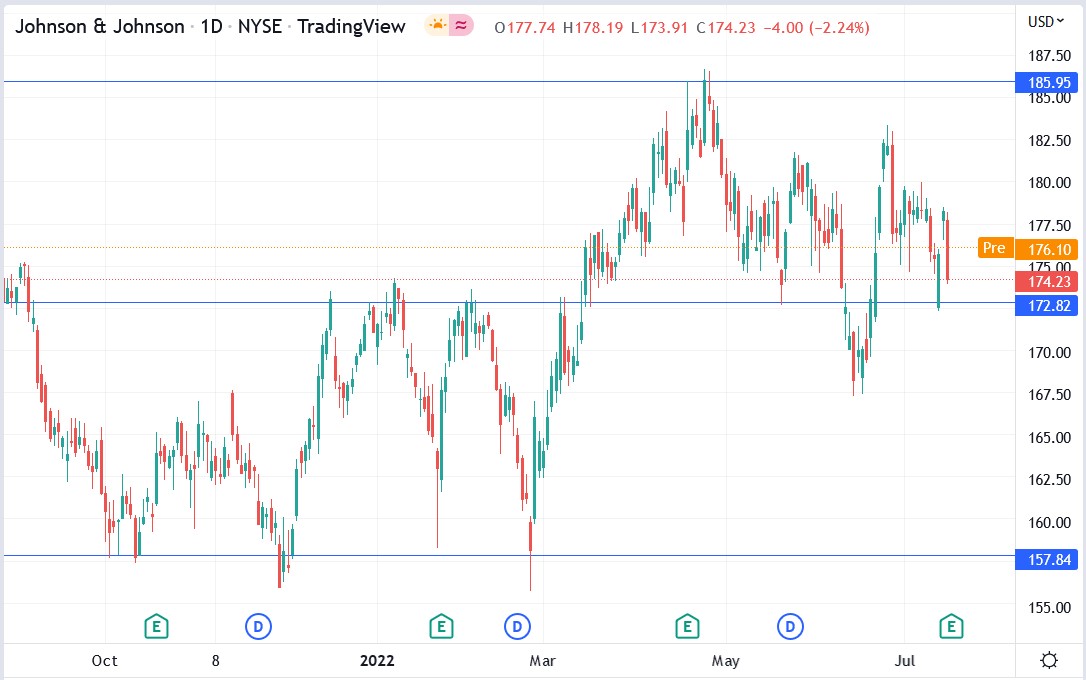 The JNJ stock price was trading up 0.84% premarket after its Q2 earnings beat analysts' expectations.