Key points:
Morses Club's share price crashed 41.2% on plans for a new scheme.
The sub-prime lender is facing a high number of redress claims.
Will the lender survive this complex process? Read on to find out.
The Morses Club PLC (LON: MCL) share price crashed 41.2% after the sub-prime lender announced that it was looking to create a scheme of arrangement to compensate customers with legitimate redress claims against the company.

The company is facing a situation similar to what Amigo Loans went through in 2020, which led to the suspension of lending activities as the guarantor lender worked to resolve the redress claims against it by customers who the company overcharged.
Also read: Best Financial Stocks To Buy Now.
However, Morses Club is in the early stages of resolving the redress claims after the company announced that it had shared its plans for a scheme of arrangement with the UK's Financial Conduct Authority (FCA) and was looking back to the regulator's response.
Analysts and investors hope that the sub-prime lender has learned a lesson from what transpired with Amigo Loans' first scheme of arrangement that was opposed by the FCA and rejected by the courts for being unfair to the affected customers while favouring its shareholders and creditors.
Morses Club has to submit a fair scheme to receive the FCA's go-ahead, after which the affected customers will vote on the scheme before its submission to the court for a hearing, after which the High Court could sanction the scheme's implementation or reject it.
Furthermore, investors were unhappy to hear that the lender does not expect to generate a profit in the current financial year ending in February 2023 due to the compensation arising from the rising number of claims against the company.
Morses Club also suspended nay dividend payments to shareholders to preserve its existing cash flows as it prepares for the significant payments it will have to make to aggrieved customers.
The lender is on a very similar path to Amigo Loans and could easily find itself in a position where its very existence is at risk if it cannot get a fair scheme of arrangement approved by the FCA and the High Court.
However, if the lender manages to remain afloat, the demand for its services remains high given the challenging economic conditions in the UK. The sub-prime lender's unique home collected credit (HCC) loan products are still popular across the country.
Morses Club share price.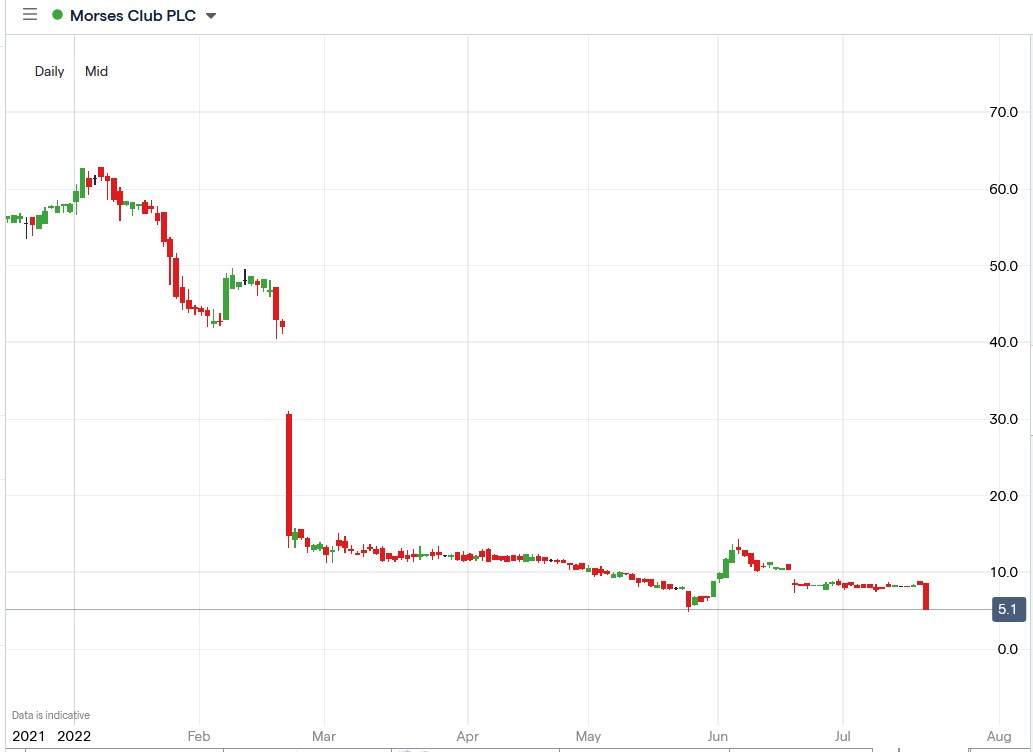 The Morses Club share price crashed 41.18% to trade at 5.0p, falling from Tuesday's closing price of 8.5p.