Key points:
The Grayscale Ethereum Trust (ETHE) rallied 40% in a week.
The rally mirrored Ethereum's rally ahead of the September merge.
So is ETHE a good investment? Read on to find out.
The Grayscale Ethereum Trust (ETH) (OTCMKTS: ETHE) stock price rallied 40% in the past five days as Ethereum rallied higher, breaking out of the sideways trading range that has been in place since mid-June this year.

The move higher by Ethereum and Bitcoin has been welcomed by many, with the focus being primarily on Ethereum, the world's second-biggest cryptocurrency, which is set to 'merge' on September 19, 2022.
Also read: The Best Sustainable ETFs To Have In Your Portfolio.
Ethereum's move higher was triggered by an announcement from Tim Beiko, an Ethereum Foundation member, that the much-anticipated merge event could happen on September 19, 2022. Many crypto holders and fans are awaiting the merge event that would move Ethereum from a Proof-of-work consensus mechanism to a Proof-of-stake mechanism.
Many crypto fans are now rooting for Ethereum to surpass Bitcoin as the leading cryptocurrency, given its broader functions and use cases. In addition, moving to a proof-of-stake consensus mechanism will make Ethereum more efficient and even open the door for Ethereum to become the first profitable blockchain.
Most large blockchains operate at a loss since the fees they collect from processing transactions and selling block space are minimal compared to the rewards they offer miners and validators for ensuring their networks remain secure.
Investors who cannot afford to buy Ethereum, which is currently trading at over $1,500, could buy the Grayscale Ethereum Trust (ETH) ETF and profit from any moves made by Ethereum without having to part with a significant amount of money.
Grayscale claims to be the largest digital currency asset manager, and its ETFs are trusted by investors from both the traditional finance (tradFi) industry to the decentralise finance (deFi) industry.
Unlike asset managers such as Three Arrows Capital,w which recently went bankrupt due to over-leveraged positions and over-allocation to illiquid assets, Grayscale is a balanced manager and is regarded as one of the least risky crypto ETF issuers available today.
So, should you buy ETHE? The answer depends on your risk tolerance. The worst is not over yet as the Fed continues raising interest rates. However, Ethereum's fundamental outlook is quite rosy.
*This is not investment advice. Always do your due diligence before making investment decisions.
ETHE stock price.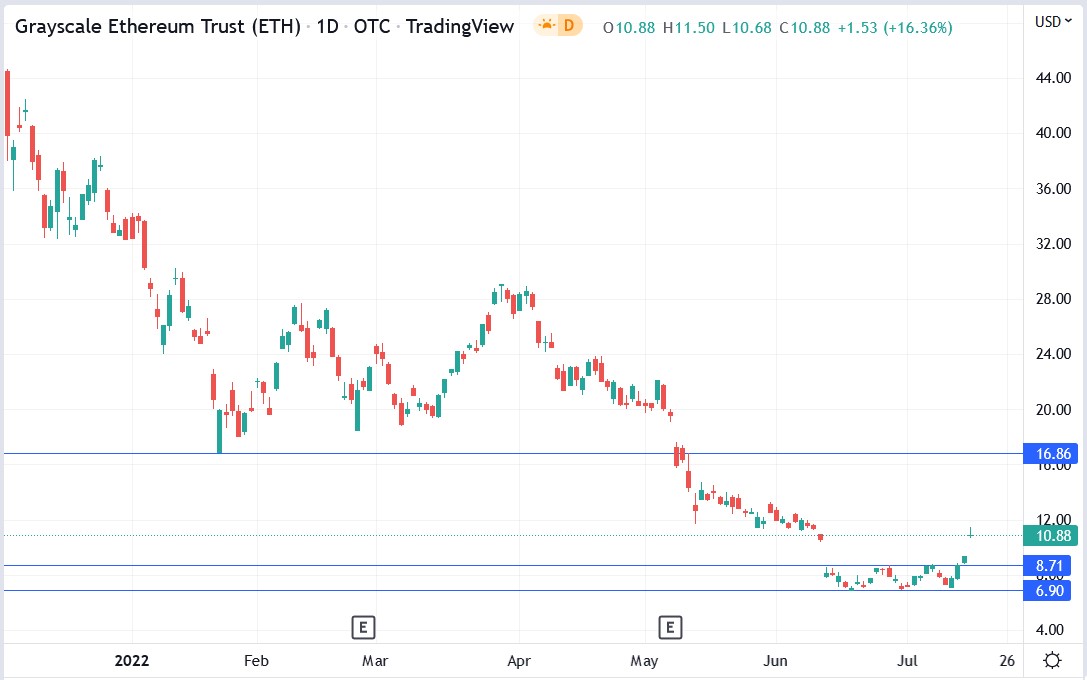 The ETHE stock price has risen 40% in the past five days as Ethereum surged higher amid a broad crypto market recovery.