Key points:
Kohl's share price was up 33.3% premarket on premium takeover offers.
The department store has received two takeover offers from PE funds.
However, Kohl's management team is opposed to selling the firm.
The Kohl's Corporation (NYSE: KSS) share price was up 26% premarket after the department store chain was reported to be on track to receive a second takeover offer from Sycamore Partners following another offer reported on Friday.

On Friday, it was reported that Kohl's had received a takeover offer from Acacia Research, a private equity firm backed by Starboard Value LP, valuing each of its shares at $64 a piece for a combined valuation of $9 billion.
Acacia's offer represents a 37% premium to Kohl's Friday closing price of $46.84, which is why the department store's share price was price during premarket trading.
Kohl's is under significant pressure from activist investors that own shares in its stock to start an official sale process from firms such as Macellum Advisors, which owns 5% of the department store's stock, to consider a potential sale.
Engine Capital LP, another activist investor that owns 1% of Kohl stock, has also been pushing for a sale after the department store's shares rose 2% in 2021, with the activist investment firms saying that 2021 was a lost year.
Kohl's management team led by CEO Michele Gass has resisted calls to initiate an official sale process, saying that its business turnaround plan is working, which it is since the retailer is about to report its highest-ever earnings per share figure this year.
The company has insisted that it will not give in to the undue pressure being applied by the activist investors since its business turnaround strategy produces results. Still, the latest offer might prove too good to ignore for shareholders.
Investors should not forget the operating model championed by private equity com[any os cutting costs, disposing of most assets and leaving a company saddled by debt while booking billion-dollar profits, which is likely to happen to Kohls.
Luckily for current investors, they would have pocketed a significant premium to the department store's previous trading price if they agreed to sell their shares at $64 apiece. Still, does this compensate for Kohl's stock's potential long-term return?
Sources familiar with the dealings said that the talks with Acacia were in early stages and may not translate into a real deal, especially given that Sycamore has just thrown its hat into the ring. May the best suitor win!
*This is not investment advice. Always do your due diligence before making investment decisions.
Kohl's stock price.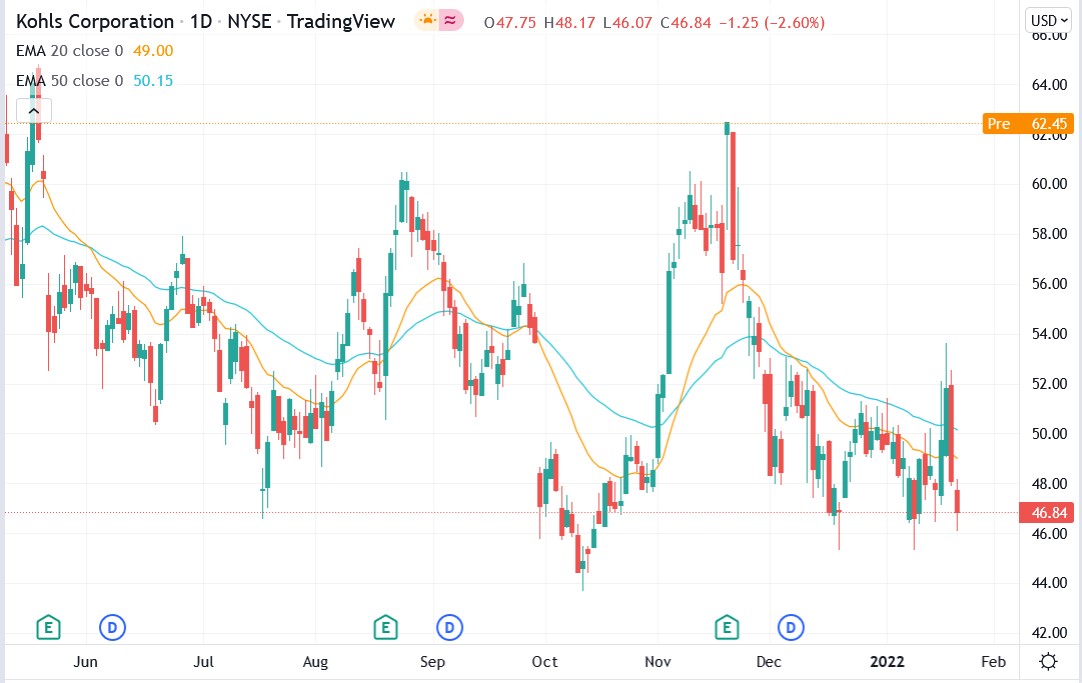 Kohl's stock was up 33.33% premarket to trade at $61.40, rising from Friday's closing price of $46.84.