Shares of Lansdowne Oil & Gas Plc (LON: LOGP) fell 27.8% after terminating its farm-out contract with Norway's SpotOn on the Barryroe oil and gas field, as the latter was unable to raise the agreed funding.

The decision was announced by Providence Resources, which has partnered with Lansdowne Oil & Gas on the project. Today's announcement was not received well by investors, given that this is the third such deal to fall through.
Providence clarified that it would move forward with the project without seeking any further partnerships, given that it owns 80% of the Barryroe oil and gas project, with Lansdowne owning the remaining 20%.
Lansdowne's shares took a bigger hit initially but had recouped a substantial portion of the losses at the time of writing, while Providence Resources shares also fell after the announcement.
SpotOn's contract was terminated after failing to raise the agreed $166 million (€138 million) in funding needed to develop the project.
Providence intends to raise an initial $5 million to kickstart the preparatory work before drilling with one of its top backers, Pageant Holdings, agreeing to underwrite a $2.5 million loan for the project.
The company also intends to raise approximately $80 by issuing bonds in the Nordic markets while lowering its initial costs by deferring some of the upfront payments to individual service providers.
Alan Linn's Providence Resources' CEO said: "We are taking control of our destiny. I am not relying on others to lead the project. We got a lot from our work with SpotOn, and we're going to use that,"
Adding:
"We're very convinced that we can actually do this ourselves. And that means it's going to get done."
Initial estimates indicate that the Barryroe oil and gas field could produce up to 350 million barrels of oil to supply all of the Republic of Ireland's oil needs for a decade at its consumption.
The company targets to recover 48 million barrels of oil worth $560 million via an early development scheme at $60 per barrel before exploiting the rest of the field.
Lansdowne share price.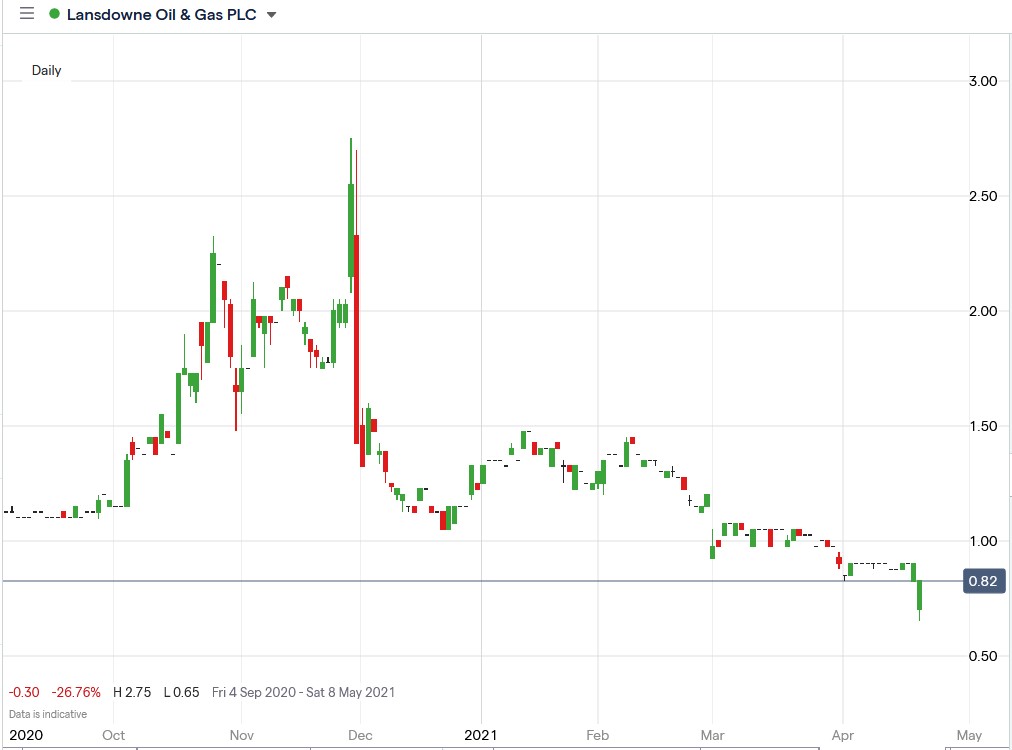 Lansdowne shares fell 27.78% to trade at 0.65p, having dropped from Wednesday's closing price of 0.90p.