Shares of AI-enabled clinical in vitro diagnostic solutions company Renalytix AI (LON: RENX, NASDAQ: RNLX) are rallying on Thursday after the company announced it has been granted a 10-year Governmentwide Acquisition Contract to provide KidneyIntelX early-stage kidney disease bioprognostic testing services.
Renalytix AI said the contract, which began on the 15th of April, covers laboratory testing services that can be provided through more than 140 US government departments, agencies and affiliates, including the US Veterans Administration (VA), Department of Defense (DoD) military branches (Army, Navy, Air Force, and Marines), and Indian Health Services (IHS).
It is a five-year contract with a five-year extension option and structured as an Indefinite Delivery, Indefinite Quantity (IDIQ) contract, providing an unlimited quantity of services over the contract term. KidneyIntelX pricing is set at $950 per reportable result.

With the contract already underway, individual physicians operating within government-sponsored healthcare programs can now order KidneyIntelX for diabetic patients with kidney disease.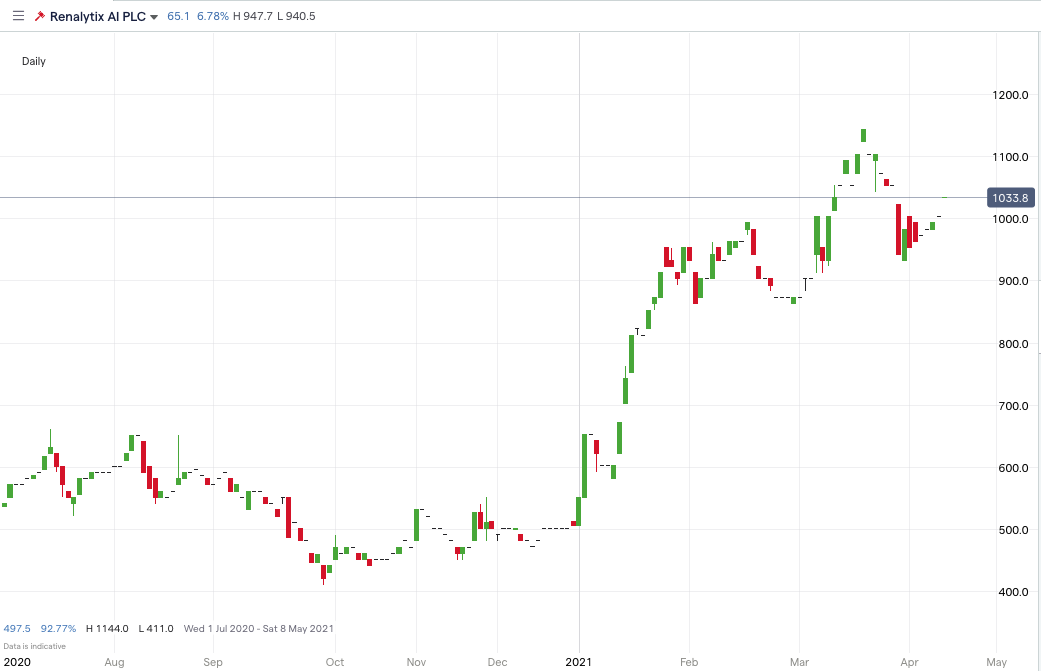 Tom McLain, President of Renalytix AI, commented: "This provides the opportunity for RenalytixAI to support our veterans, active military and Native American communities, and to expand our health system care delivery model.
"Achieving this contracting milestone allows us to make KidneyIntelX available to patients throughout the U.S. government healthcare system. Executing on our market access strategy represents a substantial commercial opportunity for RenalytixAI."
Renalytix AI's London-listed share price is currently trading 6.78% higher at 1,033p per share.
Should You Invest in Renalytix AI Shares?
One of the most frequently asked questions we receive is, "what stocks are best to buy right now?" It's a wide-ranging question, but one that we have answered… Our AskTraders stock analysts regularly review the market and compile a list of which companies you should be adding to your portfolio, including short and longer-term positions. Here are the best stocks to buy right now