Key points:
Macy's share price surged 8% on upbeat Q4 2021 and full-year results.
The retailer's results bet analysts' expectations and triggered the rally.
The company just announced a new $2 billion share repurchase program.
The Macy's Inc (NYSE: M) stock price surged 7.98% after the department store reported its Q4 results where it generated revenues worth $8.67 billion, beating analysts' revenues expectations of $8.44 billion.

The omnichannel retailer that prides itself on stocking some of the most iconic consumer discretionary brands said that it attracted 7.2million customers to its brand representing an 11% surge compared to Q4 2019 figures.
The company's digital sales rose 12% compared to Q4 2020, with the figure jumping to 36% compared to Q4 2019.
Investors cheered Macy's new $2 billion share buyback plan authorised by the board following the latest impressive financial results, which saw the retailer generate $2.7 billion in operating cash flow and $2.3 billion in free cash flow during the 2021 financial year.
Jeff Gennette, Macy's, Inc. Chairman and CEO, said: "Our results in the fourth quarter delivered a strong end to a solid year. I am proud that Macy's, Inc. outperformed expectations on both the top and bottom lines every quarter in 2021, despite COVID-19 related disruptions, supply chain issues, labor shortages and elevated inflation. Our business has momentum and is serving more customers at more touchpoints in their shopping journey."
Adding:
"Our team began the large-scale work of transforming Macy's, Inc. two years ago when we launched the Polaris strategy. Today, we believe the evidence is clear – our business is stronger, more agile, and financially healthier. We are more digitally-led and customer-centric and believe we are better positioned for long-term sustainable and profitable growth,"
Other highlights of the report indicated that comparable sales rose 28.3% on an owned basis and 27.8% on an owned-and-licensed basis compared to Q4 2020, with the difference dropping to 6.6% and 6.1%, respectively, when compared to Q4 2019.
Macy's impressive performance echoed the outperformance registered by other releasing retailers such as Amazon.com, whose EPS beat analysts' estimates, although its revenues fell short of expectations.
The question on most investors' minds is how the retailers will be affected by the surging inflation this year that could eat into consumers' disposable incomes, leaving little to spend on unnecessary retail items.
Since the year started, Macy's shares have been trading sideways, and I would buy them if they convincingly break above the $28 resistance level with several bullish daily candles.
*This is not investment advice. Always do your due diligence before making investment decisions.
Macy's stock price.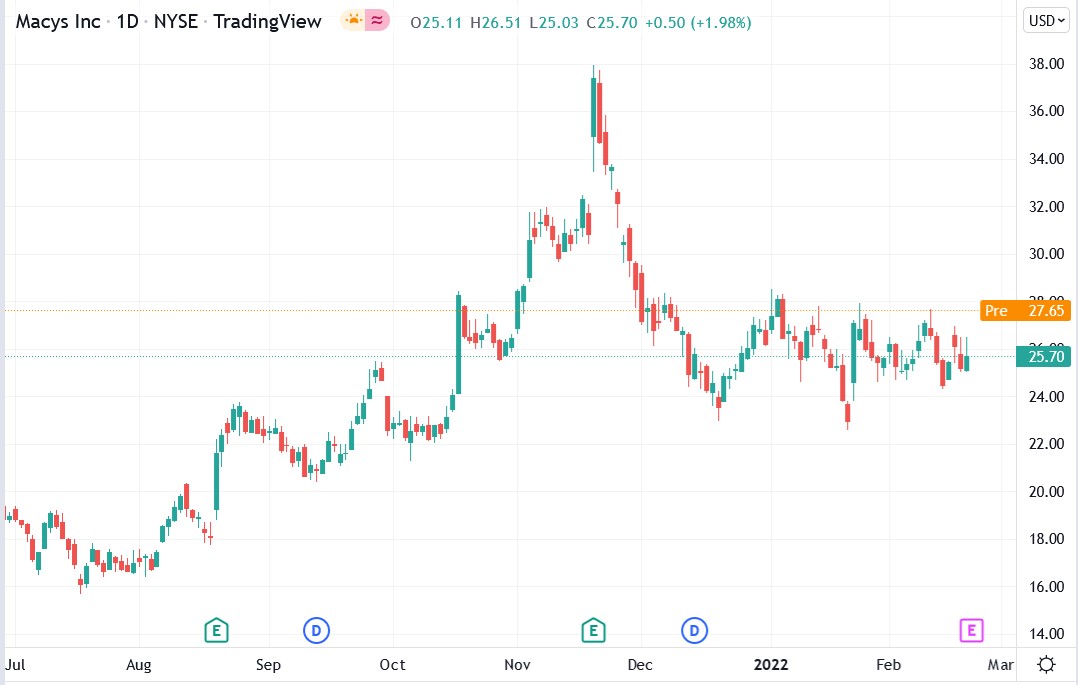 Macy's stock price rallied 7.98% premarket to trade at $27.75, rising from Monday's closing price of $25.70.