Key points:
Made.com had to announce that yes, they are looking at an equity raise
MADE shares did not respond well to this, of course
The news that a capital raise might come increases the price of that capital raise, that's why
Made.com (LON: MADE) shares are down another 10% this morning on the back of news about a possible capital raise. That the shares are down 93% year to date also indicates that there's something rather wrong inside that corporate wrapper. What makes matters even worse is that having been pushed into having to make an announcement about a possible capital raise the Made.com share price move just makes any such move even yet more expensive in dilution for current shareholders. They're in a downward spiral that is, just not where we'd like to be really.

The recent results – like all such corporate announcements, it's necessary to "interpret" – show that there are significant problems within the business. They were grossly overstocked and so had to shift material at low prices and margins. Then of course the general snafus in global logistics didn't aid in getting in new and better stock.
However, the interpretation, that's the important part. Essentially, MADE came to market (just over a year ago) when all online sales strategies were hugely flattered by the effects of lockdown. We can see this through the Office for National Statistics numbers. Before lockdown online was eating perhaps 1% of retail sales a year – it had reached about 14% before covid struck. During lockdown that soared to, at one point, 30%. The big question then being, well, is this a step change? We've had an acceleration of 15 years of change? Or is it all going to fall back to something much closer to what would have been without lockdown? The answer is the second – but many online retailers were priced as if it was the first. Further, many online retailers stocked and invested and acted as if it was the first instead of the second.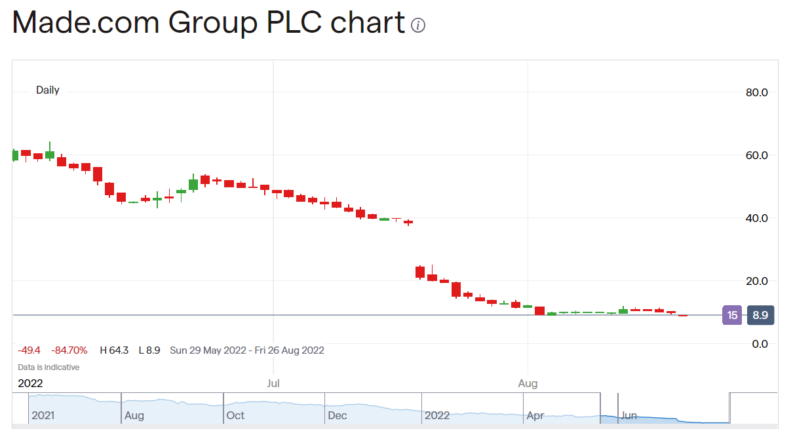 Also Read: How To Buy Tesco Shares
Now, it's possible to be too harsh on management here for no one did know which way it was going to go. But the end result of this is that Made.com is somewhat borked. In those last results we see this little telling phrase " Alongside these cost actions, Management is considering options to allow the Company to strengthen its balance sheet." That means raising capital from somewhere.
One answer is that someone takes them out – buys the whole company. But that's not hugely appealing for there are many such online businesses is the same sort of situation. Thus prices are cheap – as the MADE share price makes clear. There's not much change of significant lending and anyway that doesn't particularly shore up the balance sheet nor capital situation. That leaves just a share issue and capital raise that way. But the lower the MADE share price then the greater the dilution necessary to raise any particular amount of capital. But today's announcement indicates that one is at least possible " all options to allow it to strengthen its balance sheet. MADE confirms that these options include a potential equity capital raise." The problem being that the very statement pushes the shares down and increases the dilution necessary to raise that capital.
It's not an attractive position to be in. Of course, at some point the share price will reflect the inherent value of Made.com but the trading calculation is – is this it yet?