Key points:
Despite a recent dip, Amigo Loans shares have risen 17.5% in a month.
The guarantor lender is preparing to resume lending as RewardRate.
Investors are optimistic about Amigo's prospects, hence, the rally.
The Amigo Holdings PLC (LON: AMGO) share price has risen 17.5% in the past month despite the 10% decline witnessed last week as the shares pulled back slightly. The move has been primarily driven by investor sentiment, given the lack of news from the guarantor lender.

However, investors remain optimistic that the lender will resume its lending activities soon. In addition, Amigo revealed that it plans to rebrand its lending business to RewardRate as it looks to move forward as a new entity with a different business mantra.
Also read: Best Financial Stocks To Buy Right Now.
In the past, Amigo has been accused of mispricing its loans, such that its customers ended up paying much more than what the lender had advertised when issuing the sub-prime loans. The lender hopes the new name will help put its murky past behind it and attract new customers.
However, an essential requirement for the company to resume lending activities is to raise new capital to fund its operations and the payments to aggrieved customers under the scheme of arrangement.
Amigo is yet to announce the terms of the dreaded capital raise, which is expected to dilute existing shareholders by up to 90% due to the massive volume of shares set to be issued under the scheme. However, there is no way out for the lender since the capital raise was one of the key reasons the High Court approved its scheme of arrangement.
Therefore, while Amigo's share price has been rising recently, I expect it to plunge if the lender prices the new shares at a discount to the recent prices. However, even if the new shares are sold at the same share price, we might still get a decline due to the dilution of the existing shareholders.
Investors' optimism aboutAmigo'ss prospects are justified, given how close the company is to resuming lending activities. Furthermore, the guarantor loan demand is relatively high, which should boost its lending operations once they resume.
*This is not investment advice. Always do your due diligence before making investment decisions.
Amigo Loans share price.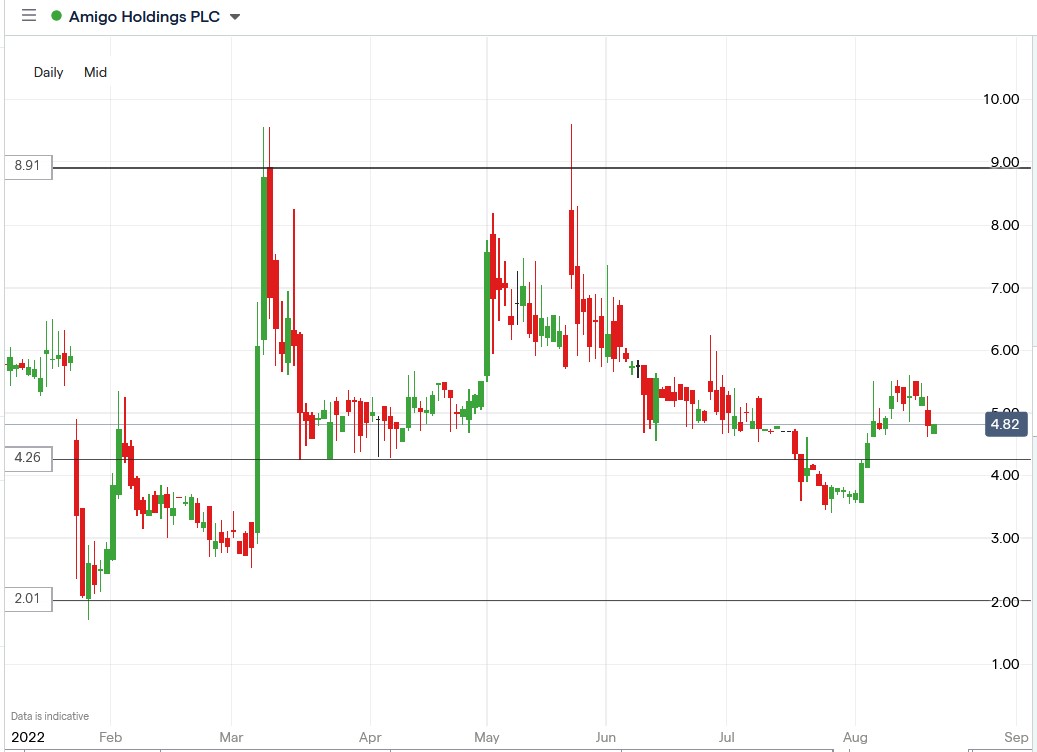 The Amigo Loans share price has risen by 17.46% in the past month despite last week's 10% pullback.