Key points:
[email protected] Capital (SYME) shares plunged 7.7% on open offer closing.
However, the oversubscribed nature of the offer showed investor confidence.
Many are waiting for the next inventory monetisation transaction from SYME.
The [email protected] Capital PLC (LON: SYME) share price plunged by 7.7% after revealing that the open offer announced on 22 July 2022 had raised a gross amount of £320,855.04, with net proceeds being £269,855.04.

The inventory monetisation company noted that qualifying shareholders had subscribed for all the available open offer shares. As such, Venus Capital did not get the opportunity to subscribe to some of the shares.
Also read: Five Best Starter Stocks For Beginners.
The company noted that investors had oversubscribed the shares allotted under the Excess Application Facility; hence, it had to scale down the applications from qualifying investors to stay within the agreed-upon ratios. Investors whose applications were scaled down will be refunded the excess monies paid.
[email protected] Capital's share price has risen since the company announced the open offer, which indicates investor confidence in the inventory monetisation firm. In addition, the oversubscription by qualifying shareholders is another sign of investors' trust in the firm's prospects.
SYME has its fair share of detractors who believe its business model will not be sustainable over time, but the company continues to prove its detractors wrong. SYME announced its first successful inventory monetisation transaction in late July, triggering a significant rally in its share price.
However, SYME's business is still in the early stages; hence, a lot could go wrong compared to a mature company with an established business. The company's decision to keep raising funds via equity subscriptions is prudent in that it can avoid piling on costly debt.
Many are waiting for the next inventory monetisation transaction from SYME as it looks to establish itself as a reliable partner for companies that need to monetise their inventory.
*This is not investment advice. Always do your due diligence before making investment decisions.
SYME share price.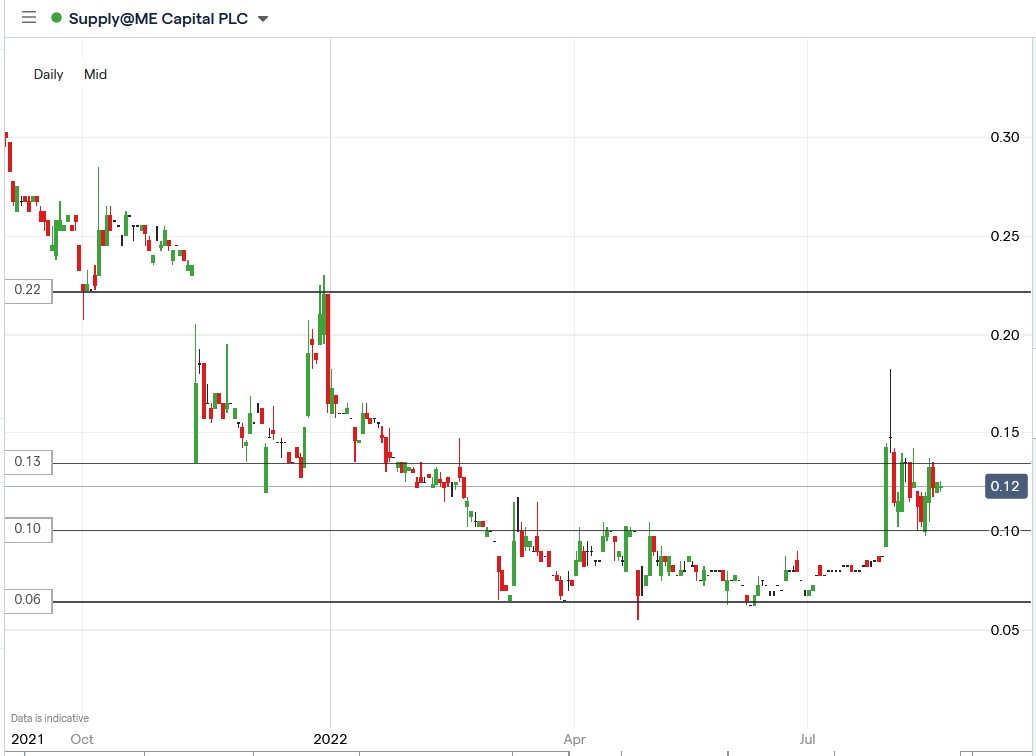 The SYME share price fell 7.69% to trade at 0.12p, from Wednesday's closing price of 0.13p.