Key points:
Microsoft stock has fallen 22.7% in 2022. Is now a good time to buy?
Given its fundamentals, buying the dip in MSFT stock is not a bad idea.
However, investors should not use the same strategy for all tech stocks.
The Microsoft Corporation (NASDAQ: MSFT) stock price has fallen by 22.7% in 2022. Most of the losses came in the past month despite the company releasing its Q1 earnings results, beating consensus estimates.

However, Ivan Feinseth, an analyst at Tigress Financial, says that the recent dip is "a major buying opportunity" for investors interested in Microsoft stock. Ivan pointed out that the tech giant continues to grow its presence in the cloud computing market, which could be a strong growth driver.
The company is also set to become a leading player in the gaming industry after acquiring Activision Blizzard in a deal worth $69 billion. The gaming industry is expected to keep growing, and Microsoft will gain ownership rights over some of the most popular games like World of Warcraft, Call of Duty and Overwatch.
Having exclusive games with a massive player base and following will increase the demand for Microsoft's Xbox home video game console since users will want access to the exclusive games they love.
Unlike some of its tech peers that registered poor performance in the Q1 2022 calendar quarter, Microsoft's impressive results stood out, which is why the analyst thinks investors should buy the recent dip in MSFT prices.
While buying the dip might be an intelligent strategy for Microsoft stock, the same reasoning does not apply to some of the other tech stocks that have recently fallen, such as Netflix, which lost over 200,000 subscribers in Q1 2022.
Overall, I think we are long overdue for a market bounce; hence, buying the dip might work. But, the fundamental factors pushing the US stock market lower such as the Fed hiking interest rates and high inflation, will continue dragging the market lower.
*This is not investment advice. Always do your due diligence before making investment decisions.
Microsoft stock price.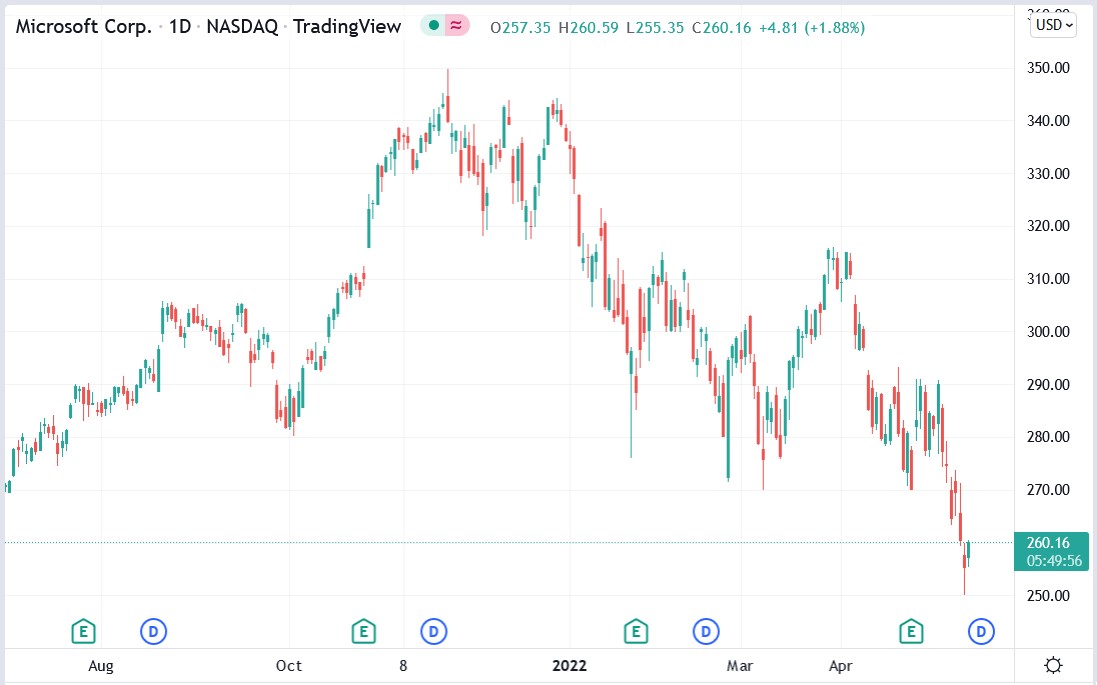 Microsoft's stock price has fallen 22.66% this year. Could this be a buying opportunity?