Key points:
Mobile Global Sports (MGAM) stock surged 58.9% despite a lack of news.
The stock is quite popular among short-term traders since its listing in July.
However, will today's rally translate into a long-term uptrend?
The Mobile Global Esports Inc (NASDAQ: MGAM) stock price surged 58.9% today during premarket trading despite the lack of news from the mobile gaming company. The last significant announcement from the firm was a technology partnership with Artemis Ave.

The gaming company, commonly referred to as MOGO, will deliver a custom gaming platform that will provide a dynamic social engagement for the Indian university esports market. MGAM stock has gained significant popularity among US traders and investors in the recent past due to its volatile moves.
Also read: The Best Cheap Tech Stocks Under $10.
Mobile Global Esports (MGAM) was listed on the Nasdaq on July 29, 2022, pricing the 1.5 million shares on offer at $4.00, the low end of the $4.00-$5.00 range set by most analysts. The company's shares.
MGAM shares went to trade as high as $20 on the second day of trading before falling back to earth as buyers dissipated and sellers unloaded shares onto the market. The mobile gaming company's stock was trading at $2 before today's move higher.
MOGO Esports has a massive presence in India, running collegiate tournaments and operating a social media and esports platform, including proprietary compression technology.
The company also hotels trademarks and IP rights for some collegiate esports tournaments in the country. As a result, the company has a vast addressable market among India's highly educated youth in a country with a population of over $1.3 billion.
Mobile Global Esports (MOGO) will deliver a custom gaming platform to Artemis Ave, providing dynamic social engagement targeted at Indian university students. The new platform is expected to feature ZuCasa's video 'Casas', allowing users to interact with HD video and audio in private digital suites while playing games.
The platform will be built using ZuCasa's proprietary EVE compression,w which can reduce file size by up to 65% making it possible for users to easily stream HD video and audio on devices and networks without significant bandwidth.
Traders and investors are bidding up MGAM stock, which seems likely to retain its gains once the market opens. However, it is not yet clear whether today's rally shall translate into more significant gains for the stock.
*This is not investment advice.
MGAM stock price.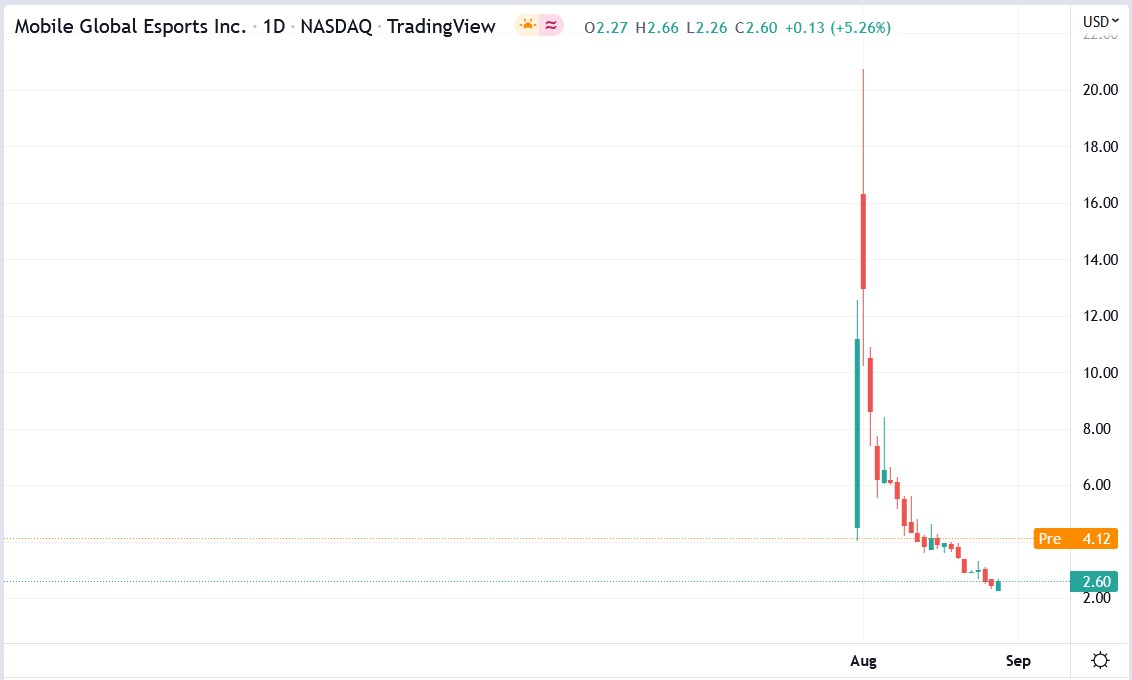 The MGAM stock price was up 58.85%, trading at $4.13, rising from Friday's closing price of $2.60.