Key points:
Nanoco's share price edged 3.41% higher on two grant awards.
The awards came from Innovate UK, boosting the firm's share price.
Nanoco shares are up 90% in 2022. Are they a buy?
The Nanoco Group PLC (LON: NANO) share price edged 3.41% higher after announcing that it had secured two grants from Innovate UK to advance the development of two leading-edge novel nanomaterials projects.

The developer and manufacturer of cadmium-free quantum dots and other nanomaterials created using its proprietary technology revealed that one of the projects was centred around the development of singly-doped colloidal dots for use in quantum technology applications.
Also read: The Best UK Tech Stocks To Buy Right Now.
The second project covers the development of a new material set based on alternative chemical elements, which could be used for infrared sensing applications and other consumer electronics functions.
Nanoco will collaborate with the University of Machester on the first project since it is a joint project between the two entities, and the grant was awarded jointly. The first project is expected to last 18 months, while the second will run for 12 months. Both projects will commence early in Nanoco's 2023 fiscal year.
The company expects to generate revenues worth £300,000 from the two grants in the 2023 financial year, falling to £200,000 in the 2024 fiscal year. In my last coverage of Nanoco, I highlighted that it had won some crucial pre-trial rulings against Samsung in a patent infringement case starting in September.
Investors should continue monitoring the trial proceedings since Nanoco has a strong case against Samsung and could get a favourable ruling at Samsung's expense.
Brian Tenner, Nanoco's CEO, commented: "These Innovate grants highlight Nanoco's position as the leading edge developer of novel nanomaterials for electronics applications. The two projects build on Nanoco's existing extensive IP portfolio and the expert know-how of our team. They will help to consolidate our position as the leading producer of nanomaterials for use in infra-red sensing applications, whilst also expanding into exciting new areas of opportunity."
Nanoco shares have risen 90.53% in 2022, indicating investor confidence in the nanoparticles company. So, should you buy NANO shares? The answer depends on your particular situation and investment goals, but the data suggests it is a solid company.
*This is not investment advice.
The Nanoco share price chart.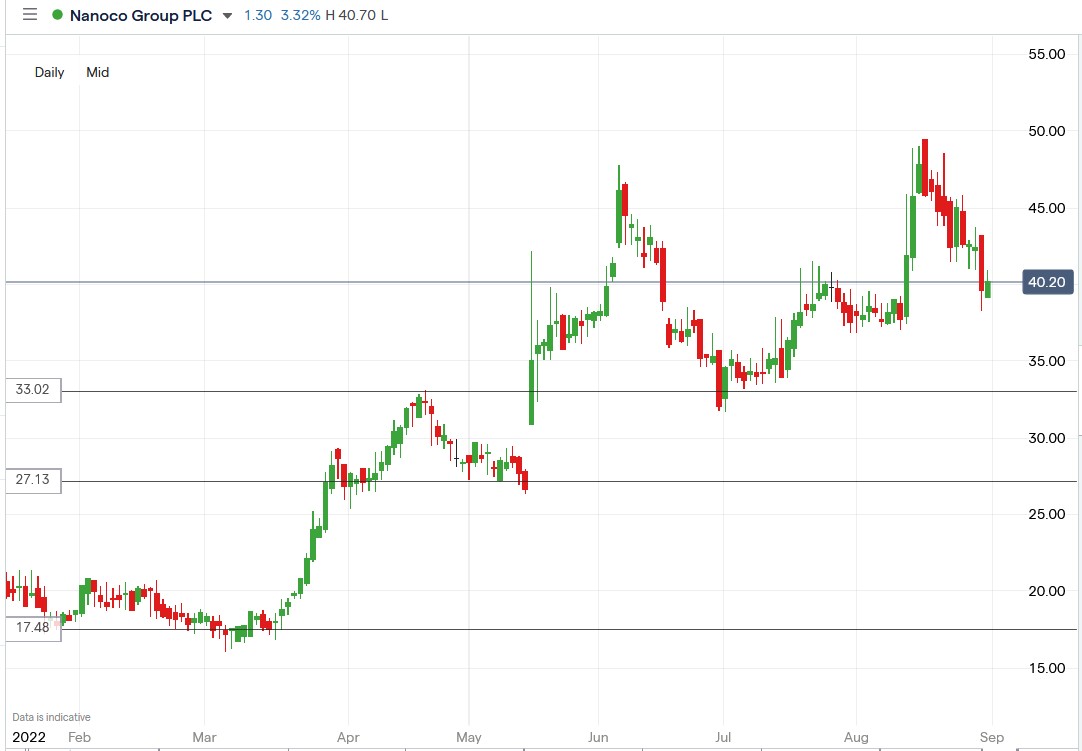 The Nanoco share price edged 3.41% higher to trade at 40.95p, rising from Tuesday's closing price of 39.60p.