Key points:
CBOX falls 45% on the back of a trading update
The key is that conditions are hard, yes, but not terrible
It's more about the reduction of growth prospects than anything else
Cake Box (LON: CBOX) shares are down 45% this morning on the back of a trading update. Are those results really as bad as all that? The answer is, in one sense, yes, they really are. In another sense no they're not. At least so far we're not seeing predictions of an extinction level event which has afflicted so many specialist retailers recently. What we are seeing though is possibly some deflation of previously hoped for growth prospects. That doesn't make a difference to the way that the CBOX share price is now down 45% but it might make a difference to our thoughts about what will happen next.

Cake Box shares have been up as high as £4 and change – last year – and that seems pretty high for a chain of franchised cream cake shops. The driver of the price up to that level was the very decent growth rate the company was achieving. As ever with growth stocks it only needs a change in that expected growth rate to take much of the wind out of the sails. January saw a near halving of the CBOX share price and then today we see another halving again from yesterday's levels. The company still expects to make a profit in this coming year, so this is not one of those events where a retailer declares disaster. It's a fall in prospects, not an extinction level event.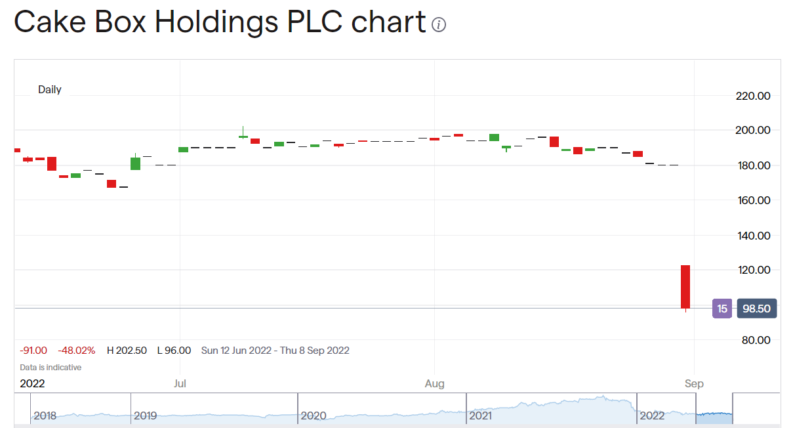 Also Read: The Best Vegan Stocks To Invest In
Cake Box has had other news recently – their annual results were very much better than this trading update for example. They also had to declare a concert party. This isn't anything very much, to be fair, but they had to make clear that the close family members of the founders who owned shares should be assumed to be all working together. Fair enough really. There was also, in that Cake Box announcement, the news that they'd been paying out dividends illegally. More of a technical breach than a real one, the profits were in the subsidiaries, not the holding company, but the distributable reserves have to be in the company actually paying the dividend. Something that can be – as other companies have done – dealt with by a shareholder resolution.
However, that allied with this trading update has clearly caused some fragility in the CBOX share price. Part of which might just be general nervousness in the market following the Patisserie Valerie case – we have absolutely nothing to say there's any relevance, but markets can become nervous about sectors.
Cake Box says that profits are likely to be well down but they're not predicting losses as yet. For those interested in getting in this 45% drop – what we might call the vanishing of a possibly excessive growth premium – might be a benefit in disguise. Others might want to wait to see if there's another shoe to drop.