Key points:
Open Orphan shares rallied 6.5% on a £7.2m contract from a big 5 pharma.
The contract was from a repeat client that was satisfied with the firm's services.
So why are Open Orphan shares still trading in negative territory?
The Open Orphan PLC (LON: ORPH) share price rallied 6.5% after the company won a £7.2 million contract with a top 5 global pharmaceutical company to test its orally administered antiviral drug.

The human challenge trial will be executed using hVIVO's respiratory syncytial virus (RSV) Human Challenge Study Model at Open Orphan's Whitechapel quarantine facility. The challenge study will evaluate the safety and efficacy profile of the antiviral against RSV.
Open Orphan shares barely moved on the announcement amid sour market sentiment towards biotech stocks. The company has achieved multiple significant milestones this year, yet its share price has fallen 44.57% since the year began.
The human challenge trial is set to begin later this month (June 2022), with revenues from the contract being recognised in the 2022 and 2023 calendar years. To conduct the study, hVIVO will recruit volunteers via its FluCamp volunteer recruitment division.
The antiviral drug candidate being tested is already in phase III clinical trials for another disease, and the client will use the results of the human challenge trial to quickly and effectively assess the drug's efficacy against RSV.
Today's contract win is further evidence of the crucial role that human challenge studies can play in developing new drugs. Furthermore, the top 5 pharmaceutical company is an existing hVIVO client, and the repeat business proves they are satisfied with hVIVO's services.
Open orphan continues to cement its position as a leading contract research organisation (CRO) in the field of human challenge trials.
Yamin 'Mo' Khan, Open Orphan's CEO, said: "We're delighted to be working with this top 5 global pharmaceutical client again to test their antiviral candidate using the hVIVO RSV Human Challenge Study Model. I am especially proud that our world-class offering and customer service has secured repeat business from another Big Pharma client, and that we are seen as the 'go-to' partner for an increasing number of global drug developers."
Open Orphan shares continue to trade in negative territory despite the company's positive announcements, making them attractive from a contrarian perspective.
*This is not investment advice. Always do your due diligence before making investment decisions.
Open orphan share price.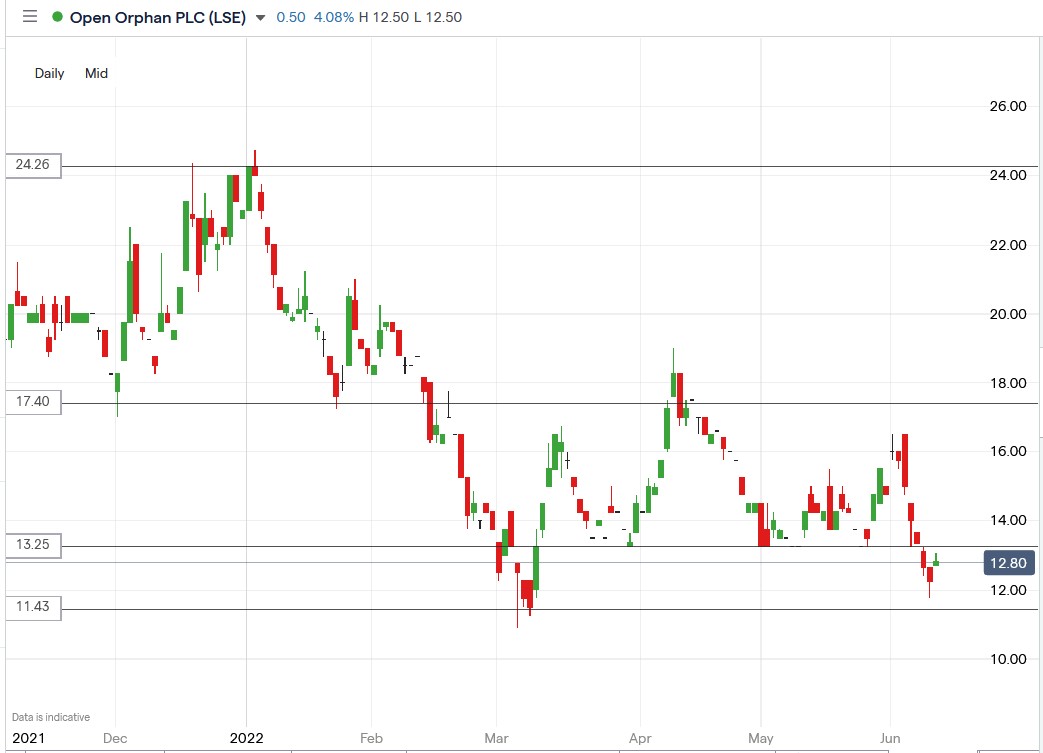 Open Orphan share price rallied 6.53% to trade at 13.05p, rising from Monday's closing price of 12.25p.