Key points:
Petrofac shares surged 6.98% after extending its well management contract with NEO Energy.
The company has a positive outlook on its 2022 performance due to the rising oil prices.
The oil services firm's shares have risen 19% in January and could be headed much higher.
Petrofac Limited (LON: PFC) shares surged 6.98% after signing a new five-year contract with NEO Energy to manage and operate its oil wells in the UK North Sea.

The company which provides oilfield services to oil and gas companies will manage NEO Energy's 27 UK well located in Dumbarton, Affleck, Lochranza, Balloch and Finlaggan in the North Sea, UK.
The contract extension comes after NEO Energy awarded Petrofac an Integrated Services Contract in 2020, allowing it to provide ongoing maintenance, operational, construction, and engineering support services for its UK activities.
The contract was extended in 2021, and it allows Petrofac to manage sub-contracted services and retain the direct procure rights over the various properties.
Petrofac released its full-year trading update on Thursday, 13 January 2022, highlighting the challenging market environment in 2021 that led to a drop in its core profits.
However, the company was bullish regarding its 2022 outlook, saying that it expects more activity this year, having expanded its order book.
Petrofac is also looking to offload its built environment business as it de-risks its project portfolio while focusing on projects with decent margins and fewer material risks.
The company is set to benefit from the surging oil prices that have led to increased activity within the sector as global oil demand remains relatively robust.
Nick Shorten, Petrofac's Asset Solutions business Chief Operating Officer, said: "As Well Operator for over 50 wells on behalf of seven clients, including NEO Energy, this award allows us to build on our exemplary track record of delivering Well Operator services in the UK."
He added:
"Unlocking long-term value for our clients is of the utmost importance to Petrofac. Since taking on Well Management and Well Operator responsibilities on behalf of NEO in 2020, we have proactively managed the integrity of existing well stock, supported the successful startup of the Finlaggan Field and continued to plan and prepared for the execution of production enhancing intervention and new well construction campaigns in 2022/23. We have achieved this thanks to our close working relationship with NEO and our commitment to enhancing value and delivery excellence."
Despite the recent pullback, Petrofac shares have risen 19.2% since the year started. The stock might be headed higher if the company continues inking new deals that could generate extra revenues.
*This is not investment advice. Always do your due diligence before making investment decisions.
Petrofac share price.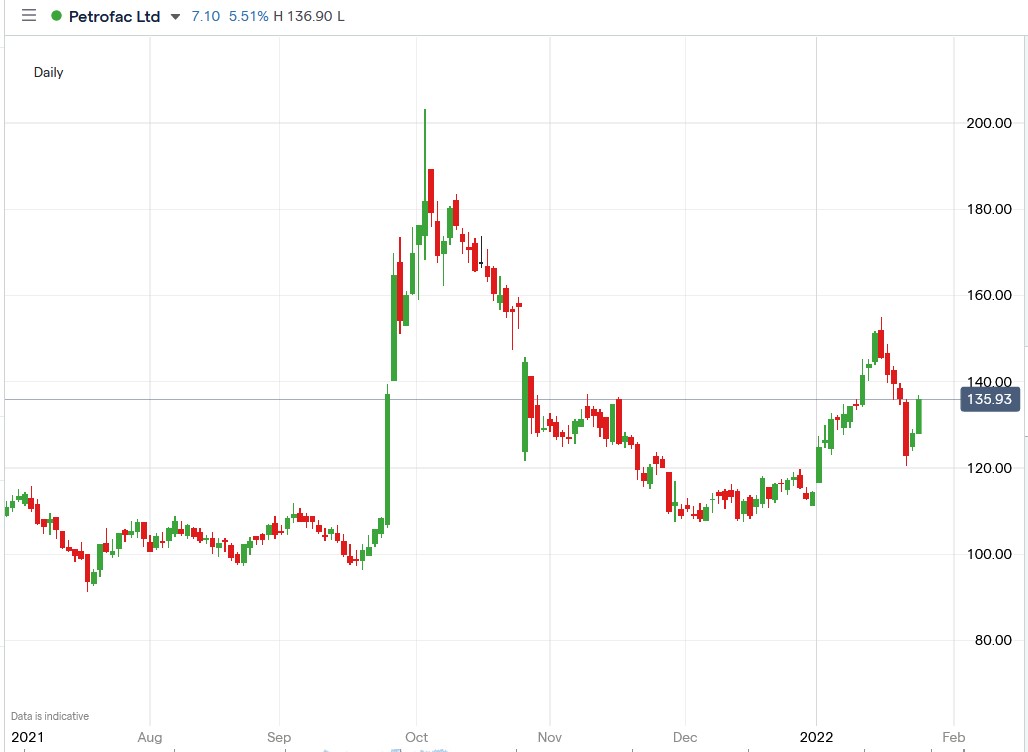 Petrofac shares surged 6.98% to trade at 136.88p, rising from Tuesday's closing price of 127.95p.