Key points:
Mosman Oil shares fell 14.7% despite releasing an update 6-month production update.
Investors kept selling the company's shares despite the positive news.
Mosman share should be trading at a higher valuation given its positive prospects.
The Mosman Oil and Gas Ltd (LON: MSMN) share price fell by 14.7% despite reporting excellent production figures for the six months to December 2021.

The company's net production figures were 43% higher than the first half of 2021, yet investors kept selling its shares, as evidenced by today's decline.
Mosman produced 17,344 boe in the six months to December compared to the 12,143 boe produced in the six months to June 2021, a 5,201 boe, or 43% improvement.
What exactly is ailing the oil and gas company? And how can it restore investor confidence in its long term prospects?
Mosman Oil shares have fallen 61% in the past 12 months despite the rising global crude oil prices and the higher production figures registered in the second half of 2021.
One of the reasons behind the multi-month downtrend is that the company made a loss of AUD1.4 million (US$1.0 million) in the year ended Juen 30, 2021, after incurring an AUD4.1 million impairment charge.
Investors were not pleased with the significant impairment charges that occurred in the previous year but were recognised in the 2021 fiscal year.
In December, the company had some production hiccups that resulted in lower production numbers during Q4 2021 but is now back to full capacity.
John W Barr, Mosman Oil's Chairman, said: "Mosman is pleased to report an uplift in production from the previous half-year, which reflects a daily production rate of 95 boepd for the six months to 31 December 2021."
Adding:
"Importantly, since 31 December, we are seeing growth in production which has been achieved with the re-completion at Falcon, the drilling and start of production at Stanley-5 and the workover of -D&H-11. We anticipate further increases from workovers at Stanley, Stanley-4 returning to production and Winters-2 starting production once the gas infrastructure is completed."
Mosman is planning a 100:1 stock consolidation that will reduce the total number of outstanding shares while lifting the company's share price to be at par with its peers. The move could attract more investors who avoid penny stocks to buy the company's stock.
As outlined in today's production and operations update, the company's prospects are very promising. Hence, I believe its shares should be trading much higher than their current prices. Hopefully, the stock consolidation will work and trigger higher prices in future.
*This is not investment advice. Always do your due diligence before making investment decisions.
Mosman Oil share price.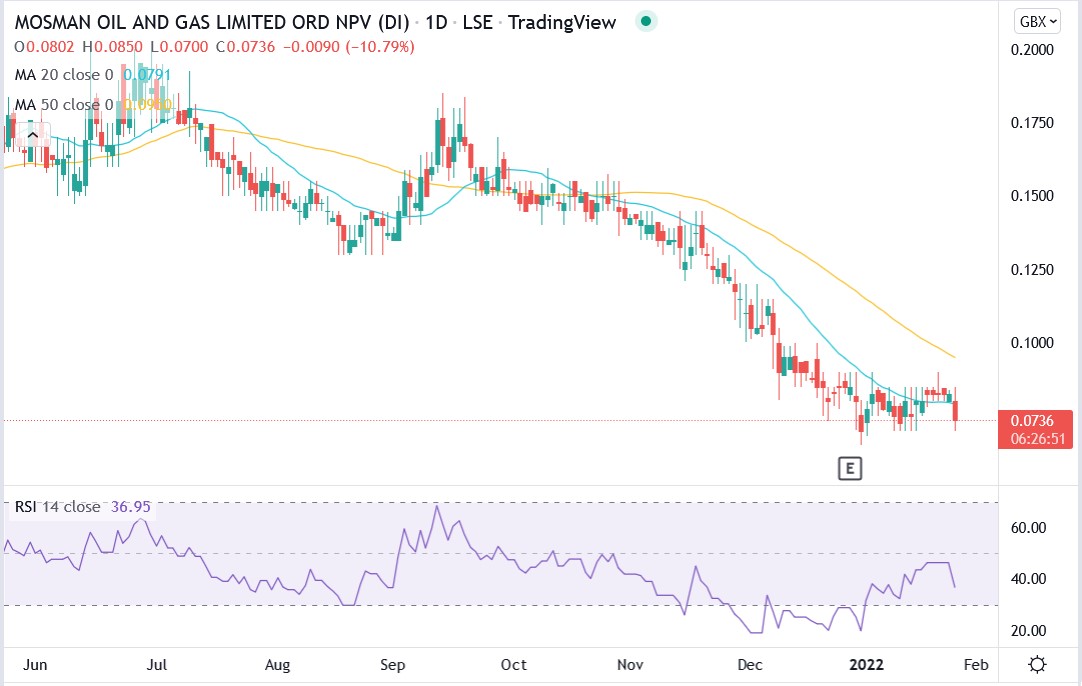 Mosman Oil shares plunged 14.77% to trade at 0.0704p, falling from Tuesday's closing price of 0.0826p.