Key points:
Premier African Minerals has announced expanded mineralisation at Zulu
This is a positive for the possible profitability of the site
PREM's focus on the rubidium content of the deposit is a little puzzling though
Premier African Minerals (LON: PREM) shares are up 5% on the back of assay results from Zulu. The results are good for the lithium content and spodumene deposit being more extensive than at first thought. This doesn't change much about the decision to mine or not, but does potentially change the rewards from doing so. Which is an odd statement but a true one all the same.

PREM is looking to mine lithium and tantalum from the Zulu deposit. The target mineral is spodumene which usually to often contains both of those metals. The mining techniques, separation, concentration, all of these are well known and have been used for decades. So we're not exposed to technological risk in an evaluation of Premier African shares. The question is firstly, whether there's enough there of interest to mine and secondly, how profitable will a mining operation be? Those sound like the same question but they're not really.
As we say, spodumene is a known mineral, so the decision to mine the Zulu deposit at all will depend upon there being enough to make the capital cost reasonable. Today's announcement is about there being rather more of this spodumene deposit than first thought of. This doesn't, particularly, change the decision to mine as the first hurdle has already been crossed. The finding of more spodumene does though change the potential profitability – that capital cost can now be spread over more tonnes of material produced.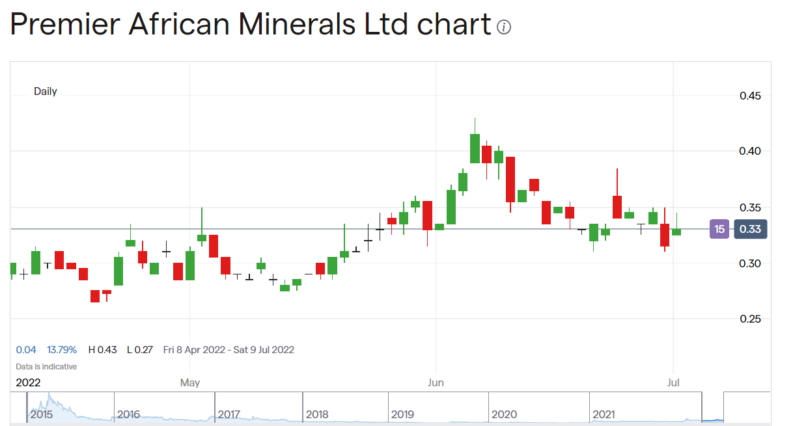 We must all remind ourselves that these drilling results do not prove that it's worth mining these extra deposits. Only that they're indicated to be there – rather more study is required to prove that they're viable to mine.
There is something that rather jars in the Premier African Minerals report though. They're making an issue the rubidium level in the deposit. Now, that both cesium and rubidium are likely to be in a spodumene deposit, along with the lithium and tantalum, is well known. But there's a reason why other deposits tend not to talk too much about that rubidium level. Which is that while the price is very attractive indeed, dollars to tens of dollars per gramme possibly, the market is so small as to be not worth pursuing. One estimate is of three tonnes a year (yes, 3T, not 3 MT) for the whole world. That's just not a relevant consideration therefore for a decision to go mining – despite Zimbabwe being a source for that global supply. It's simply an odd material for PREM to be emphasising in its drilling results.
The drill results at Zulu are good for Premier African Minerals. But we do need to recall that this is all early stages as yet. This is that very first stage of investigation of the extended deposit, there is no proof as yet – although things are looking good for it to be so – that the expanded deposit is viable to mine.