Key points:
The Valirx share price edged lower today after yesterday's crash.
The company's shares crashed lower on discounted share placement.
So, what comes next for Valirx, and should you buy its shares?
The ValiRx Plc (LON: VAL) share price edged lower today following yesterday's massive 36.9% crash triggered by news that the company plans to raise £1.5 million ($1.8 million) via a discounted share placement.
The life sciences company intends to raise funds by selling 15 million new ordinary shares for 10pence each, representing a massive discount from its Wednesday closing share price of 16.25p. However, investors were unhappy with the dilution, given the issuing of new shares at a lower price.
The firm also granted existing shareholders a chance to participate in the subscription via a broker option to purchase up to 10 million new ordinary shares at 10p each to raise £1 million. The funds raised yesterday will be used for working capital purposes to strengthen its balance sheet and advance its acquisitive tCRO (Translational Contract Research Organisation) model.
ValiRx also announced that it had extended the exclusivity period for TheoremRx to complete its financing round, allowing it to acquire the sub-license to develop VAL201 as a cancer treatment. Unfortunately, investors ignored this news, which was in another press release.
While the company agreed to extend the exclusivity period, it retained the right to terminate the exclusivity agreement if it believes that TheroemRX has not made substantial progress toward securing the funds needed to license and develop VAL201.
ValiRx, which is focused on early-stage cancer therapeutics and women's health, held its Annual General Meeting (AGM) yesterday. All the resolutions presented by the board were approved, providing that investors like the direction in which the board is steering the company.
The company's shares have fallen 70.38% in 2022 and could be headed lower. However, we could also get a bounce, given that VAL shares are currently trading at a support zone. There must be a fundamental trigger behind the move to get a solid rally in VAL shares.
So, should you buy Valirx shares? The answer for me is no, not until we get multiple green days showing that the downtrend is reversing.
*This is not investment advice. Always do your due diligence before making investment decisions.
ValiRx share price.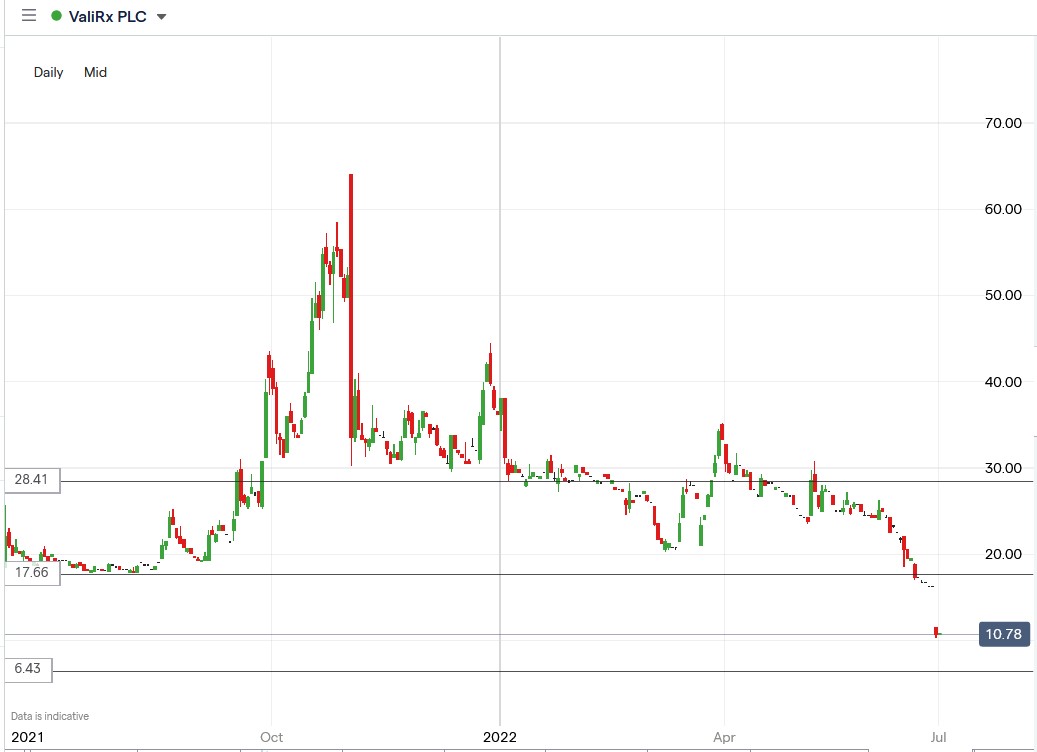 The ValiRx share price edged lower today following yesterday's 36.92% crash from 16.25p to 10.25p.