Shares of Premier Foods Plc (LON: PFD) are up 5.19% over the past two days despite not making any significant announcements and are trading near their all-time highs.

The British food manufacturer recently completed a share offering that raised 330 million, with investors supporting the move after the company's earnings per share rose for the third consecutive year.
Premier Foods EPS rose an impressive 144% annually for the past three years, with its share price rising 40% each year as the markets reacted to the EPS growth.
The food company has been expanding its operations internationally, where there is more growth potential than its home market.
However, its international revenues make up just 6.5% of its revenue, with room for more growth.
In its latest update, Premier Foods noted that it had identified market opportunities for some of its, such as Cadbury cake, Mr Kipling and Sharwood's cooking sauces in New Zealand, the USA, South Africa and Canada.
From a technical standpoint, Premier Foods shares are trading near their all-time highs and have been rising recently, which could be part of a build-up to a significant break and rally higher.
There are no guarantees that the food manufacturer's earnings shall keep growing in future. Still, its fundamentals are pretty promising, and the opportunities in foreign markets could fuel its future growth.
Investors and traders looking for bullish opportunities in the company may be bets services waiting for Premier Foods share price to break above the resistance level shown below, given that it has held since last year.
In the meantime, swing traders may short the stock at the top of the range expecting a pullback if the level holds with a stop-loss order above it if there is a strong breakout.
*This is not investment advice.
Premier Foods share price.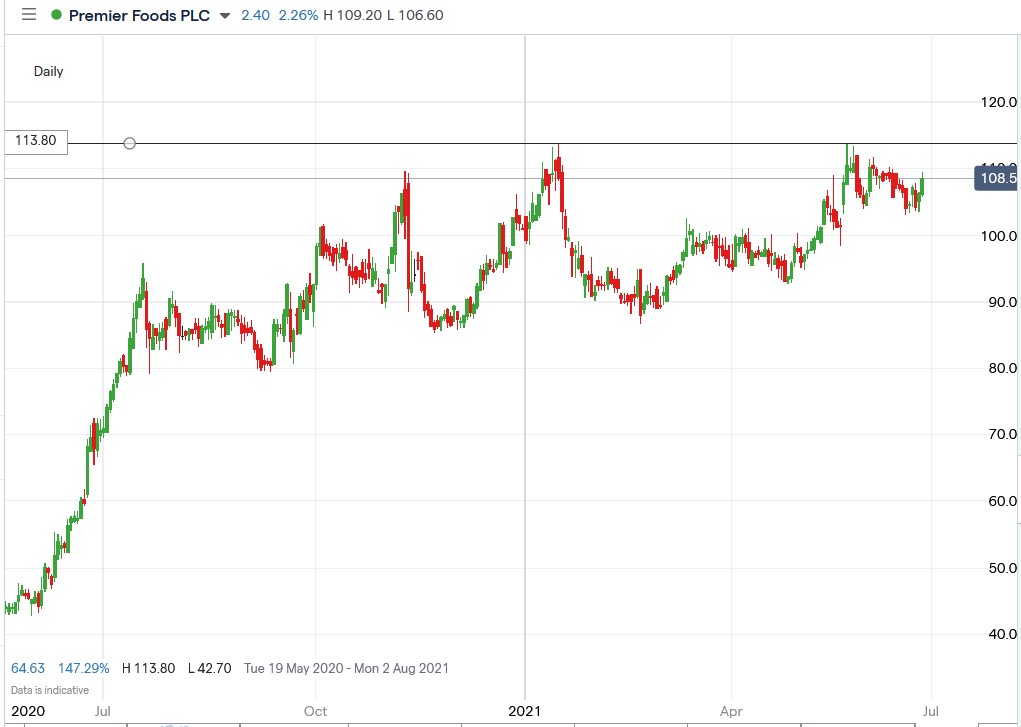 Premier Foods shares are up 5.19% to trade at 109.5p, rising from Thursday's closing price of 104.1p.