Key points:
The Redx Pharma shares surged 10.2% on FDA approval of JZP815.
Investors cheered the achievement that unlocked a $5 million payment.
The company's partnership with Jazz Pharmaceuticals is impressive.
The Redx Pharma PLC (LON: REDX) share price surged 10.2% after revealing that the US Food & Drug Administration (FDA) had approved its investigational new drug (IND) application for JZP815. This drug candidate targets the treatment of solid tumours and hematologic malignancies.

Investors cheered the announcement since it triggered a $5 million milestone payment from Jazz Pharmaceuticals to RedxPharma. Jazz acquired the JZP815 drug candidate from Redx Pharma on 10 July 2019 and allowed REdx to keep working on advancing the drug molecule to the clinical trial stages.
The FDA's approval now allows Jazz Pharmaceuticals to proceed with clinical trials of JZP815, which triggered the $5 million milestone payment to Redx Pharma. The drug is a pan-RAF inhibitor that targets hard-to-treat tumours via a differentiated action mechanism.
Jazz intends to use its JZP815 drug to treat several types of tumours where there are still significant unmet patient needs. Redx Pharma had received milestone payments worth $6.5 from Jazz Pharmaceuticals before today's events, which will bring the total milestone payments to $11.5 million.
Redx Pharma has delivered significant value to Jazz Pharmaceuticals since the collaboration started since JZP815 will be the fifth drug candidate to enter clinical trials under the partnership.
Lisa Anson, Redx Pharma's CEO, commented: "I am delighted that the IND application for the pan-RAF inhibitor, JZP815, has been accepted. When Jazz commences the clinical programme, this will become the fifth drug candidate discovered by Redx to enter the clinic, further validating our world-class research and development capabilities. We value the strong relationship we have built with Jazz Pharmaceuticals and look forward to continuing our work together."
Redx Pharma shares bounced off a long-term support level, raising investor hopes that today's news will trigger a sustained rally in REDX shares. However, only time will tell if such a move will materialise.
*This is not investment advice. Always do your due diligence before making investment decisions.
Redx Pharma share price.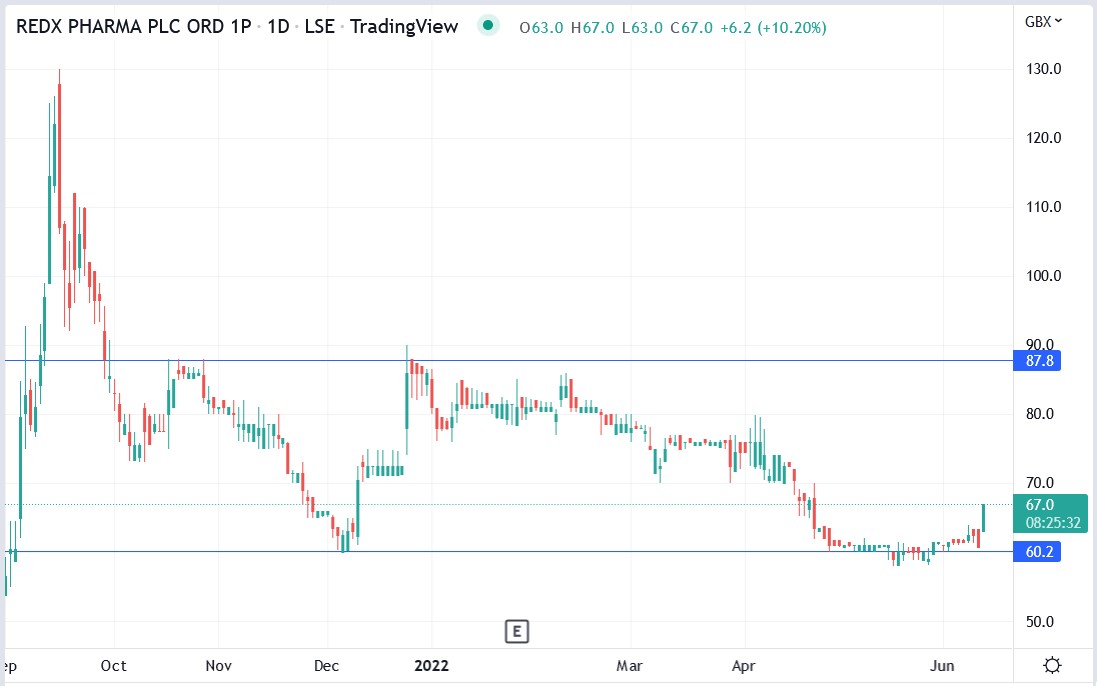 The Redx Pharma share price surged 10.2% to trade at 67.00p, rising from Tuesday's closing price of 60.8p.