Key points:
RPS Group is subject to a cash bid at 206p
WSP Group is a similar-ish professional services firm looking to consolidate
The near 100% premium might well scare away any other potential bidders
RPS Group (LON: RPS) shares have soared 73.5% this morning on the back of an agreed cash bid for the whole company. The big question is, of course, whether there's some way for us traders out here to ride this. The answer is probably not but possibly yes – it's a matter of what we think is going to be the reaction by other possibly interested bidders.

RPS itself is a professional services firm specialising in large scale projects and concentrates upon environmental and social engagement. As such of course it's quite the flavour these days given the environmental, social and governance (ESG) interest in the investing world. Large projects tend not to go ahead without considerable effort and attention paid to those issues.
The bidder, WSP Group, is also a professional services firm and it operates – among others – in much the same market. The idea of the takeover is to add the skills and expertise of the one into the potential commercial offerings of the other. Much talk of synergies and cooperations to be had and so on.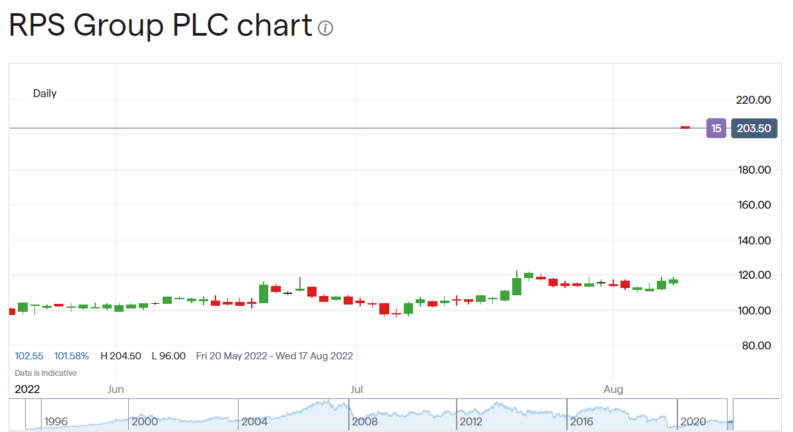 Also Read: How To Buy Rolls Royce Shares
However, when we delve into this we're not, in fact, very interested in what the companies do, because this is a tactical situation. We're interested in their business lines only in so far as it might tell us something about whether someone else might come in and buy here.
The offer is at a very substantial premium: "76 per cent. to the Closing Price per RPS Share of 117 pence on 8 August 2022 and 94 per cent. to the volume-weighted average price of 106 pence per RPS Share for the 90-day period ended 8 August 2022" Call that, among friends, a 100% premium which is indeed a very substantial uplift.
RPS Group shares are, at the moment, 205 p to buy, the bid is at 206p, so we're not going to be interested in buying in order to gain the bid premium. Given closing times of deals and all that we'd lose more than that penny to inflation.
So, is there any interest to be had here? In terms of trying to stag this particular bid, at this price, no, probably not. Overall, taking inflation and opportunity cost into account we'd not make anything so why bother? If the price falls in any substantial manner then there might be a little interest to be made. But of course the price is only going to fall if people worry that the bid won't go through. So we'd be taking risk to gain that profit anyway.
On the other hand there is always the possibility that someone else comes along and bids for the same RPS Group. It's here that any knowledge of the industry becomes useful. Is there another likely or possible bidder out there? That there might be is indicated by that very substantial premium on offer – that's an attempt to lock this thing down without anyone else coming in to spoil the party. But then that premium might just do its job and scare away any other potential bidders.