Anyone looking to buy Rolls Royce shares at these levels is taking on a high risk-reward strategy and has to go in eyes-wide-open. While 'market risk' can't be avoided, there are ways to avoid the risk of choosing the wrong broker for the trade. Signing up to a trusted broker and buying Rolls Royce shares is incredibly easy to do, and this report will show you how.

Rolls Royce Shares: The Basics
Rolls Royce Holdings Plc is listed on the London Stock Exchange under ticker (LON:RR). It currently has a market capitalisation of £8.84bn and, even despite the slide in its valuation, is a member of the FTSE 100 index. It is currently the 58th largest firm (by market cap) in that index and being a part of the FTSE 100 increases the number of investment and tracker funds that are obliged to hold shares in the company.
The firm is a global player and it has offices in the UK, USA, Germany, India, Singapore, and Japan.
Recent and Historical Market Performance
The air travel sector was particularly badly hit by the COVID-19 pandemic. As recently as February 2020, the Rolls Royce share price was flying as high as 700p. In April of that year, it slumped to below 300p and while the general market rebounded on the back of vaccine hopes, the Rolls Royce share price never managed to take off. In October of 2020, the Rolls Royce share price closed just at 70p, but does at least appear to have found the point where it bottomed out.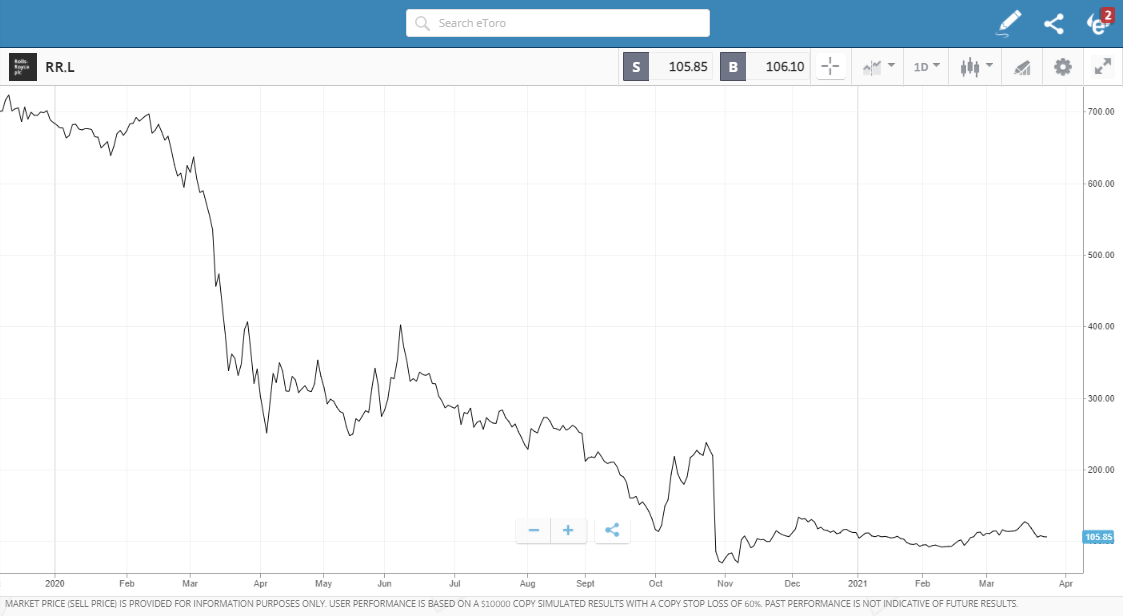 *68% of retail CFD accounts lose money
The firm has a long track record of providing engines for major airlines and is investing heavily in new products. As the industry has tried to get in-line with the growing green agenda, RR has invested heavily in "cutting-edge technologies that deliver clean, safe and competitive solutions to meet our planet's vital power needs" (source: Rolls Royce).
Is it a good time to buy Rolls Royce shares?
The question is whether Rolls Royce's previously strong position can be resumed or if the existential challenges to the sector as a whole will overwhelm it?
The online broker IG has collated broker ratings on Rolls Royce shares and established that the average rating is currently 'hold'. Three of the 20 analysts included in that analysis tip the stock as a 'strong buy' and one marked the stock as a 'strong sell'. It's a stock that divides opinion, and that is reflected in the current share price volatility.
Since the beginning of 2021, the RR share price has experienced momentary price surges and slumps in the region of 25%. Between 17th and 22nd March, the share price fell by more than 22% as investors digested the bad news found in the detail of the firm's 2020 full-year results.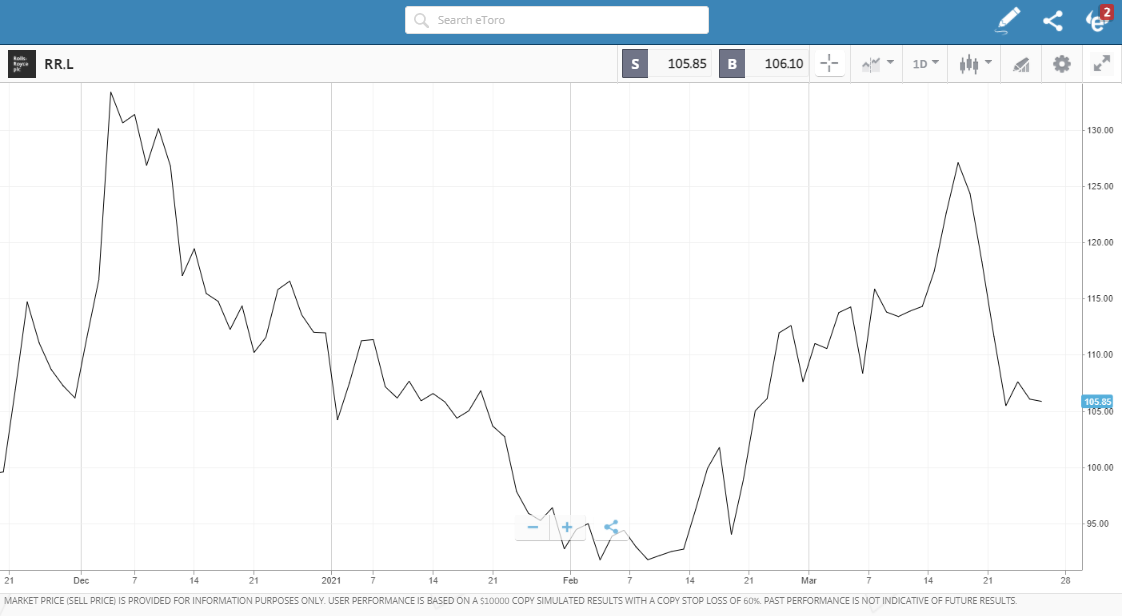 *68% of retail CFD accounts lose money
A lot of the 'challenges' are already priced in, but the year-end statements provided reminders of the task facing the firm, which made for unpleasant reading and increased selling pressure:
Total annual sales fell 24% to £11.8bn
Total losses accrued to £4bn
It suffered a £1.7bn finance charge
Source: Yahoo News
The Civil Aerospace division of the firm took the biggest hit thanks to worldwide COVID-19 travel restrictions. Even if vaccine rollouts continue as planned, 2021 still looks likely to promise further share price turbulence. But there are some who are deciding to buy Rolls Royce shares at current levels and they have been using fundamental analysis to make that decision.
Optimists point to the revenue associated with the maintenance of engines. In pre-COVID 2019, the firm made sales of £3.2bn of new engines but generated £4.9bn in revenue from engine maintenance. Even grounded aircraft require inspections prior to returning to the air.
Should you buy Rolls Royce shares? Are Rolls Royce shares a good buy? You won't find many suggesting you should put all your money into Rolls Royce, but it could be that there is space in your portfolio for this slow-burn stock.
Steps to Buy Rolls Royce Shares
Online brokers have made investing in shares like Rolls Royce a cost-effective and user-friendly experience. Whether you're using a desktop or mobile device, it's possible to sign up with a trusted broker and, within minutes, buy Rolls Royce shares online.
When you buy Rolls Royce shares, you get exposure to the future prospects of a high-quality firm operating in a distressed sector. Whether you're a speculator looking to take advantage of the short-term volatility in the share price or a buy-and-hold investor in it for the long-haul, the dos and don'ts of opening a position are pretty much the same.

1. Choose a Broker
There are a lot of established and trusted brokers that are set up to help you get the most out of trading and make buying Rolls Royce shares a straight-forward process. They have user-friendly trading platforms that make the most of recent technological advances. Choosing the one for you ultimately comes down to personal preference, but the good ones tend to focus on one aspect of the trading experience, so trying a few out using their free demo accounts is highly recommended.
This list of trusted brokers is a short-list of firms that are experienced operators in the market and are also licensed by well-regarded financial regulators.
2. Open & Fund an Account
You can sign up for a demo account by providing little more than an email address, but the process of onboarding for a live trading account requires you to share enough personal information for the broker to be able to set up a user profile for you. It's relatively painless and can even be done from mobile phone handsets.
Regulated brokers are required to ask a series of questions about your aims and objectives and these Know Your Client (KYC) questions can be a useful way of you reassessing your investment goals. They ask questions along the line of what experience / education you have and whether you'll be investing savings or income.
Once you've completed the form-filling, it's just a case of transferring funds to your new online account. Most brokers offer a variety of ways of depositing funds, including bank transfer and debit and credit card. If you're in a rush to buy Rolls Royce shares, it is worth checking the time taken for the different methods to be credited in your brokerage account. Some are instant and some can take several days.
Best Brokers to buy Rolls Royce Shares:
eToro:
68% of retail CFD accounts lose money
Take a look
If you are ready to add some Rolls Royce shares to your portfolio you'll need a broker that is regulated, has low fees and a user-friendly platform. Finding one can be a daunting task, which is why we've selected some of our favourites that tick all of these boxes to help you get started.
3. Open an order ticket and set your position size
Once your account is set up and funded, the actual process of buying Rolls Royce shares involves locating the market on the brokers trading platform. The easiest way to do this is using the 'stock search' function, which will take you to the market where you'll also find price charts, the latest news and research reports. This is also where you'll find the execution dashboard, where you'll be able to enter the number of shares you want to buy.
4. Set your stops and limits
Before you click the 'buy' button, it's worth considering using Stop Loss and Take Profit orders. These are risk-management instructions that you can build into your trades to let the system automatically close out positions. If price moves against you, Stop Losses will close out the position, but if things go to plan, Take Profits come into play and crystalise the gains.
Most online brokers also offer Limit Orders, which are tools related to the initial purchase. For example, if Rolls Royce shares are trading at 105p, you can build an instruction to buy a certain number of shares if the price drops to a lower level, for example, 95p. There is no guarantee you'll be filled at 95p, but a Limit Order instils trading discipline and can help you achieve an elegant entrance into your Rolls Royce position.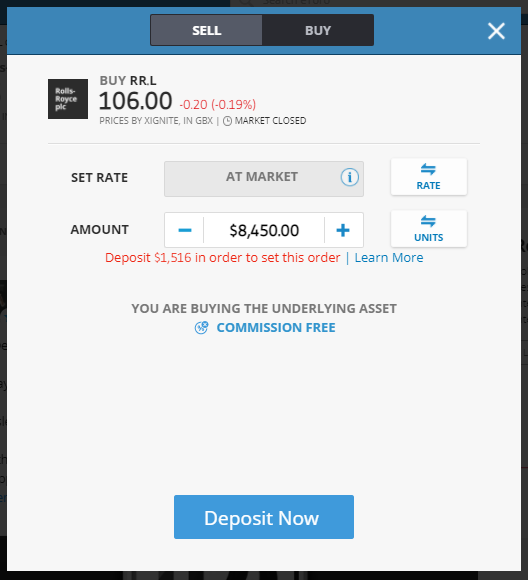 *68% of retail CFD accounts lose money
5. Select & Buy Rolls Royce Shares
Once all the checks are done, all it takes to buy Rolls Royce shares is to hit 'buy'. This can be done on a desktop device or mobile handset, so it is as simple as clicking a button or tapping a screen.
At this stage, it's worth considering two top tips from experienced traders. One comes before you 'buy' and the other one immediately afterwards.
Before you click 'buy' RR— It's important to establish if you are buying the Contract for Difference (CFD) instrument or buying the equity outright. CFDs allow you to use leverage and scale up the risk-return on the trade. They do, however, come with financing charges. These are small daily payments to the broker that have effectively loaned you money to make the purchase. As these add up over time, it is likely to be more cost-effective to buy Rolls Royce outright if you're looking to hold your RR shares for more than a few weeks. This article explores that subject in greater detail.
After you trade — Be sure to check your portfolio and that everything looks in order. Even experienced traders make 'fat finger' errors and it's important to correct them as soon as possible.
Fees When Buying Rolls Royce Shares
Fierce competition between brokers has revolutionised the industry and the good news for investors is that that extends to pricing. Most brokers make their money on the difference between the buy and sell prices they offer their clients — the bid-offer spread.
This approach makes managing costs easier and also allows you to compare brokers to find the one offering the tightest Rolls Royce spreads. There are enough risks in the markets without giving away money unnecessarily.
| | | | | | |
| --- | --- | --- | --- | --- | --- |
| | eToro | Plus 500 | Markets.com | AvaTrade | IG |
| Live Account Fee | No charge | No charge | No charge | No charge | No charge |
| Demo Account Fee | No charge | No charge | No charge | No charge | No charge |
| Bid Offer Spread – Rolls Royce shares | 15p | 106p | 27p |  27p | 15p |
| Cash Deposit Fee | No charge | No charge | No charge | No charge | No charge |
| Cash Withdrawal Fee | Yes – $5 per transaction | No charge | No charge | No charge | No charge |
| Inactivity Fee | Yes – $10 per month after 12 months inactivity | Yes – $10 per month after 3 months inactivity | Yes – $10 per month after 3 months inactivity | Yes – $50 per quarter after 3 months inactivity | Yes – £12 per month after 24 months inactivity |
| FX Conversion Fee | Offers accounts in USD, only | Offers accounts in USD, GBP and EUR | Offers accounts in 14 base currencies incl. USD, GBP, EUR | Offers accounts in USD, GBP, EUR, CHF | Offers accounts in 6 base currencies including USD, GBP and EUR |
| Minimum Deposit | $200 (or equivalent) | $100 (or equivalent) | $250 (or equivalent) | $100 (or equivalent) | $250 (or equivalent) |
There are some other administrative charges to consider, not least because with a little planning, some of them can be avoided. Account inactivity fees, for example, might kick in after a period of time — you can either use a broker that doesn't apply them or make sure you diarise deadlines by which you'll need to book a trade.
Trying out the demo accounts of the different platforms is recommended. It will not only allow you to practise trading but will also allow you to check if the broker that offers the lowest fees for your type of trading is the best fit.
Once you're on a broker's platform, it's easy to dig down into the pricing schedules and make sure your Rolls Royce trading strategy can be carried out in a cost-effective manner.
Full Overview of Rolls Royce
Niche and History
Rolls Royce has been building aero-engines for over 100 years. The firm was founded in 1904 and started out building motorcars in its Manchester factory. During World War I, it branched out into producing engines for military aircraft and later also moved into the civilian aeronautics sector.
The car-plane combo remained in place until the early 1970s. Decades of mismanagement left the firm on the brink of collapse and the drastic surgery undertaken involved splitting the two divisions. The firm carried so much debt that a government bailout was deemed the only way to keep the aeronautical division operating and it was nationalised in 1971.
In 1987, the firm was privatised with the shares listed on the LSE in a high-profile IPO, which brought many UK retail investors into the stock market for the first time.
Financial Overview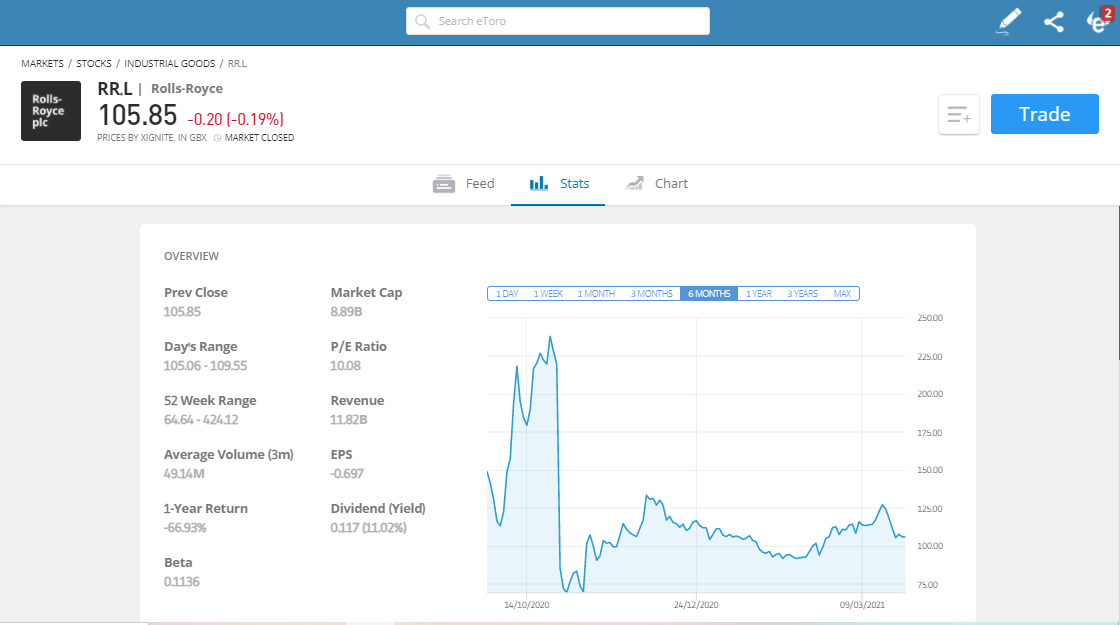 *68% of retail CFD accounts lose money
Rolls Royce's EBITDA— 2020 was a bad year for the sector and the Rolls Royce EBITDA number was a negative -£1.19bn.
Rolls Royce's P/E ratio— 10.08 The average P/E ratio for the FTSE 100 index is currently 26.03.
Rolls Royce share dividends— The poor performance in 2020 led to dividends for that year being suspended. In previous years, Rolls Royce has paid dividends semi-annually with the interim dividend ranging between 4.1p and 4.9p and the final dividend set at 7.1p.
Rolls Royce's dividend yield— The average dividend yield over the last five years is 1.36%
Rolls Royce's Ethical Rating
Rolls Royce manufactures engines used in military aircraft and its civilian engines support one of the forms of travel with the largest carbon footprint. At face value, this isn't a good look, but the firm has been taking steps to position itself as the least bad alternative.
Environmental Impact
It's hard to gloss over the fact that air travel is one of the least efficient means of transport. The 'flygskam' trend reflects growing consumer concern about the issue. As concerning is that, during the COVID pandemic, online teleconferencing took significant steps towards becoming an acceptable alternative to face-to-face international business meetings.
Given that air travel won't completely go away overnight, Rolls Royce has taken the decision to pitch itself as the greenest alternative. It invests around £1.3bn in research each year and 66% of that budget is spent on reducing the environmental impact of its products.
Treatment of Workers and Local Communities
New engines can take years to come into production, which makes it important that the firm retains staff to maintain the firm's knowledge bank. The firm has a 4/5 rating on staff feedback sites Glassdoor and Indeed.
Ethical Initiatives
Around 98% of the firm's 50,000 strong workforce have taken part in the firm's ethical training program. The efforts to improve the firm's position on ethical issues is a team effort as reflected by the company's Target Dashboard, which provides real-time updates on progress.
The e-fuels project involves developing engines that use green electricity. Getting a strong foothold in this growing sector would represent good news for the environment but also the balance sheet.
Controversies
There have been few flare-ups. Criticism of the firm relates to structural issues, which it appears to be trying to address. Saying that, revenues from aerospace defence sales continue to rise, standing at £2.03bn to £3.2bn in 2019.
Summary
Rolls Royce shares, buy or sell? Recent share price moves show there is room for both approaches and some short-term speculators could find some joy betting against the firm. Investors taking a longer-term view can at the same time find reasons to consider that Rolls Royce shares are currently undervalued.
There are a lot of variables in play, but the increased amount of buying and selling of Rolls Royce shares point to market participants taking positions and bracing themselves for take-off. The best news, particularly for new entrants into the market, is that the process of buying Rolls Royce shares is now a user-friendly and cost-effective experience.