Rolls Royce has been tipped by the broker IG as potentially "one of the best FTSE 100 stocks to watch in 2023". A post-Covid upturn in the civil aviation sector, the signing of new contracts, and wildcard nuclear power programmes are creating a buzz around the firm.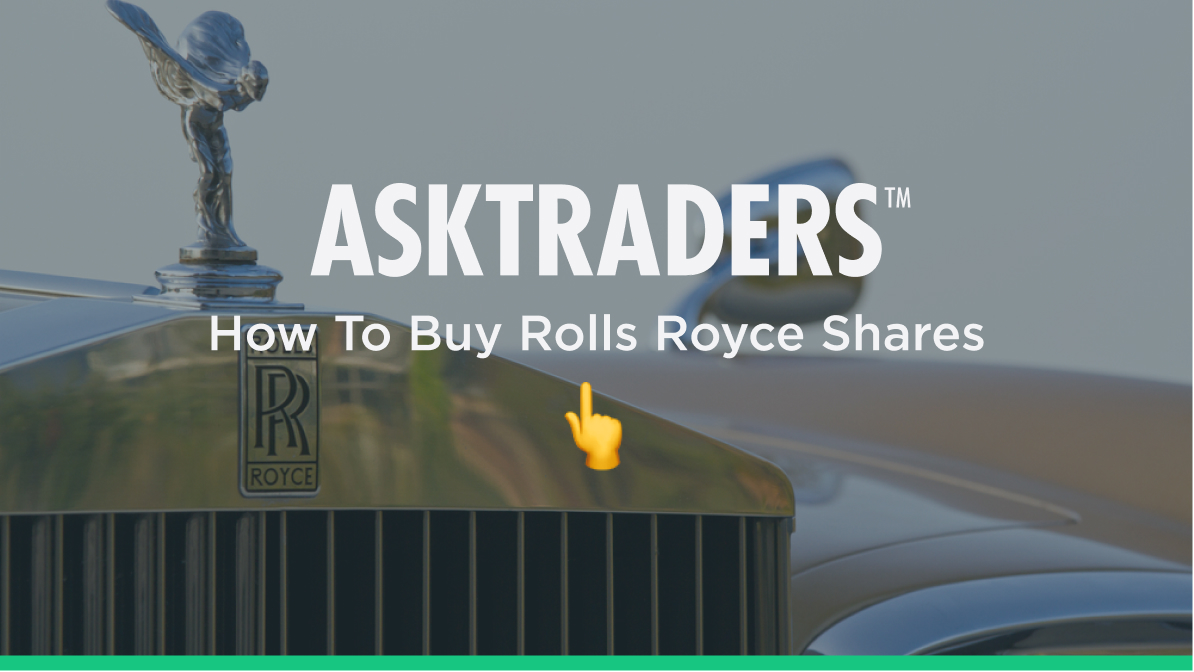 The RR stock price is beginning to show signs that it's ready for take-off. Between October 2022 and January 2023, the shares soared from 66p to 111p, a 68.72% gain, and it's even higher now. But investors don't need to be too concerned about already missing the upside. That high percentage point gain comes from a low starting point as Rolls Royce shareholders have suffered a torrid two years.
Overview of Rolls Royce
Rolls-Royce is a British car and aero-engine manufacturing business established in 1906. The company started as a partnership between Charles Rolls and Henry Royce.
The company first started as a luxury car manufacturer and then went on to produce its first aircraft engine in 1915.
Moving to the present day, despite the considerable excitement about the potential of Rolls Royce shares, it's important to consider the recent track record of the stock. In August 2018, it was trading as high as 309p, which puts into context its extended period of trading below 100p in 2022.
Despite the already positive returns in 2023, there is still a lot of potential upside. But establishing if Rolls Royce stock is cheap involves understanding the reasons for its recent underperformance.
The slump in the price of Rolls Royce shares can be attributed mainly to the impact of Covid and lockdowns. Not only was air travel directly hit by the need for social distancing, but the pandemic also acted as a catalyst for a change in business and leisure travel patterns.
Large engine flying hours, which are a significant driver of RR's revenue, ground to a halt, sending the Rolls-Royce shares lower. Supply-side issues have also been a problem for Rolls Royce, with supplier issues causing delays.
Another risk investors should also be aware of is the company's large debt pile. Loans were taken out in 2020 and 2021 to help the firm navigate the pandemic. With global interest rates on the rise, refinancing costs could be extremely high if the firm doesn't clear that debt before the loans begin to mature in 2025.
Despite the risks, the positives are clear to see, with the company's new CEO performing well so far after starting in January 2023.
In addition, China's relaxing of travel restrictions has also substantially boosted flight volumes, while there is also increased demand for engines coming from growth markets such as India. The shift to renewable energy may also boost the company's small modular reactor business.
Rolls Royce Shares: The Basics
Rolls Royce Holdings Plc is listed on the London Stock Exchange under the ticker (LSE: RR). It currently has a market capitalisation of over £1.9bn and is a member of the FTSE 100 index.
Its position in the FTSE 100 means that tracker funds and ETFs covering that market are obliged to buy RR stock every time an investor subscribes to a fund product, which provides long-term support for the share price.
The firm has traditionally been a favourite of dividend investors. In 2018 and 2019, the stock's dividend yield was 2.78% and 3.29%, respectively.
Rolls Royce does not currently pay a dividend as terms of the loan agreements of 2020 and 2021 stipulate that payments to shareholders are restricted until those creditors are repaid. However, there is speculation that it could return next year.
Once the loan agreements situation is resolved, it can be expected that investors who select stocks with high yields will flood back into the market.
Steps to Buy Rolls Royce Shares
Online brokers have made investing in shares like Rolls Royce a cost-effective and user-friendly experience. Whether you're using a desktop or mobile device, it's possible to sign up with a trusted broker and, within minutes, buy Rolls Royce shares online.
Whether you're a speculator looking to take advantage of the short-term volatility in the share price or a buy-and-hold investor in it for the long haul, the dos, and don'ts of opening a position are pretty much the same.
1. CHOOSE A BROKER
Many established and trusted brokers are set up to help you get the most out of trading, making buying Rolls Royce shares a straightforward process. They have user-friendly trading platforms that make the most of recent technological advances.
Choosing one ultimately comes down to personal preference. Still, the good ones tend to focus on one aspect of the trading experience, so trying a few out using their free demo accounts is highly recommended.
This list of trusted brokers is a shortlist of firms that are experienced operators in the market and are also licensed by well-regarded financial regulators.
2. OPEN & FUND AN ACCOUNT
You can sign up for a demo account by providing little more than an email address; however, onboarding for a live trading account requires you to share enough personal information for the broker to set up a user profile for you. It's relatively painless and can even be done from mobile phone handsets.
Regulated brokers must ask a series of questions about your aims and objectives. These Know Your Client (KYC) questions can be a useful way for you to reassess your investment goals. They ask questions about what experience/education you have and whether you'll be investing for savings or income.
Once you've completed the form-filling, it's just a case of transferring funds to your new online account. Most brokers offer a variety of ways of depositing funds, including bank transfers and debit and credit cards. If you're in a hurry to buy Rolls Royce shares, it is worth checking the time taken for the different methods to be credited to your brokerage account. Some are instant, and some can take several days.
If you are ready to add some Rolls Royce shares to your portfolio, you'll need a regulated broker with low fees and a user-friendly platform. Finding one can be daunting, so we've selected some of our favourites that tick all of these boxes to help you get started.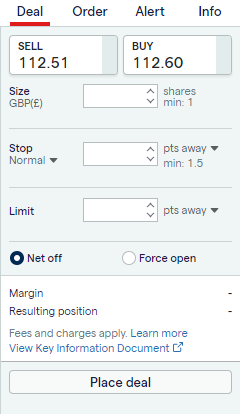 3. OPEN AN ORDER TICKET AND SET YOUR POSITION SIZE
Once your account is set up and funded, buying Rolls Royce shares involves locating the market on the broker's trading platform. The easiest way to do this is using the 'stock search' function, which will take you to the market where you'll find price charts, the latest news, and research reports. It is also where you'll find the execution dashboard, where you enter the number of shares you want to buy.
4. SET YOUR STOPS AND LIMITS
Before you click the 'buy' button, it's worth considering using Stop Loss and Take Profit orders. You can build these risk-management instructions into your trades to let the system automatically close out positions. If the price moves against you, Stop Losses will close out the position, but if things go to plan, Take Profits come into play and crystalise the gains.
Most online brokers also offer Limit Orders, and tools related to the initial purchase. For example, if Rolls Royce shares are trading at 105p, you can build an instruction to buy a certain number of shares if the price drops to a lower level, for example, 95p. There is no guarantee you'll be filled at 95p, but a Limit Order instills trading discipline and can help you achieve an elegant entrance into your Rolls Royce position.
5. SELECT & BUY ROLLS ROYCE SHARES
Once all the checks are done, all it takes to buy Rolls Royce shares is to hit 'buy' on a desktop device or mobile handset, so it is as simple as clicking a button or tapping a screen.
At this stage, two top tips from experienced traders are worth considering. One comes before you 'buy' and the other one immediately afterwards.
Before you click 'buy' RR— It's essential to establish if you are buying a Contract for Difference (CFD) instrument or buying the equity outright. CFDs allow you to use leverage and scale up the risk-return on the trade. They do, however, come with financing charges. These are small daily payments to the broker that has effectively loaned you money to make the purchase. As these add up over time, buying Rolls Royce outright is likely to be more cost-effective if you're looking to hold your RR shares for more than a few weeks. This article explores that subject in greater detail.
After you trade — Be sure to check your portfolio and that everything looks in order. Even experienced traders make 'fat finger' errors, and correcting them as soon as possible is essential.
Fees When Buying Rolls Royce Shares
Fierce competition between brokers has revolutionised the industry, and the good news for investors is that it extends to pricing. Most brokers make their money on the difference between the buy and sell prices they offer their clients — the bid-offer spread.
This approach makes managing costs easier and allows you to compare brokers to find the one offering the tightest Rolls-Royce spreads. There are enough risks in the markets without giving away money unnecessarily.
eToro
Plus 500
Markets.com
AvaTrade
IG
Live Account Fee
No charge
No charge
No charge
No charge
No charge
Demo Account Fee
No charge
No charge
No charge
No charge
No charge
Bid Offer Spread – Rolls Royce shares
15p
106p
27p
27p
15p
Cash Deposit Fee
No charge
No charge
No charge
No charge
No charge
Cash Withdrawal Fee
Yes – $5 per transaction
No charge (A charge may be incurred on
the 5th withdrawal of the month)
No charge
No charge
No charge
Inactivity Fee
Yes – $10 per month after 12 months inactivity
Yes – $10 per month after 3 months inactivity
Yes – $10 per month after 3 months inactivity
Yes – $50 per quarter after 3 months inactivity
Yes – £12 per month after 24 months inactivity
FX Conversion Fee
Offers accounts in USD, only
Offers accounts in USD, GBP and EUR
Offers accounts in 14 base currencies incl. USD, GBP, EUR
Offers accounts in USD, GBP, EUR, CHF
Offers accounts in 6 base currencies including USD, GBP and EUR
Minimum Deposit
$200 (or equivalent)
$100 (or equivalent)
$250 (or equivalent)
$100 (or equivalent)
$250 (or equivalent)
There are some other administrative charges to consider, not least because some of them can be avoided with a bit of planning. Account inactivity fees, for example, might kick in after a period — you can either use a broker that doesn't apply them or make sure you diarise deadlines by which you'll need to book a trade.
The type of account you set up also needs to be considered. CFDs (Contracts for Difference) are versatile instruments that allow traders to apply leverage on their trades and sell short. They do, however, incur daily financing charges. So, if you're looking to buy Rolls Royce shares and hold the position for longer than a few weeks, buying RR stock outright and holding it in a share dealing account will be more cost-effective.
Buy-and-hold investors with even longer time horizons might want to consider holding their Rolls Royce shares in an Investment ISA (Individual Savings Account). That will protect the investment from Capital Gains Tax and optimise returns.
Best Broker to Buy Rolls Royce Shares
Intense competition between brokers means that the fees for buying Rolls Royce shares are reassuringly low. Brokers also try to attract clients by offering neat features to enhance the trading experience.
Most will offer a demo account, which is free to set up and allows beginners to trade in a risk-free environment. That can help a new investor practice trading and find the most suitable broker in terms of dashboard functionality. Broker comparison tables, such as the one above, are helpful as they outline the range of costs that might be incurred rather than the headline commission rates.
If you're ready to buy Rolls Royce shares, then the final check is to ensure your broker is regulated. Start by checking your chosen broker is licensed by a Tier-1 authority such as the Financial Conduct Authority (FCA), the Australian Securities and Investments Commission (ASIC) or the Cyprus Securities and Exchange Commission (CySec).
Final Thoughts
Rolls Royce's fall from favour over the last two years can be put down to completely justifiable concerns. Covid-led lockdowns hit all stocks with exposure to the air travel industry, and the risk of a recession triggered a broader move out of stocks in 2022.
Forecasting is notoriously tricky, but economic cycles and pandemics are transient. As the RR share price has already suffered a dramatic decline, medium to long-term investors, in particular, will view buying Rolls Royce as a way to buy into a stock with a strong pedigree and new innovative projects in the pipeline.
Successful investing requires attention to be paid to risk management. Portfolio diversification would be one way of smoothing out the potential ups and downs of the Rolls Royce share price. Choosing a regulated broker would also mitigate operational risk. This shortlist of trusted brokers includes firms reviewed by the AskTraders team to ensure they provide the services required to get your trading off to the best possible start.
PEOPLE WHO READ THIS ALSO VIEWED: