Key points:
Thor Mining's Kapunda project receives funding
Oz Minerals is to pay for testing the ISR workability
The long term value is the possible application to other deposits as well
Thor Mining (LON: THR) shares are up 10.5% in London this morning on the news that Oz Minerals is to fund the next stage of work at the Kapunda copper and gold project. It's possible to worry a little bit at this news actually, to think that perhaps there's some erudite or even recondite research that has to be done. That's not quite what this is though, this is a normal stage of this sort of mining operation. It's a let's really, really, check that everything works before we go build.

The announcement itself is welcome for Thor Mining. Because the money to advance the project that another step forward is coming from someone else but, crucially, without diluting Thor's interest in the Kapunda Project. It's not quite money for nothing because of course it was included in previous valuations. But it's not that Thor has to provide more capital to get this thing going.
Thor owns 30% of Envirocopper, which in turn is working on the Kapunda Project. Oz Minerals will be paying the AUD $2.5 million necessary to test the extraction technology at that site to make sure that it really does work as advertised.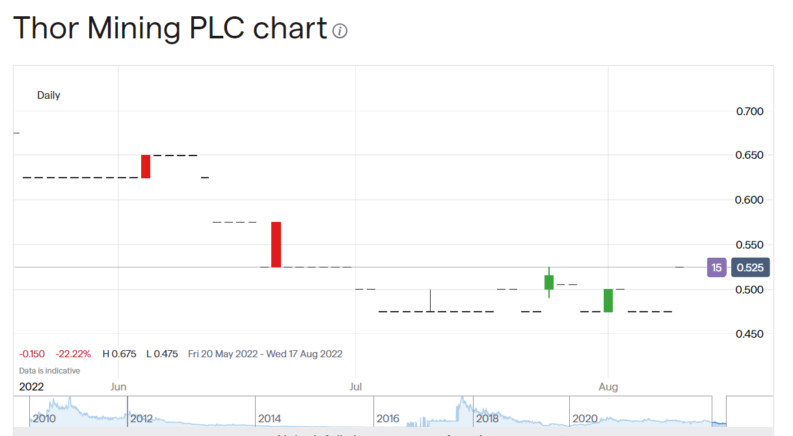 Also Read: Investing In Metal Stocks
As to what it is that Thor, Oz and Envirocopper are actually testing it's a repeat of something that worked wonderfully well back in the 1980s. It's top adapt a known technique for mining uranium and trying to use it on copper. This is in-situ leaching, or in-situ recovery for Americans.
The basic idea is to drill two holes (of course, reality is more complex, but basic here) and pump a reagent, say sulphuric acid, down one and suck it up the other. In between it will have passed through the ore body and dissolved into itself our target elements. We can then extract it from our reagent in tanks up above ground. It avoids all that messy business of digging vast holes.
This has been used for some decades now to mine for uranium – a good portion of the Kazakh supply comes from this. It should work for copper and the testing part that Oz Minerals is to do here is to really check that it does, that the copper can be recovered from the reagent.
Back in the 1980s a different uranium extraction technique – SX-EW (solvent extraction and electrowinning) was similarly adapted for copper. That led to a large number of new mines being built – the change in technique opened up many new ore bodies. And that's the story that provides the long term interest in what Thor Mining is doing. It's not just this one deposit – of the technique really does fully work as advertised then it can be rolled out on more desposits around the world. There's also no obvious reason apparent why it shouldn't work as advertised – although there's always at least something of a risk in mining.
That's a key point about any Thor Mining valuation. Assume it all works – there's more than one mine possibility here.