Key points:
Swvl stock edged 5.95% higher as some of its operations hit breakeven.
The firm said its operations in five countries had broken even in August.
Investors hope that today's rally will turn into a long-term uptrend.
The Swvl Holdings Corp (NASDQ: SWVL) stock price edged 5.95% higher after announcing that operations in its top 5 markets, which are Kenya, Egypt, Germany, Turkey and Jordan, turned Adjusted EBITDA positive or breakeven in August 2022.

Investors cheered the positive developments, given that many startups struggle to break even and turn profitable. The transport company told investors that it expects its entire portfolio to break even in Q4 2022.
Also read: The 5 Best Growth Stocks To Watch In 2022.
Swvl expects its entire business at a consolidated level, including central costs, to break even sometime next year. The company's update is a breath of fresh air given how long it took transport companies such as Uber to break even.
The company prides itself on offering comfortable bus rides for passengers inc crowded cities that do not have the best public transportation means. As a result, the firm has built a reputation for itself on the same basis as a distinguished bus operator in the countries in which it operates.
Swvl has two primary businesses: its direct-to-consumer division, which provides bus transport services to passengers, and its enterprise business, which allows companies to hire buses to transport their employees.
A recent report by Bloomberg indicated that startups in Africa saw a net increase in fundraising during the first six months of the year to $3.5 billion, while other developed countries saw a decline in startup funding as fund managers exercised caution in the current market environment.
Three Egyptian friends started Swvl Mostafa Kandil, Mahmoud Nouh, and Ahmed Sabbah in 2017 and had raised $175 million by the time it went public in 2021, valued at $1.5 billion. However, the company has shed most of its value and has a market capitalisation of $113.5 million.
Many long-term shareholders hope today's announcement will reverse the current downtrend in Swvl's share price as the company heads towards breakeven on a group level.
*This is not investment advice.
Swvl stock price.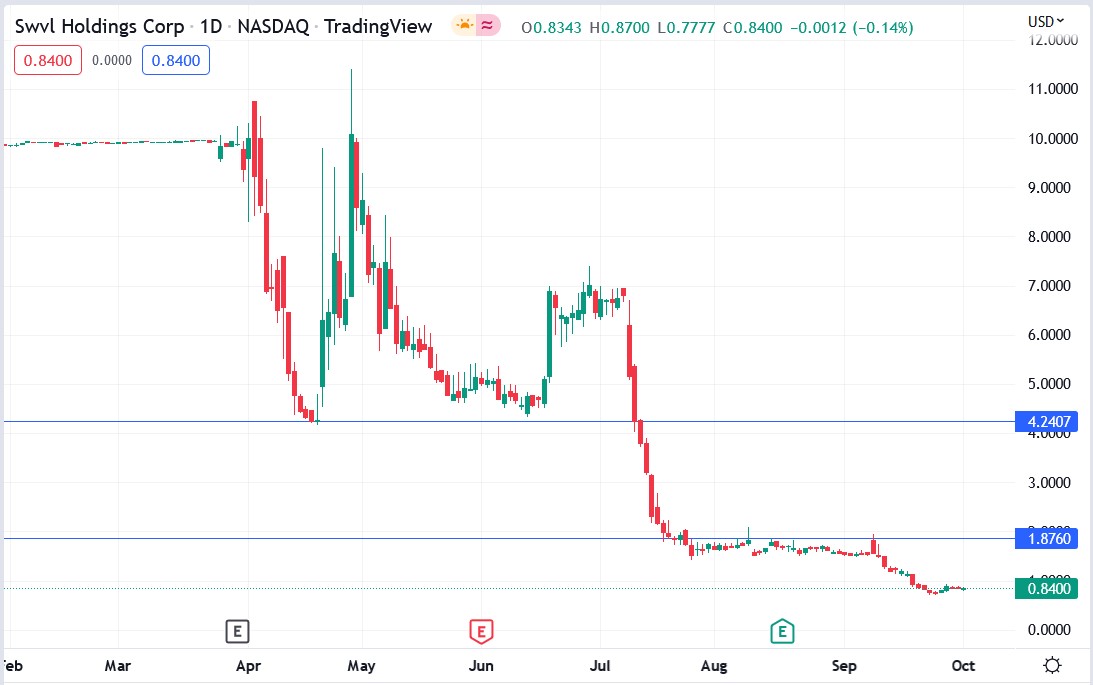 The Swvl stock price rallied 5.95% premarket to trade at $0.89, rising from Monday's closing price of $0.84.