Key points:
Ideagen's share price soared 46.5% after accepting a £1.09 bn takeover bid.
The deal came from Hg Pooled Management and represented a 44% premium.
Investors cheered the deal since Hg is an experienced investor in tech firms.
The Ideagen PLC (LON: IDEA) share price soared 46.3% after agreeing to an all-cash acquisition offer from Hg Pooled Management, valuing it at £1.092 billion ($1.34 billion).

The company's shareholders cheered the all-cash offer to receive 350p per share, representing a 44% premium to Ideagen's Friday closing share price.
Investors cheered the news that Hg has agreed to pay a final dividend of up to 0.2875p per share, which was recommended by the board for the 2022 financial year, without lowering the agreed purchase price.
Ideagen had revealed last week that it had been approached by two investment funds, Hg and Astorg, who were interested in acquiring the form, but neither firm had presented a firm offer.
Hg formed a new company known as Rainforest Bidco Limited (Bidco), which has submitted the firm offer for Ideagen. However, Bidco's offer will have to be approved by Ideagen shareholders at the court meeting since it has been structured as a scheme of arrangement, which the courts must approve.
Furthermore, Ideagen shareholders will also have to approve the deal via a vote at the company's annual general meeting. The deal has to be voted for by shareholders representing at least 75% of Ideagen's outstanding shares.
Luckily, the Ideagen board has voted unanimously to approve the deal, which was in line with my expectations outlined in my previous article. In the article, I said that the next bidder had to submit an offer valuing Ideagen at over £1 billion to win the board's approval.
Hg is an established investor in the software and service industry, having backed companies in the industry for over 20 years, which bodes well for the company's future success. The investment company currently has a portfolio of 45 software and technology firms, with Ideagen becoming the 46th firm.
Ideagen further confirmed that it was still in talks with Astorg, but there were no guarantees that the investment firm would make a firm offer. The deal with Hg's Bidco is expected to close in July 2022 after the AGM, which is yet to be scheduled.
*This is not investment advice. Always do your due diligence before making investment decisions.
Ideagen share price.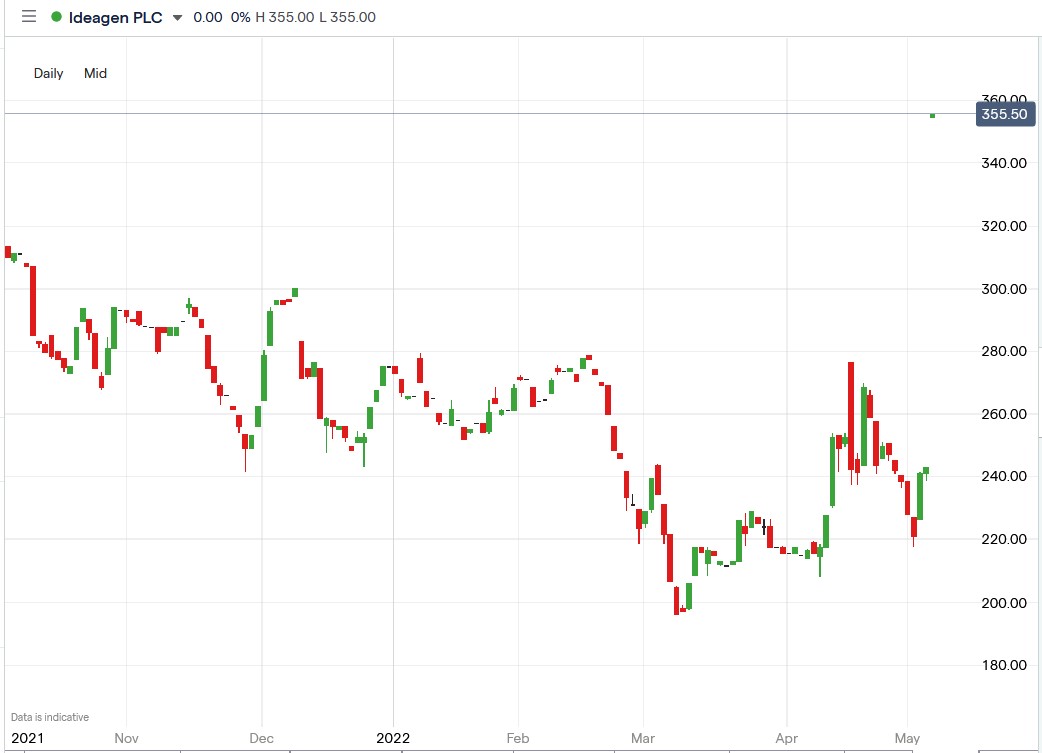 Ideagen shares soared 46.5% to trade at 356.00p, rising from Friday's closing price of 243.00p.