Key points:
Ideagen shares surged 9.22% after two firms showed interest in acquiring it.
However, Cinven, which had shown interest in Ideagen, will not make an offer.
Still, the GRC software and services firm is an excellent acquisition target.
The Ideagen PLC (LON: IDEA) share price surged by 9.22% after revealing that two investment funds had shown interest in acquiring it. However, the company that provides quality, audit and risk software to companies operating in highly regulated industries also accepted Cinven's notice that it would not make a firm offer.

Ideagen shares had rallied higher since 14 April 2022, when Cinven announced that it was considering a possible takeover of the company. Still, the rally had run out of steam a week later as the likelihood of Cinven making a firm offer diminished.
Today's rally shows that investors want Ideagen to be acquired, which would lead to delisting its share from the London Stock Exchange as the new owners take the company private.
Astrog, a french fund management company and Hg, a US private equity fund, are the two firms that have shown interest in acquiring Ideagen. The two firms now have until 2 June 2022 to make a firm offer or walk away from the deal.
Ideagen is one of many UK-listed firms considered cheap compared to their peers in other developed countries. Hence, they have attracted significant attention from private equity and other investment funds looking to acquire high-quality businesses at a discount.
Still, Ideagen is an excellent acquisition target for the right bidder, given its excellent performance amid high demand for its GRC software and services among its target clients. The company says that it has grown its employee count by 5000% in the past 10 years, while its client base has soared over 23000% after acquiring 19 companies in the last decade.
Investors will be interested in the value of the firm offers for Ideagen submitted by the two interested firms since Cinven's offer was rumoured to value the company at £1 billion. The two funds have to offer a premium to Ideagen's current market cap of £688.3 million.
Following the recent downtrend, I would buy Ideagen shares at current prices, anticipating a firm offer from two firms with a higher valuation.
*This is not investment advice. Always do your due diligence before making investment decisions.
Ideagen share price.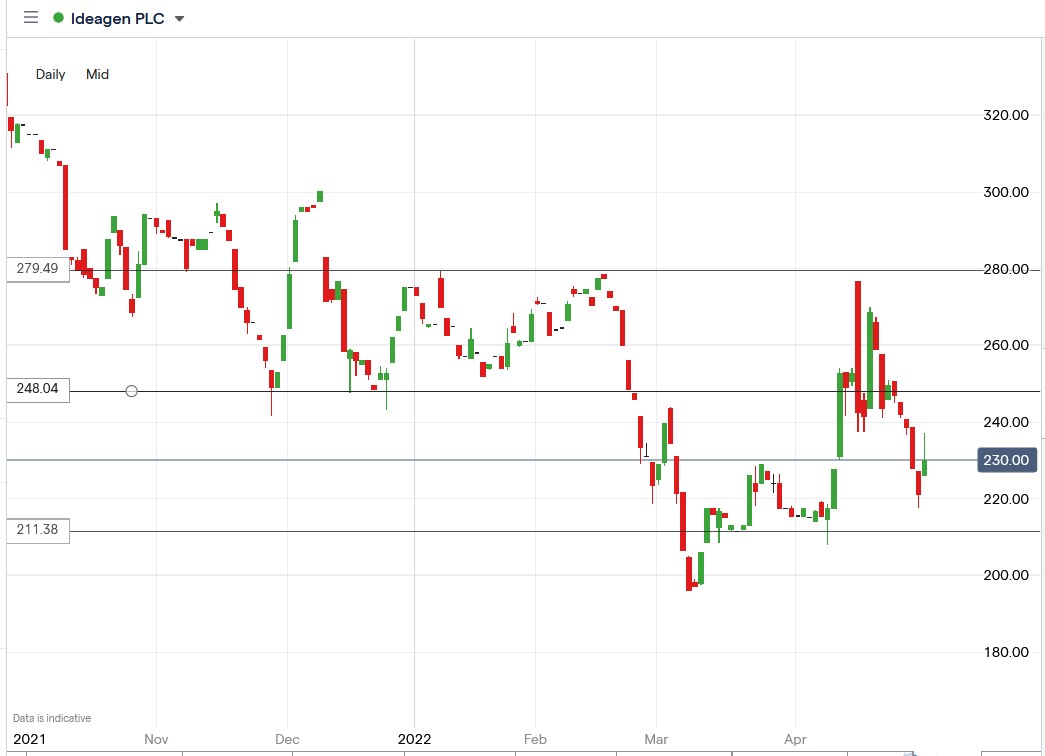 Ideagen shares surged 9.22% to trade at 237p, rising from Wednesday's closing price of 217p.