Key points:
The Ironsource stock price surged 54%+ on the merger with Unity Games.
The transaction has attracted positive comments from game developers.
The all-stock deal will be completed in Unity's fiscal Q4 2022.
The Ironsource Ltd (NYSE: IS) stock price soared 54.7% after sources revealed that it is planning to merge with game development platform Unity Software. The move was welcomed by both companies' investors, who have seen their shares drop significantly this year.

Ironsource stock price had fallen by 71.8% this year, lowering its market capitalisation to a mere $2.28 billion compared to its $11.7 billion valuation when it debuted on the NYSE last year via a SPACE merger.
Also read: Best Video Game Stocks To Buy Right Now.
The merger values Ironsource at $5 billion, and the company's shareholders will own 25% of outstanding shares in the combined entity. Many people familiar with the two companies, including game developers, expressed their support for the deal.
Some of the online comments claim that Unity Games seems to have lost its original appeal among game developers as "an easy-to-bootstrap multi-platform engine which is perfect for mobile development" and is now competing with companies such as unreal in the  AAA/AAA-like market from a user named abbabon.
Some users also highlighted that merging with Ironsource would give Unity Games access to an unrivalled in-game advertising machine to help it better monetise its games through advertising.
The merger will be executed via a shares transaction, and Ironsoure will appoint three directors to the combined company's board. In addition, Unity will further benefit from Ironsoruce's acquisition of Bidalgo, an Israeli marketing software company that helps marketers on mobile apps get greater visibility over their spending and results.
The merger is expected to be finalised in the fourth quarter of Unity's 2022 fiscal year since both companies' boards have approved it. Furthermore, Ironsource reaffirmed its Q2 earnings guidance delivered during its Q1 earnings call.
*This is not investment advice. Always do your due diligence before making investment decisions.
The Ironsource stock price.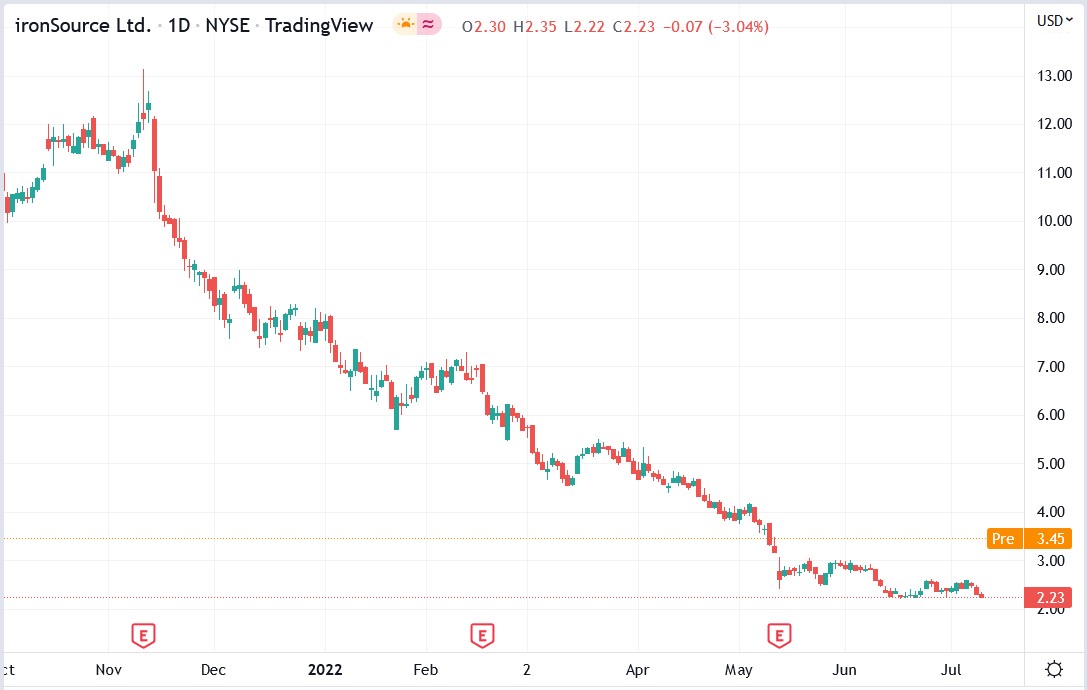 The Ironsource stock price had risen 54.71% to trade at $3.45, rising from Tuesday's closing price of $2.23.