Key points:
The XORTX Therapeutics (XRTX) stock soared 82.7% today.
Investors reacted positively to positive initial topline results.
However, it is too early to start celebrating.
The XORTX Therapeutics Inc (NASDAQ: XRTX) stock price soared 82.78% after reporting positive topline results from part one of a Pharmacokinetics Bridging study being conducted in three parts.

The company's proprietary oxypurinol formulation showed a significant increase in the oral bioavailability of two versions of the drug compared to a control formulation. The drug also demonstrated a clean safety and pharmacologic profile with no adverse events related to the oral administration of oxypurinol.
Also read: The Best Biotech Penny Stocks Under $5 To Buy Right Now.
The PK Clinical Trial is being conducted in three parts with four crucial goals, to identify which of XORTX's novel formulations results in the greatest circulating oxypurinol concentrations and oxypurinol exposure; to isolate the impact of food on the bioavailability of each formulation.
The final two goals are to determine the effect of different doses on the selected formulation's bioavailability and the safety and pharmacokinetics of multiple doses of each formulation.
Part one of the PK trial saw the company recruit and administer a single oral dose of the drug to participants before collecting blood samples and doing a bioanalytical analysis to characterise the pharmacokinetics and bioavailability of the test formulations.
Part one involved dosing under fasting conditions, while part two will measure the impact of food on pharmacokinetics, and part 3 will measure the performance of multiple doses of the drug.
Investors reacted positively to the announcement of positive topline results in part one of the three-part PK clinical trial. However, the drug still has a long way to go before commercial availability. Hence, I would exercise caution at this early stage.
I wouldn't jump on the current rally until the company completed the three parts of the PK Clinical trial and proceeded to the planned phase 3 registration trial. Still, the drug has to meet its primary end goals during the clinical trial phase before it can be approved by the US Food &Drug Administration (FDA). Hence, I would still stay away from XRTX stock for now.
*This is not investment advice. Always do your due diligence before making investment decisions.
XRTX stock price.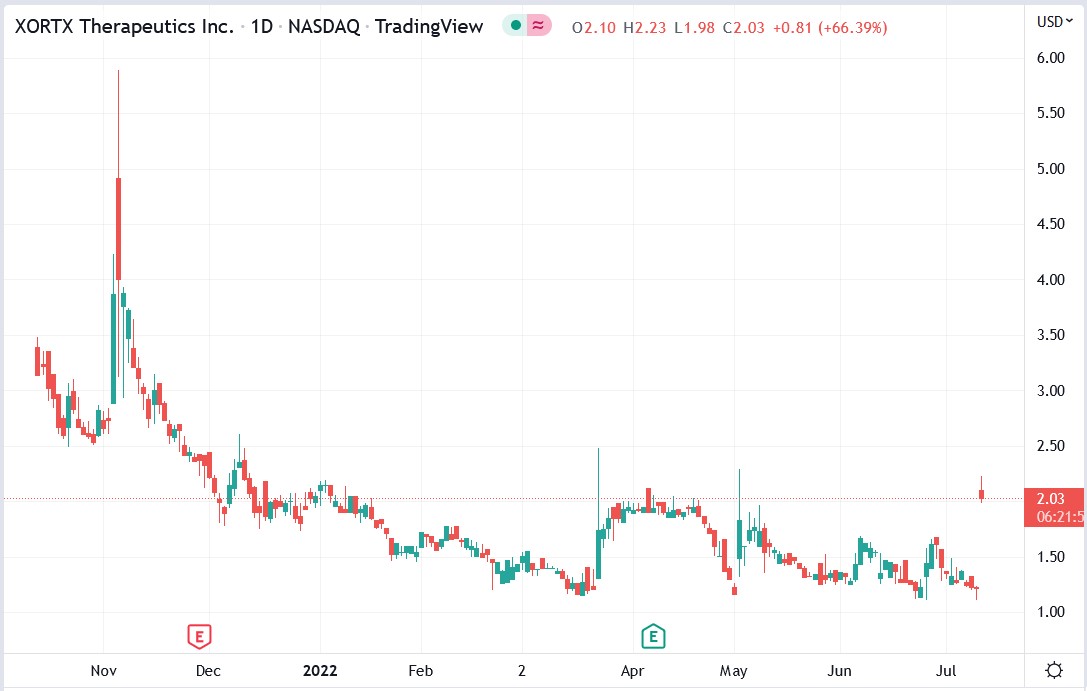 XRTX stock price soared 82.78% to trade at $2.23, rising from Tuesday's closing price of $1.22.