Key points:
The Scottish Mortgage (SMT) share price has fallen 16.2% this year.
As a result, many wonder what's next for the trust which holds tech stocks.
However, SMT shares will recover as the US tech sector recovers.
The Scottish Mortgage Investment Trust PLC (LON: SMT) share price has fallen 16.26% since the year started mirroring the selloff in the Nasdaq index amid a broad selloff in tech stocks.

Many wonder what comes next for the investment trust that managed over £20.6 billion in assets.
SMT's share price is closely tied to the fortunes of the high growth tech stocks that the trust tends to purchase and hold. This year, tech stocks have had a rough start amid concerns about rising interest rates.
Investors have shifted their focus and funds away from tech stocks with exorbitant valuations to more stable companies such as utilities that have stable revenues and tend to do well when interest rates are rising.
Unfortunately for Scottish Mortgage investors, the trust's fortunes will always be linked to tech stocks, and all they can hope for is a recovery in the etch-heavy Nasdaq, which hosts most of the company's holdings.
The release of UK retail sales data also dampened investor appetite for tech stocks, given that the Bank of England has already started raising interest rates with its first rate hike in December.
Many hope that the slowdown experienced in the retail sector will convince the Bank of England to hold off raising interest rates next month until the sector returns to a growth trajectory.
As for US tech stocks, the markets are already pricing in at least three rate hikes this year, with the Federal Reserve rapidly shrinking its asset purchases, which is reflected in the tech stock selloff.
However, the only indicator that can convince the Fed to back off is cooling inflation, which will indicate that the Fed has achieved its primary goal of keeping inflation within its chosen 2% target.
Investors should not blame the SMT fund managers for the recent poor run, given that they do not have much control over what happens to tech stocks.
We should also remember that the fund has generated outsized gains for inventors over the past decade, compensating for the short-term pullbacks.
For most investors interested in booking massive gains for their portfolios, the answer lies in tech stocks, which have outperformed the broker markets for the past two decades since the stock market crash of 1999.
The tech sector is likely to keep outperforming the broader markets way into the future, and investors could use the latest pullback to get exposure to promising tech stocks.
*This is not investment advice. Always do your due diligence before making investment decisions.
SMT share price.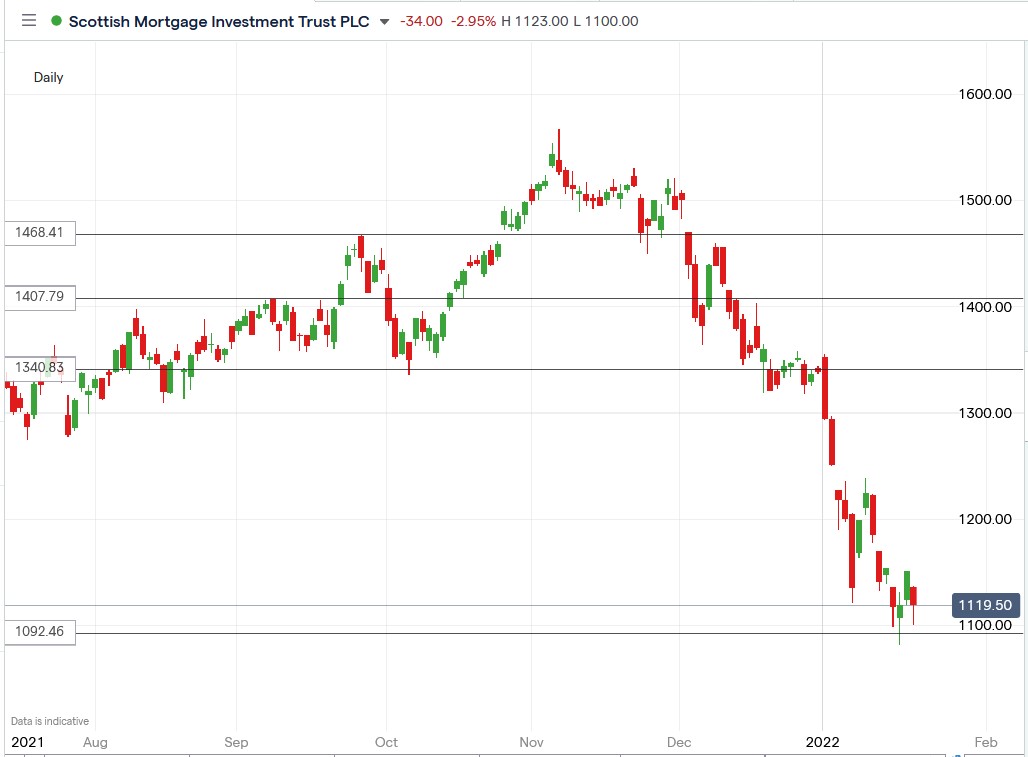 SMT share price dropped 4.47% to trade at 1100.25p, falling from Thursday's closing price of 1150.50p.