Shares of THG PLC (LON: THG) fell 6.98% after the Hut Group's parent company unveiled plans to spin off its beauty division via an IPO next year.

Investors were unhappy with the news that the division is the group's fastest-growing business unit after growing its half-year sales 56% to £460.8 million in the review period.
THG is also considering other business spin-offs, including its Ingenuity tech platform, in which it sold a £1.6 billion stake to Softbank in May 2021.
The group's nutrition business may also be on the chopping board as the company looks to cash out of its most lucrative businesses, leaving it as a bare shell of the successful company it is in its current form.
THG revealed that none of Softbank's portfolio companies had used its Ingenuity software during H1 2021 to sell their products via e-commerce.
Softbank is also planning to launch a new fulfilment service dubbed FIR/ST, which will combine Ingenuity's warehouse management and courier system with Softbank's AutoStore, an automated storage and recovery system.
THG earns a commission on sales facilitated by its Ingenuity systems, which skyrocketed 166% to £18.3 million during the period under review.
Overall, THG grew its revenues 45% to £958.8 million, with revenues from its nutrition business surging 27% to £328.4 million, while beauty revenues soared 56% to £460.8 million.
THG's profits rose 39% to £81.2 million, with the firm reiterating its annual revenue growth guidance of between 35% and 38%.
THG shares fell after the company confirmed that plans were underway to list its lucrative beauty business. However, the listing of the Nutrition business was still under consideration.
The company did not mention any plans to sell its Ingenuity business.
THG share price.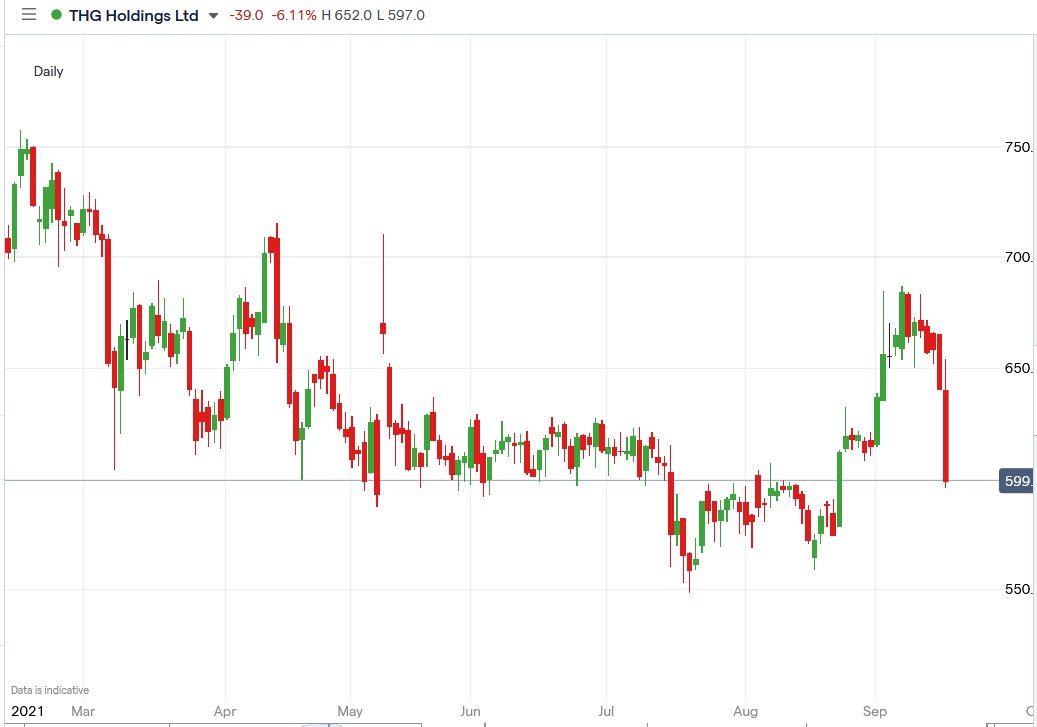 THG shares plunged 6.98% to trade at 595.8p, falling from Wednesday's closing price of 640.5p.
Should You Invest in THG Shares?
One of the most frequently asked questions we receive is, "what stocks are best to buy right now?" It's a wide-ranging question, but one that we have answered… Our AskTraders stock analysts regularly review the market and compile a list of which companies you should be adding to your portfolio, including short and longer-term positions. Here are the best stocks to buy right now