Shares of TomCo Energy Plc (LON: TOM) surged 12.9% after receiving the final Front-End Engineering and Design (FEED) study for the production plant at its proposed Utah project.
The proposed plant would have an initial production capacity of 5,000 barrels of oil equivalent daily, with the capacity to expand production up to 10,000 boepd in the future. The initial construction costs are estimated at $110 million.
The project is being run by Greenfield Energy, its 50/50 joint venture with Valkor LLC ("Valkor"). The firm expects the engineering, procurement and construction (EPC) phases to take 54-62 weeks.

However, the company wants to complete the acquisition of 100% of the Tar Sands Holdings II LLC after recently agreeing on the transaction details before kicking off the subsequent project phases.
TomCo also reminded investors that a technical review of the pilot operation at its Petroteq Energy pilot plant had indicated operating costs of around US$22 per barrel, based on daily production of 5,000 barrels of oil.
John Potter, TomCo Energy's CEO, said: "The FEED study outlines better economics for the proposed plant than we initially envisaged, together with verification that the proposed technical approach is appropriate,"
Adding:
"Greenfield's focus remains firmly on completing the requisite due diligence on TSH II and its site in Utah and progressing the necessary funding package in order to, inter alia, pursue construction of an initial 5,000 boepd facility at the earliest opportunity.
*This is not investment advice.
TomCo share price.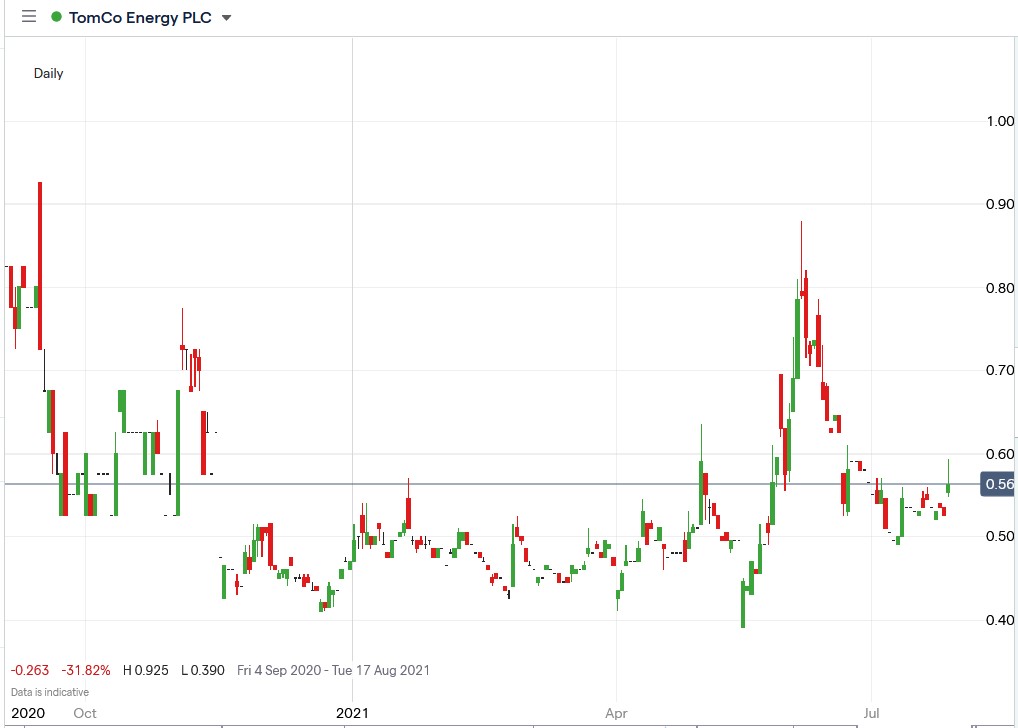 TomCo shares surged 12.95% to trade at 0.593p, rising from Monday's closing price of 0.525p.