Key points:
US Congress Reveal Crypto-Friendly Bill
PayPal Embraces Crypto
Bitcoins Dips, Then Bounces
US Congress Reveal Crypto-Friendly Bill
In the United States, legislation has been unveiled by two U.S. Senators that would see regulation of digital assets, including cryptocurrencies and other digital markets. The proposed bill was proposed by Kirsten Gillibrand (D., N.Y.) and Sens. Cynthia Lummis (R., Wyo.) and has been monikered the Responsible Financial Innovation Act. The bill proposes regulating crypto and tax benefits for users as well as regulation for stablecoins with an eye towards undergoing studies on its impact upon 401(k) plans and on the environment.

Ms. Lummis said, "As this industry continues to grow, it is critical that Congress carefully crafts legislation that promotes innovation while protecting the consumer against bad actors".
It should be noted that in her 2022 financial disclosures, Ms. Lummis reported owning between $100,000-250,000 of Bitcoin. Since taking office last year, she has been the Senate's most candid supporter for cryptocurrency.
In a press release on Tuesday 7th June, PayPal announced that cryptocurrency holders would be able to transfer digital assets to other wallets and exchanges, off of the PayPal platform.
Jose Fernandez da Ponte, Senior Vice President and General Manager, Blockchain, Crypto & Digital Currencies said in a statement that, "We are thrilled to announce that starting today, PayPal supports the native transfer of cryptocurrencies between PayPal and other wallets and exchanges". He added, "This feature has been consistently ranked by users as one of the most requested enhancements since we began offering the purchase of crypto on our platform".
The aim is that the opening up of systems, which is a fintech industry wide trend, should assist in the mainstream adoption of digital assets.
Bitcoins Dips, Then Bounces
Despite both of these positive developments, trading in cryptocurrencies has been slightly disappointing over the past 24 hours. Again, many digital assets have dipped back lower into the broader ranges that have been established over the past 1-2 months. However, as we pointed out in our recent update, Bitcoin continues to form a base and has rebounded firmly back into the trading range, with the Bitcoin future rejecting a test of the range low.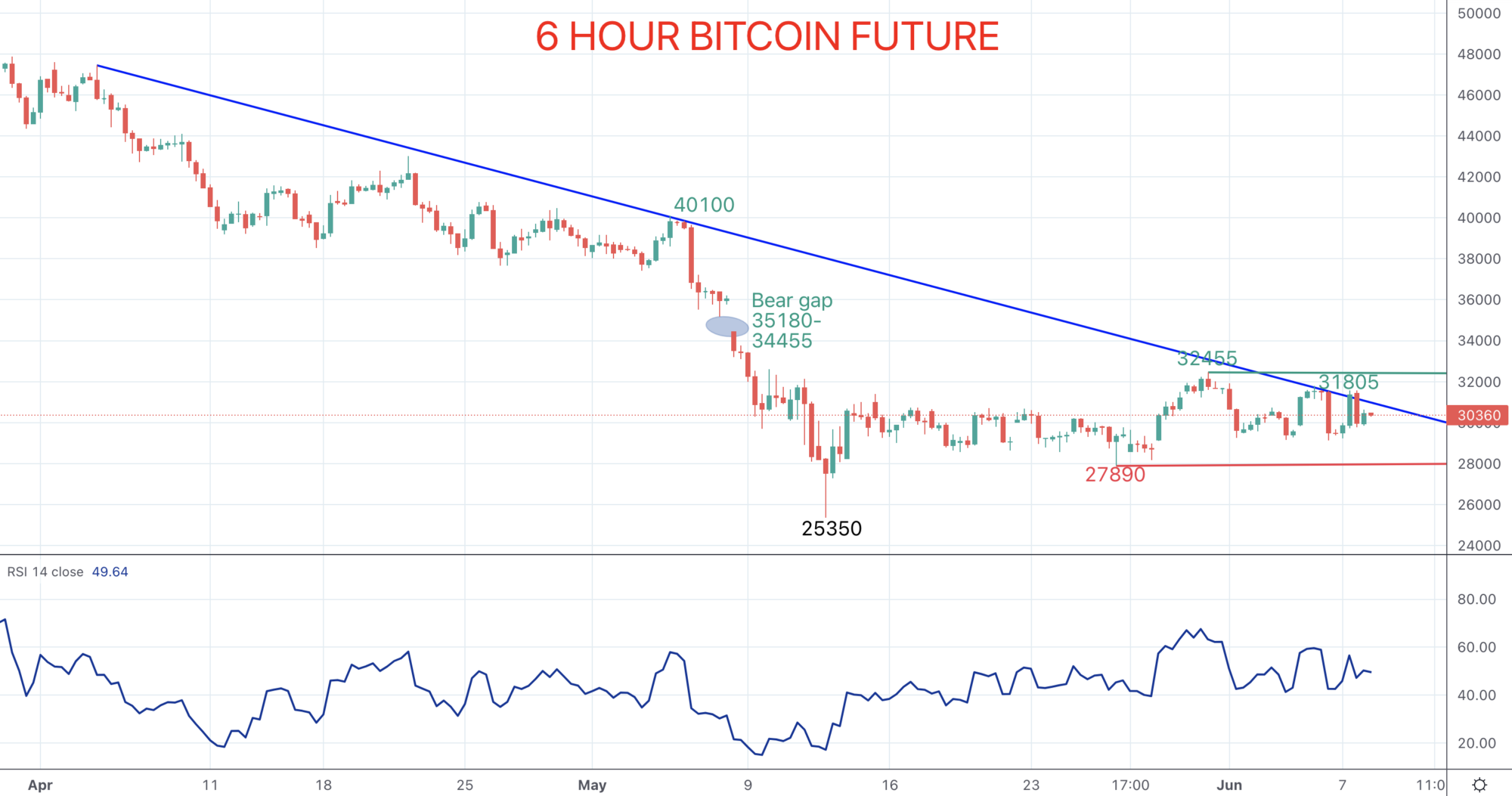 As stated, the threat remains to the topside for a test to 31805 and key 32455 resistances this week.